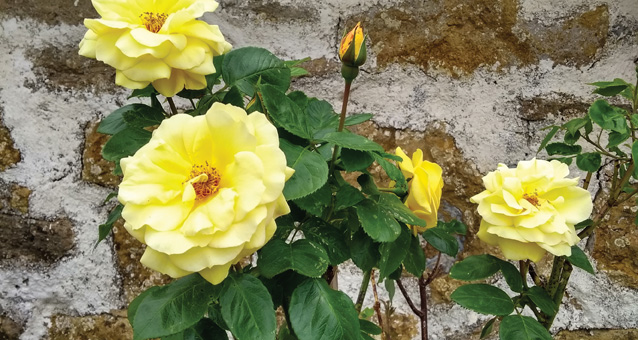 When I was at college, studying horticulture, it was during a period when 'Gardens of a Golden Afternoon' (author : Jane Brown) were what many gardeners aspired to. We looked back to an age when the architecture of Edwin Lutyens was fleshed out by the planting of Gertrude Jekyll, resulting in a gentrified version of a cottage garden. The more mixed planting gave a longer period of floral interest, compared to the classic 'herbaceous border' of Victorian estates, which was better suited to newly created suburban gardens. The same is still true today when many people are rediscovering their outdoor spaces – if they are lucky enough to have them.
The development of a huge range of repeat flowering roses, old-fashioned roses generally only flowered once, is a real boon to creating a cottage garden vibe which lasts all summer. Dead-heading is the key to keeping the blooms coming and keeping everything looking as fresh and youthful as possible. Removing spent flowers, to stop plants from expending energy setting seed, is a general rule of thumb when gardening. The exception being those plants which have attractive fruiting bodies, berries and hips being the main ones, and also those plants which you actually want to seed around in the garden.
Allowing certain ornamental plants to seed around not only gives you plants for free but also lends a more relaxed, informal, air to your beds and borders. In my garden I find that verbascums, primulas, alliums and thalictrums are very generous when it comes to seeding around and making whole new planting combinations which I'd never have contrived myself. Verbascum chaixii 'Album' is the particular mullein I am thinking of as it has delicate white spires which seldom look out of place and it never gets invasive.
Alliums are so precocious that they have even seeded themselves into the comparatively non-gardened areas of the garden where they seem to reach flowering size without me ever having noticed them as seedlings. I think they originated from Allium christophii although there is a chance they've hybridised with A. schubertii and some of them are definitely derived from Allium 'Purple Sensation' – but they are all welcome additions and, if I don't like where they've put themselves, they're not difficult to dig up and transplant somewhere else.
July is a peak month in flowering terms as the day length / night length has just switched, after the longest day in June, encouraging a whole new raft of species to flower which will carry us on to late summer. Herbaceous perennials, which have already flowered and are setting seed, may have a second flush of blooms if cut back now and encouraged to regrow. Using a liquid feed on such specimens, many herbaceous geraniums fall into this category, gives them the best chance to bounce back with strong new foliage and flowers.
As mentioned last month, I used to rely hugely on lilies, for their exotic flowers and intoxicating scent, at this time of year. Now I'm reaching the point where I've practically given up on them, as permanently planted specimens at least, due to the prevalence of lily beetles. With the withdrawal of all of the insecticides which effectively controlled them, for amateur use at least, I find it almost impossible to grow lilies which remain untroubled by these voracious pests however vigilant I am at removing the adults upon emergence. I guess you could treat these bulbs as 'disposable', starting with fresh lily bulbs every year, but I used to really like the exuberance of my population of Lilium regale popping up in the borders, filling the evening air with heady scent; lily beetles have put the kibosh on that for me.
As far as timely gardening tasks are concerned, it's the usual stuff in addition to the aforementioned dead-heading and cutting back of previously flowered perennials. Watering, with added feed where appropriate, is pretty dependant on the kind of July we are having although it's worth remembering that plants in containers generally need to be manually watered, even if it rains, because rain alone is seldom enough to saturate the compost. Mowing lawns can be reduced in times of drought and it's worth mentioning, again, that irrigating grass is generally frowned upon as it is a waste of a precious resource and grass will always bounce back even after the worst dry spell.
Beds and borders, planted according to the 'right plant, right place' rule, should not need to be irrigated except during extreme dry spells when the lack of water threatens to kill the plants outright. Using mulches, gravel in xerophytic schemes / organic matter in 'normal' borders, helps to conserve moisture and to reduce the need to weed. Weeding is another chore which cannot be ignored this month as weeds run to seed more quickly during dry weather so removing them before they can shed their seed will pay dividends in the long run; hence the adage "One year's seed, seven years weed".
One final thought is that the warmer weather, hopefully, makes any pond maintenance tasks more pleasant. Maintaining a balance between clear water and shaded water surface, with floating pond plants or water lily leaves, is crucial for healthy pond life. It's a good idea to remove overhanging branches from trees or shrubs due to the number of leaves that they will drop into the pond. Shading of the pond water, helping to keep it cooler on sunny days, with lily pads is the ideal solution because the leaves will be present during the summer months, when they are needed, but the lily pads will disappear in the cooler, winter, months when shading is less critical.
Now's a good time to make room for a lily in your pond while you can choose them in flower and get them to establish more quickly while the water is warm. Their beautiful blooms are simply a bonus—as is the fact that water lilies are not related to bulbous Lilium species and therefore immune to lily beetle attack, although, of course, water lilies do have some pests of their own—but I'd rather not dwell on that just now!