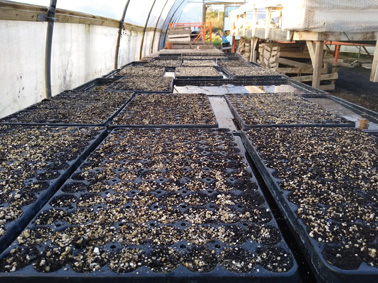 I am writing this during the cold snap in February—though it looks like it is just about to turn, as the winds change from North Easterly back to the usual South Westerlies. These North Easterlies brought with them a very drying cold wind, which helped to dry out the soggy market garden. We were able to get the tractor out and move some compost around and mulch beds that needed it. We also mowed down some of the green manures that we had sown in September to cover the soil over winter. This was covering some of the beds that we need for planting early crops, so we mowed and then covered with black plastic to kill off the green manures before planting the beds up later this month with some of the early salads, turnips, radish, early kale, beetroot, peas and broad beans.
Although we start seed sowing in February, this is to advance the crops by just a week or two so that we can fill up the veg bags with our own produce as soon as possible. Seed sowing starts in earnest this month, with all of the tunnel summer crops being sown if they haven't already (tomatoes, peppers, chillies, aubergines, cucumbers), and lots of the hardy outdoor produce such as beetroot, perpetual spinach, chard, peas, broad beans, salads etc (see below for more). We sow most of our crops in trays and start them off on heat benches to try and get consistent germination. We then grow them on off the heat to acclimatise them more to the conditions that they will face once they are planted. We then cover them with fleece after planting to keep the wind off and keep them frost-free.
It will start to get much busier soon, now that we are in March, so we will try and finish off most of the winter projects—which are often to do with improving infrastructure to allow us to work in a more efficient and flowing way. It is so much more appealing working when tools have a place and you know where things are, and the workflow makes sense. One of the projects that we are doing is making a new outdoor propagation space, which will allow us to achieve more consistent germination through the summer months when it is too hot to propagate in the tunnel. Some crops don't like it to be too warm to germinate, for example, lettuce, endive, chicory and spring onions, so it is useful to have a space outside to be able to propagate, where you can easily set up some shade netting to help keep temperatures down.
WHAT TO SOW THIS MONTH: turnips, chard, spinach, salad leaves—chervil, buckshorn plantain, lettuce, burnet, peashoots, anise hyssop, kales, mustards, agretti, sorell, summer purslane & goosefoot (end of month). Radish, fennel, courgettes (end of month), spring onions, cucumbers, dill coriander, peas and mangetout. We sow all of these into trays in the propagating tunnel to be planted out in April mostly. Also all of the indoor solanaceae such as tomatoes, peppers, chillies and aubergines can be sown now.
WHAT TO PLANT THIS MONTH:
OUTSIDE: salads—mustards, rockets etc., lettuce, peas, broad beans, potatoes, early kale.
INSIDE: If you sowed any early salad crops for a polytunnel or glasshouse they can go in at the beginning of March. Also successions of peas and spring onions will continue to be planted, and any early sown chard, spinach and beets.
OTHER IMPORTANT TASKS THIS MONTH: If the weather dries, continue preparing beds for the spring by mulching with compost. Keep on top of the seed sowing, but don't sow too much of anything—think about sowing successionally rather than doing one big sowing in early Spring. Things that are perfectly suited to successions include all salad leaves, spring onions, peas, beans, beetroot, chard, kale, carrots, fennel, radish and annual herbs.
Don't forget, if you don't have space to grow your own vegetables we deliver in and around Axminster, Kilmington, Lyme, Charmouth and Seaton. Check https://www.trillfarmgarden.co.uk/boxscheme.html for more details.