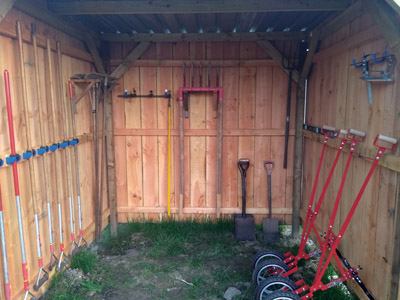 January is an excellent time of year to get things in order for the beginning of a new season, which once it gets going won't wait around for you, so being ready and organised as much as possible before the onslaught of spring is important. Having said that, it is also really important for us to just slow down a bit in January.
We make sure that all of our crop and sowing plans are fully up to date in January (sometimes we get round to doing this before January too, but normally finish it all of this month). This gives us a weekly sowing calendar so that we don't forget any of the crucial sowing dates. Our sowing plan also calculates how many plants to raise so that we can have a simple sowing list each week showing us what to sow, how many seeds per module, how many trays to sow and any other useful information. This gets printed off each week so that we don't have to think about it too much in the height of summer when lots of other things are going on in the garden. We make adjustments to our plans depending on notes that we have taken through the previous year. For example, if we felt that something didnt have quite enough time to fully mature before winter, we would note this down and sow a little earlier.
We also like to have a proper sort out of all the sheds and propagating polytunnel so that everything is in its proper place before the season gets going again. This gives us a chance to have a look at everything that we have—from tools to seed trays, assess whether we use them and whether it is worth keeping and then either getting rid of anything that is just taking up space and not being used, or putting things in the right place if we do use them. Each year the garden gets a little more organised and in being more organised it becomes a more pleasant place to work as you don't spend hours looking for a tool that you need, or moving things about to get to something that you are after as it's all in one big unorganised pile.
It is also great to make the most out of any good weather days in January rather than just be cooped up inside all the time, so make the most of those crisp winter days by getting outside and starting to get things ready for the new season ahead. Don't tidy up too much yet, but get on with jobs that you don't have time to do once the Spring gets going—maybe putting down new woodchip in paths, doing any mulching that needs doing—the sort of work that warms you up a bit!
So, don't feel too glum about it being January—make the most of it being a new year and get organised and sorted for (hopefully) a better year ahead. Also try to get outside as much as possible when the weather is good.
WHAT TO SOW THIS MONTH: It is still too early to sow most veg, but we will be sowing a few sugarsnap peas, lettuce, spring onions and agretti on a heated propagation bench for early tunnel production. But, there is no rush for sowing anything until the end of February/early March.
WHAT TO PLANT THIS MONTH:
Nothing to plant this month (unless you still haven't planted garlic, in which case it's not too late!)
OTHER IMPORTANT TASKS THIS MONTH: Keep working through your winter job list of getting everything sorted for the season ahead. Soon enough it will be time to start sowing in earnest, so the more prepared for this the better. Do your seed ordering now if you haven't already—and try to use some of the great smaller seed companies growing seed in the UK such as Real Seeds, Vital Seeds and the Seed Cooperative. Make sure you have gone through all of your seed packets, and throw out any that don't last more than a year. We find that parsnip seed is no good after a year, and parsley, carrots, spring onions and leek seed doesn't last particularly long so we tend to buy seed each year for these.
Also check out our Salad Growing and Introduction to Market Gardening courses in Spring and Autumn this year at trillfarmgarden.co.uk/courses