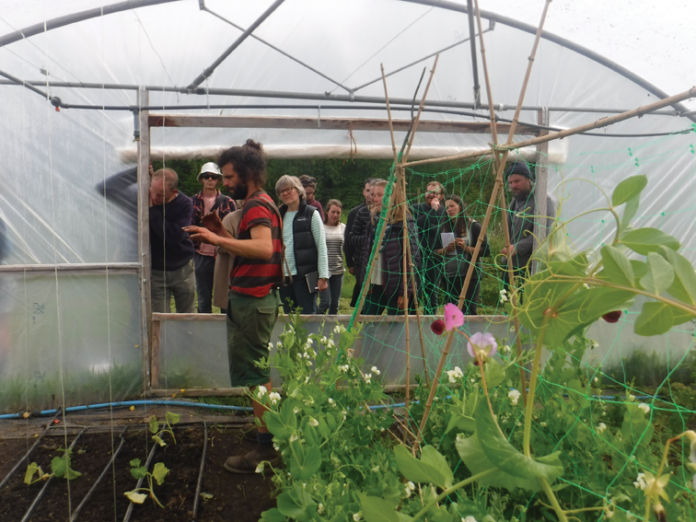 I suppose it is time to think about what to put on your Christmas list, or maybe time to think about what to get a close friend or relative for Christmas. There are some amazing horticulturally related gifts available, but also some pretty awful things wrapped up in lots of packaging to make it look better than it is, so it is good to have a bit of an idea of what to look for. It can be as small as a pack of seeds, for which I would go no further than looking at the Real Seed Catalogue, who are a small company based in West Wales. They grow much of the seeds themselves, but also work with other small scale organic growers (such as ourselves!) to grow seed for them. They have a wide range of really unusual vegetables and unusual varieties too. Aztec broccoli (also known as Huauzontle) has been a highlight for us over the last couple of years—it is the same family as the weed fat hen and can be treated much like spinach. Have a look through their catalogue and you will find yourself browsing for quite some time…Our friends at Vital Seeds in Devon are also a great small seed company just doing organic seeds.
Tools are another great gift for keen gardeners and growers, and Implementations are a great little company supplying copper tools which are really great to use. We use the Mira trowels in the garden, they are a narrow trowel great for planting out small modules and the copper stays really sharp. Another option is Terrateck, a French company who specialise in tools for market gardeners, but many of which are great for home gardeners and growers. We have some great wheel hoes from them, but they also do really good quality hand hoes and other hand tools.
The other obvious options for gardening and growing options are books and courses. I have a fairly big stack of veg growing books, many of which are more aimed at professional growers, but there are a few that are great for both home and commercial growers. One of which is the books by Charles Dowding, who has great amounts of detail on sowing dates, spacing and all of the technical detail that helps with achieving maximum efficiency from a vegetable garden. Joy Larkcom also writes excellent salad growing books. As for courses, we run a great Introduction to Market Gardening Course with Charles Dowding and Ruth Hancock from Fresh and Green in Ottery. We also run Salad Growing and Seed Saving courses through the year (details can be found at www.trillfarmgarden.co.uk).
This year has been strange and awful in different degrees for most people, and lots of local food producers have really suffered with not being able to supply cafes and restaurants (who have also massively suffered this year), so why not buy a veg bag or meat box for someone from one of the many great producers that Devon, Somerset and Dorset have to offer.
Lastly, please think of others this Christmas, there is huge inequality nationally, but also right here on our doorstep. If you can, please give what you can to food banks and other organisations that will help those who have suffered the most this year, and don't let your generosity stop at Christmas—try to encourage others who have a little more to help those who have less in 2021 and beyond.
WHAT TO SOW THIS MONTH:
Best to wait until next year now!
WHAT TO PLANT THIS MONTH:
OUTSIDE:
Garlic (if not planted already)
INSIDE:
peashoots, sugarsnap and early pea varieties, spring onions, broad beans, garlic (for extra early garlic). Try and plant all of this early in the month.
OTHER IMPORTANT TASKS THIS MONTH:
If the weather dries, continue preparing beds for the winter by mulching with compost. Also any polytunnels or glasshouses could have a wash this time of year to get the maximum amount of light in for any winter salad and veg that you have growing in them. Otherwise take the opportunity to take it a bit easier.