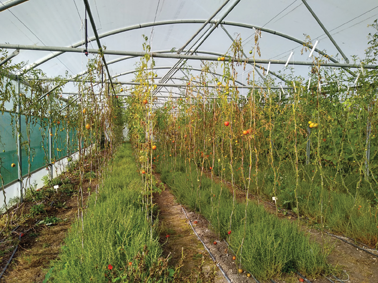 By November almost all of the planting in the veg garden is done until Springtime, apart from maybe some garlic and broad beans if not done last month, along with maybe some spring onions and peas for overwintering in a glasshouse or polytunnel. It is definitely a good time to spend reviewing the year gone by whilst it is still fairly fresh in your mind.
We like to take notes throughout the season so that in the autumn and winter we can have something to work from to make plans for the following year.
Growing in a small space can be highly productive, but you need to be organised and have an awareness of how long crops are in the ground for. This can allow you to plan for multiple crops per bed and ensure that you have sown enough veg to replace a crop as soon as it is harvested or gone over. This is something that we work hard on, but there is always space for improvement. Many of our follow on crops are sown in module trays a month or so before the crop that they are replacing is harvested. This means that they are ready for planting as soon as the old crop is out, and the new crop has already had a few weeks in trays to get a head start. For example, we replace our shallots and spring onions in early August with chicory. The first lettuce is planted around the end of March and is replaced as it starts to go to seed around mid June with autumn cabbage, and peas and broad beans are replaced with late summer lettuce in mid July. This means that all through the growing season we have to be quick with deciding when a crop has finished and when it is ok to remove it before planting the next one. We have a sowing plan so that the next crops will always be ready at the same time and the growing space is maximised.
This also works perfectly in the polytunnels. In the autumn, the summer crops like tomatoes, peppers, aubergines, cucumbers and beans all come to an end around about early-mid October. We sow most of our overwintering salads and herbs around early September so that they are all ready to be planted at the time that these summer crops are ready to come out. This then works at the other end of the year too—the overwintered salads are all ready to come out around the end of April—early May as they start to go to flower rather than producing leaves. Meanwhile, the tomatoes, peppers and the like have all been slowly growing in the propagating tunnel and are ready to plant in the tunnels to replace these salads.
Being organised and having a clear plan for the garden is one of the best ways to get the most out of the ground, and by continually having something growing in the soil means that there is always something to make associations with the biology of the soil, rather than having bare ground which leads to erosion and negative effects on the structure of the soil. This is the time to be thinking about how you can implement these ideas, so sit down in your most comfortable armchair with a good vegetable growing book which will help you with sowing dates and map out your garden for next year. It won't all work out, but if you keep notes along the way you can keep tweaking your plans each year.
WHAT TO SOW THIS MONTH: Not a lot! We have made all of our sowings by now, and will start tentatively with a few sowings again in January, but nothing else before then.
WHAT TO PLANT THIS MONTH:
OUTSIDE: Garlic (if not planted already)
INSIDE: peashoots, sugarsnap and early pea varieties, spring onions, broad beans, garlic (for extra early garlic)
OTHER IMPORTANT TASKS THIS MONTH: If the weather dries, continue preparing beds for the winter by mulching with compost. Don't be tempted to tidy up too much, as old crops and flowers act as a habitat for many beneficial insects. Start going through your winter job list – whether its cleaning glasshouses or polytunnels, tidying up your propagating area, cleaning and oiling your tools or even looking through seed catalogues for a bit of inspiration for next year!