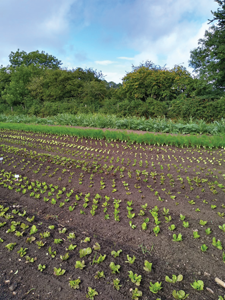 It feels good to have got to September with everything in the garden looking pretty healthy and organised. August is always a tricky month as a vegetable grower—trying to balance the time spent harvesting with the time spent turning over beds from old crops to new so that we have enough veg for autumn and winter. It is a bit like a second spring in terms of the workload of planting, but with the addition of the big harvests.
With most beds full of crops now it is worth thinking about what to do with any beds that will be empty over winter. September is a good time to sow overwintered green manures to protect the soil from the weather. The classic overwinter combination is cereal rye and vetch, though other winter cereals could be added to this, and even phacelia which if sown September time usually doesn't get too big before winter and can overwinter well if only a few inches tall (it will be killed by frost if it is sown too early).
September is also the perfect time to start sowing any crops for overwintering in polytunnels, glasshouses and cloches. We grow a lot of salad through the winter in our polytunnels, but also a range of herbs including coriander, parsley, and chervil, and some overwintering alliums such as spring onions, and garlic to get extra early garlic in the spring, as well as spring garlic. You can use the smallest cloves for spring garlic and plant 3-5 every 20cm so they grow in a bunch (best to wait til October/November to plant these), they are delicious and ready to harvest in the spring when they are about as thick as your small finger.
The salad leaves that we sow this month include all of the brassica leaves such as rocket, mizuna, purple frills, golden streaks, leaf radish, red Russian kale, watercress, landcress, spicy curls and purple wave (have a look at the Real Seed Catalogue for ideas of unusual mustards and winter salads to grow). We will also be sowing some overwintering lettuce – Rouge de Grenoble is a favourite, as well as winter purslane (also known as Miner's lettuce or Claytonia) and endive.
Most of these salads and overwintering plants will replace the summer polytunnel crops such as tomatoes, cucumbers, french beans, peppers and aubergines. Most will be planted from the beginning of October. You can also plant them under cloches outside if you don't have a polytunnel or glasshouse. They will just need fairly good ventilation through the autumn and winter to discourage fungal diseases.
So, the work continues through September if you have protected space to grow winter salads and herbs, and things will start to calm down a bit by the end of October!
WHAT TO SOW THIS MONTH: Direct sown outside: turnip greens, leaf radish, red Russian kale as salad leaf. Sow in trays: Now is the time to make sure you start sowing all of your overwintering salad leaves if you have a glasshouse or polytunnel, or even a sheltered spot on a patio. Leaves such as winter purslane, landcress, rocket, mustards, corn salad, endive, chervil, lettuce should be sown from the beginning of the month through to early October.. Also spring onions for overwintering in a cloche or tunnel/glasshouse
WHAT TO PLANT THIS MONTH:
OUTSIDE: salad leaves: leaf radish, winter purslane, landcress, rocket, mustards, overwintering spring onions, spinach and spring cabbage.
INSIDE: overwintering salad leaves (at the end of the month and into October), chard, coriander, chervil and parsley.
OTHER IMPORTANT TASKS THIS MONTH: Get your squash in by the end of the month and cure them either in a glasshouse, polytunnel or ideally in your house – this will make sure that the skins are hard and will last through the winter.