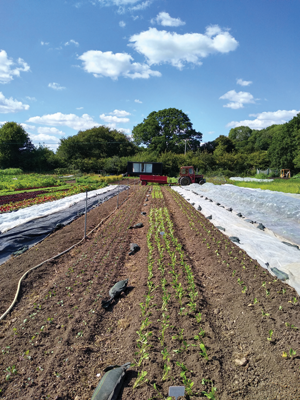 July was pretty full on in the garden—its a time when a lot of change happens, as early crops are cleared and autumn crops are planted. Beds were prepared for planting salad turnips, more salads—the first of the chicory, endive, lettuce, brassica salads such as rocket and mustards, coriander, kale, kohl rabi, more chard and perpetual spinach, chinese cabbage, pak choi and other stirfry greens.
This continues through August for us as the bulk of the chicory is planted, and we plant a lot of chicory! This provides us with leaves for the salad mix through the autumn and winter. Most of the chicory gets planted once the shallots and spring onions are all harvested. It also goes in the place of earlier plantings of chard and perpetual spinach.
For us, much of August is about being organised and prioritising jobs, as so much time is spent harvesting at this time of year—picking the beans, tomatoes, courgettes and cucumbers, two or three times a week, as well as all of the other harvests. We have to fit in the other work around this, and it is sometimes a case of having to let some things go a bit and decide which jobs to prioritise.
Most importantly for us at this time of year is getting all of the planting and sowing done on time as the days are getting shorter. It starts to make a considerable difference in terms of when or in fact if a crop will mature before the first frosts, or before growth levels slow a lot from October time.
Sometimes the hoeing and weeding has to be a bit more superficial at this time of year, and may just be a case of making sure that any weeds that are about to flower and seed are removed rather than spending lots of time hoeing the whole garden. Watering can be another job that has to be prioritised during August. If it continues to be dry then watering of leafy greens is prioritised as well as drip irrigation of fruiting vegetables such as beans, cucumbers and courgettes. Newly planted crops should also be given a good soak straight after going in the ground.
WHAT TO SOW THIS MONTH: endive, winter purslane, salad mustards (best sown direct) such as Golden Streaks, Purple Frills, rocket, land cress, chard, leaf radish, texsel greens, lettuce, fennel (early in the month), broad beans (for tips in salads) & peashoots, autumn radish and turnips, chinese cabbage and pak choi (early in the month), parsley (for overwintering in polytunnel/glasshouse), corn salad & spring onions & spring cabbage (all late in month for overwintering)
WHAT TO PLANT THIS MONTH:
OUTSIDE: fennel, beetroot, lettuce, chard, kohl rabi, chicory, salad leaves: buckshorn plantain, salad burnet, chervil, endive, turnips and winter radish (sown direct), pak choi and chinese cabbage
INSIDE: summer purslane, goosefoot
OTHER IMPORTANT TASKS THIS MONTH:
Keeping on top of taking old crops out and planting with new crops is still important throughout August. There is still plenty of time to get late crops in the ground, and as we roll into September it can almost be like a second spring (with the benefit of already warm soil).
Generally it is a time to harvest—keeping on top of harvesting courgettes and beans will keep them going and mean that they don't get too big or too stringy. Also continue with the weekly job of sideshooting tomatoes and removing lower leaves to get good airflow going through the crop.