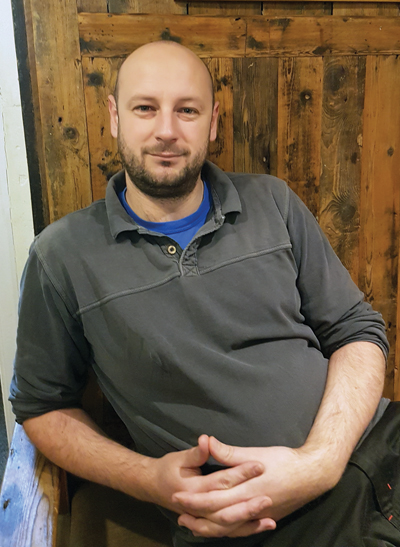 Bang, crash, go the barrels as they are rolled across to the other side of the car park, where the empties are stacked. Paul Wiscombe, Landlord of The Anchor at Seatown's childhood memories involve helping his parents at the pub they ran; the Ilchester Arms in Symondsbury.
Coming across Paul as he cleans the pipes in the barrel house perched on the steep incline next to the entrance of The Anchor, he explains he lives and breathes pubs, as it's all he knows. Having run The Anchor for 14 years, since he was 23, he knows his establishment inside out. Especially since the complete refurbishment which Palmers did a couple of years ago, giving the pub a new lease of life and three rooms for B&B. Paul had his own vision to tie in with the transformation, putting his stamp on the menu and how the pub did food and drink. He hired Head Chef Jean Paul De Ronne and his team to create stunning locally sourced dishes, and got David Smith of Hix to design bespoke cocktails, resulting in Paul and his team sweeping up, winning awards left right and centre. The Anchor is now one of the most celebrated pubs in Dorset.
As Paul says, "Everyone used to come down here because it was a beautiful place. But I wanted to make it the whole package, a real destination pub. As the pub received a great level of custom anyway, it was a brave decision to change things, but one that has paid off. I feel bolstered by the confidence the brewery has shown for me."
Now, Paul doesn't spend as much time behind the bar. He is busy orchestrating the business from behind the scenes. This is something he has worked hard for, so he can spend time with his young daughters, which he values above all else.