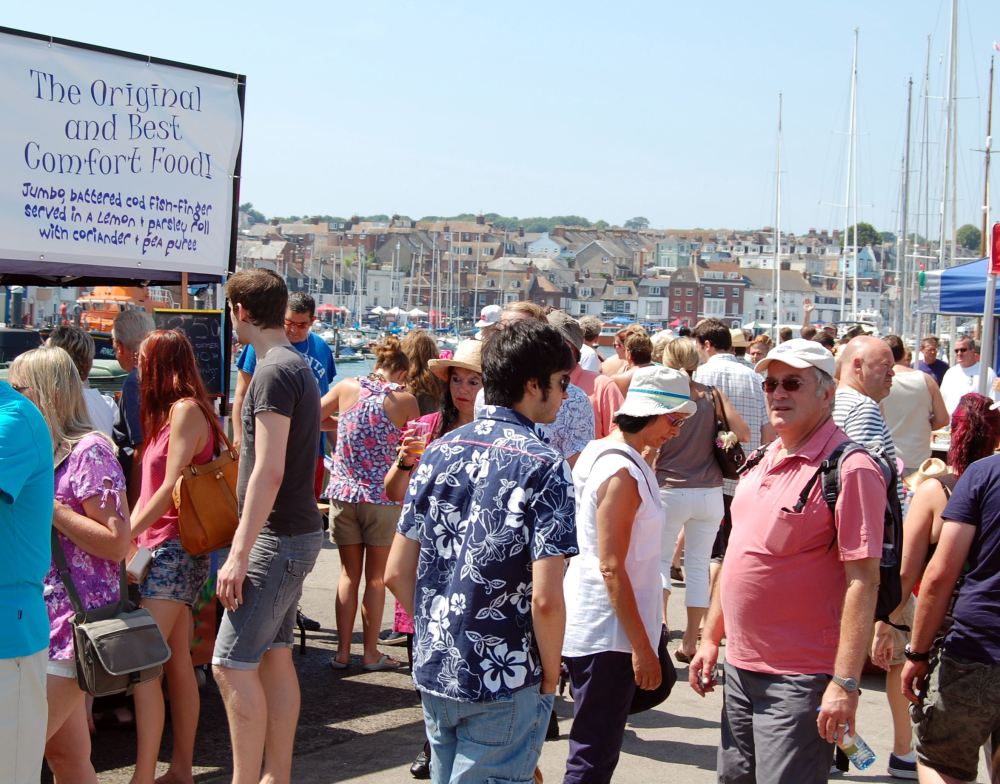 Basking in blue skies and sunshine, Weymouth had a particularly fishy feel to it at the weekend during the Dorset Seafood Festival.
The two-day event brought thousands of people into the town and along the quay to see the best the region can offer from the ocean.
Last year the Saturday programme had to be cancelled due to strong winds and heavy rain but this year was the polar opposite: two days of near-uninterrupted sunshine and high temperatures.
The term 'street food' was something this festival amplified, with a selection of dishes from a wide range of cuisines being served up to the throngs of visitors. From a gourmet fish finger sandwich to Thai fishcakes, from Indian-style curries to Spanish paella, there was something for every taste.
The emphasis was on the highest quality produce, with talks on sustainable fishing through to demonstrations from some of the top chefs in the area. During every performance the cookery theatre was surrounded by people eager to see and hear the advice from such gastronomic experts as Lesley Waters, Mark Hix, Russell Brown and Mat Follas.
Over the years this celebration of all things seafood has grown and grown to become a unmissable event for both locals and tourists. Chances to sample West Country cheese, to taste mouth-watering pastries and cakes, and to purchase professional-quality cooking equipment was interspersed with charities, local businesses, and stalls selling some of the finest ciders from the South West.
"Since its inaugural event in 2008, the Dorset Seafood Festival has rapidly grown into one of the largest free seafood events in the UK. The award winning event was recently placed in the UK's top ten food events by the Independent newspaper", said Roger Dalton, chairman of the festival.
"I'd like to take the opportunity to thank the members of the organising team, who have put in a tremendous amount of work over many months to make the Seafood Festival happen.
"Thanks also go to the sponsors, individuals and organisations that have helped immensely; we couldn't do it without you!"
The sights and the smells of this festival cannot be fully explained on paper. With this glorious British summer we are having at present, the image of people strolling along with a fresh crab sandwich in one hand, waving to other visitors enjoying a river cruise alongside Weymouth quay in the sunshine, is an image that should be remembered for years to come. It is a great advertisement for the beautiful area we live in, and shows how well the region does food and drink
Words & pictures by Benjamin Parker