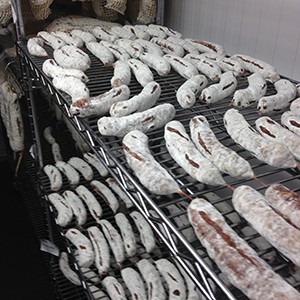 It has been some ten years since my move to Dorset from London and not a day goes by when I don't count my foodie blessings. In deciding where to go my arm hovered over the map of west Dorset and the pin and flag were firmly stuck in the Bridport area, knowing it to be an area of food excellence—the decision to settle there being guided more by the magnificent quality produce than school catchment areas or rateable values. Being quite rural does mean you have to make some sacrifices though—I cannot get a meal of any sort delivered to my door (not even commercial cardboard pizza)—but the upside is a wealth of quality ingredients on your doorstep. Just a few kilometres west in Rampisham, where there is a family-run smokehouse, Capreolus Fine Foods, that makes up for any noodle-bar wanderlust. Run by David and Karen Richards, it typifies the kind of small-but-beautiful producer that I have come to recognise as sound currency in our treasury of local foods. It is also significant that it blossomed out of a passion for smoked meats that David had made in a domestic capacity for several years, and necessity—as he was made redundant from industrial sales and working on building sites driving heavy machinery. Not really up his strasse at all. Like many kitchen table projects they progressed with the help of friends who liked their take on smoked venison and offered them the use of a converted calving shed to take it past the initial stage.  Over the next few months David and Karen perfected their cold-smoked venison and increased their product range to include smoked beef, chicken, duck and pheasant; dry-cured bacon and a delicious ham. They picked up several customers including well known restaurants and delicatessens and the business out-grew the calving shed. They have now set up the smokehouse on a permanent footing at Uphall Farm. This is impressive as the current popularity rise of David's produce has been meteoric. His 'previous life' ended unbelievably only some four years ago and now he is the proud holder of awards from Taste of The West not only in his second year, but 4 golds, 5 silvers and 2 bronzes in 2011 with a further 12 this year. They  have also been awarded 2 stars for their Smoked Mutton and 1 star for Smoked Venison in this year's Great Taste Awards.
With all this peer recognition I wondered whether they had always secure in the knowledge of their destiny? Karen admitted "It had been, at times, a terrifying journey" but with popular support they had been confident in "taking it further". David had been a good rifle shot (Captain GB Hampshire Rifle Team) and a bon viveur, so what could be more heavenly than pursuing your passion for fine foods? Their range of lines has grown to Beef, Chicken, Duck, Venison, Dry-Cured Bacon, Ham Hock, Smoked Mutton, Chorizo, Rose Veal, Ham, Salamis and even Alpaca. Local alpaca farmers knew that although fleeces and hides were valuable, their flesh tasted sweet and (in marketing-speak), could 'add value' to the animal extra to their other two 'crops'? Incidentally, for enquiring minds it tastes like 25% mutton with about 75% venison. Preserving meat by curing and smoking is centuries-old of course, and traditions have changed little though German engineering technology has sped-up the process, by virtue of an automatic smoke-oven that can be programmed to alter temperatures and timing according to the recipes. Granular chips of wood are fed-in via a hopper so even smoking results. The beauty of using a high-tech oven is that smoke is part-recycled via fans to complete a smoke cycle for say, a chunk of back bacon in 1 hour. This is a long way from the pile of smoking sawdust in a privy-sized shed at the bottom-of-the-garden model and enables the commercial throughput for commercial production a no-brainer.
UV light and climate-control along with a safe curing medium ("Continental Salt" in the trade vernacular) ensure hygienic end-product and in the mix there are also the tweaks and tips David has developed along the way. Like the winemaker who has to adjust timings according to climate and rainfall, the smoking and curing is subject to adjustment according to David's 'finger on the pulse'. I quizzed him on the woods used and he lists "oak, apple, beech, alder, and cherry, but I quite like to use beech as it is a most 'forgiving' wood. You must ensure though, that you do not over-smoke, as it imparts a bitter taste." All their curing techniques follow traditions of both dry curing, where the salt and flavourings are rubbed dry into the meat; and brine-curing where the meat is immersed in a highly-flavoured brine.  In both cases water is drawn out of the meat and replaced by curing salt and the natural flavours of the herbs and spices. In some of the bacon recipes even molasses is used to give a sweet depth of flavour and balance the salt.
After curing, the meat is air-dried and when ready, gently smoked over woodchips. There are two different smoking techniques cold and hot smoking. Products like venison, beef, and bacon are cold-smoked—sometimes for a relatively long time; the second method being smoke-roasting, which follows on from cold-smoking; here, temperature is gradually increased (whilst still smoking) in order to lightly cook the meat.  These products would suit duck and chicken (Premium poultry from Otter Valley in this case). Lucky for me, I had a marvellous tasting of sliced meats and salamis, all of which were delicious but I have to reserve special mention for my personal favourite, the saucisson sec. Hand made in the classic style of salami or saucisson the recipe is simple, pork, garlic, salt and pepper using natural casings with the meat (of the highest quality, naturally) being sourced from local farms who produce free-range or organic meats or are wild meats like boar or venison brought to us by favourite local game hunters. The saucission sec stands out in my opinion and is endorsed in it's quality of flavour by a 2-starred Michelin chef, Jacques Marchall, who pronounced it "Better than anything coming out of France at the moment". High praise indeed. Melt-in-the-mouth pancetta, coppa and a chili-fired salami—the 'Dorset Warmer' with a lingering heat were also mentioned in despatches. You can try and taste these delicious items at the next open day on December 15th—get there early though, as stock sells rapidly.
Ticking the final eco-friendly box, a testament to the green credentials of Capreolus that delights, is the recycling of goat's milk by products: Annette at Woolsery Cheeses in Sydling Brook Dairy is supplied with goat's milk from Richard Haskett of Homestead Farm at Cheselbourne. After the cheese is made the run-off fluid, the leftover whey, is recycled to the feedstuff for the pigs that supply the meat for the processing at Capreolus. Waste is recycled adding to both the economy and flavour of the pork. Bingo! As Mr Bueller said: "Life moves pretty fast and if you don't stop sometimes and look around, you might just miss it"!