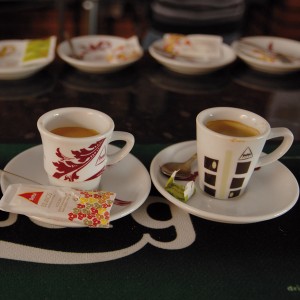 Who would have guessed it – a Portuguese café and food shop in Chard? But then again, who would have guessed that there was also a Portuguese community there?
It's true, though, and if you take a walk down Chard's high street you can hear snatches of spoken Portuguese scattered among conversations in English. And like smoke and fire, wherever there is an immigrant community, there is sure to be an establishment selling native food.
All of which explains the existence of the A & J's Frozens (Cafe & Snack). Located near the Manor Court Community Primary School, it is one of three Chard businesses catering to the gastronomic needs of the Portuguese living in the area. Owned by Albino Correia and Jorge Silva, it has only been open since May of this year, but in that short time, they have been able to create what seems to be something of a community centre for their compatriots.
When I first visited the café-cum-shop, school had just got out, and an enthusiastic rumble of sound emanated from the mixed congregation of school children making a stop on their way home, mothers with toddlers meeting for a chat, and men jovially greeting each other before settling down to talk. Getting into the mood, I ordered an expresso – concentrated coffee packed with caffeine and served in small cups – and slowly savoured its rich bitterness tempered by the sweetness of the sugar that came with it.
A return visit later in the week proved to be less hectic, and I was able to talk to Albino (Jorge was on holiday in Portugal) and take a leisurely look around. During my search, the reasoning behind A & J's Frozens odd name became clear: it is a purveyor of Portuguese food preserved in a number of freezers lined up against the walls, just waiting to be inspected. The freezers contain mostly fish, which is quite natural considering Portugal's long Atlantic coastline, and Albino reckons he stocks 25 to 30 types, including squid, octopus and salted cod known as bacalhau. A rummage through the cold also revealed sweet and savoury pastries and a few vegetables, including couve galega, a kale-like green cooked with potatoes and sausage to make the famous caldo verde (green soup).
Scattered among the freezers are display shelves filled with an eclectic mix of food that ranges from prosaic cereals and tinned beans to exotic green olives stuffed with dynamite-hot chillies. No Portuguese shop would be complete without wines and olive oil, and A & J's Frozens has opted for completeness. Scanning the shelves, I also discovered packages of quince marmalade, a sublimely flavoured jelly that is a welcome addition to the morning's buttered toast and is surprisingly compatible with mature West Country cheddar cheese.
Though it dispenses great espresso, A & J's Frozens is also a bar where beer, wine and sprits can be bought. In an attempt to be jacks-of-all-trades, Albino and Jorge likewise serve food to their hungry customers, who can either stand at the bar or sit at the tables set up for informal eating. My eyes were overpoweringly drawn to a chill cabinet displaying locally-produced, come-hither puddings. The custard with caramel topping was especially tempting, though the chocolate cake sprinkled with dried coconut was certainly a worthy substitute.
Customers wanting a savoury snack can order a small plate of shrimp-in-the-shell to eat with their pint of beer. Those who need something more filling can go for offerings of stuffed crab or layered sandwiches made with egg, cheese and various meats such as smoked salami, sausage and ham.
Just as I was ready to leave, Albino insisted on preparing me something to eat. Despite my protests, he took me into the shop's small kitchen where he cooked a dish of bacalhau á bras (salted cod Bràs' fashion). He started by frying onions and garlic in olive oil before adding chopped salted cod. When he deemed the concoction sufficiently cooked, he stirred in a bag of julienned deep-fried potatoes reminiscent of matchsticks. As soon as this heated up, he poured in some scrambled eggs and cooked them until they had set. The food was then arranged on a plate, topped with chopped parsley and served with black olives.
It took fifteen minutes to cook, and though I had my doubts about the potato sticks, the results were a surprise: a substantial dish suffused with the subtle tastes of fish and fruity olive oil, given backbone by the potato sticks, and held together by moist scrambled eggs. Sublime, and I ate more than I should have.
As soon as Jorge comes back from holiday, the partners plan to expand the menu. This should bring more customers in, and if the dishes are as tasty as the one cooked for me, I can't wait for Jorge's return.
A & J's Frozens is located on 27 Holyrood Street, Chard.
Michael Michaud is the co-owner of Sea Spring Seeds, a company specialising in the sale of vegetable seeds.