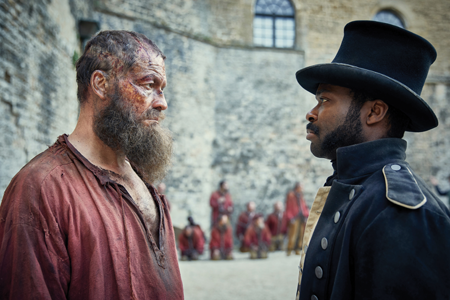 Disney Plus
Nomadland (2020).
This is the only streaming platform in UK and then there will be a cinema release once cinemas reopen in May. The wonderful Francis McDormand a winner of two Oscars for Three Billboards and Fargo plays Fern in this adaptation of the novel by Jessica Bruder and directed by Chloe Zhao
In the U.K., Nomadland won best independent international film at the British Independent Film Awards, and at the London Critics' Circle Film Awards, it won film of the year, while Frances McDormand was named actress of the year, and writer-director Zhao won screenwriter of the year.
The film featured in every major category in the BAFTA longlist and is frontrunner in The Bafta nominations for 2021.
"Sublime" Entertainment weekly. "I love everything about it." Roger Ebert.com
Amazon Prime
Les Miserables ( 2019).
This powerful French film is set in Montfermeil which is famous as the location of Thénardiers' inn in Victor Hugo's Les Misérables. Montfermeil has made the headlines due to troubles in its social estate called "les Bosquets". Ladj Ly the writer and director grew up there and his film is the French nomination for Oscar for best foreign language film.
"Ly's film is executed with enormous confidence and energy, building up to an apocalyptic ending that delivers on a gradual build-up of nervous tension." Screen Daily. Jonathan Rommney.
The Lighthouse ( 2019)
Stars Robert Pattinson and Willem Dafoe and is set entirely on a remote lighthouse. "Very few films can make you scared and excited at the same time. Just like the lighthouse beam, this is dazzling and dangerous." The Guardian Peter Bradshaw.
BBC iPlayer
The Ipcress File (1965)
"Len Deighton took the Ian Fleming spy formula and grafted on the anti-authority attitude, first person narration and wisecracking dialogue of the 1930s and '40s hard-boiled detective novels of Dashiell Hammett and Raymond Chandler." BFI Screen Online. "Michael Caine, Zulu under his belt and Alfie ahead, is the cheeky working class but aspirational bright spark hero par excellence, captured at the exact moment he became a star." Empire.
Night of the Living Dead (1968)
"Director George A Romero redefined the meaning of horror for fear-sated audiences in the 1960s with this seminal classic." Radio Times. "The original and the best." Empire.
Netflix
Thunder Force (2021)
"Thunder Force's Cast Includes Oscar Darlings, Comedians, And Marvel Movie Actors
In addition to Academy Award nominee Melissa McCarthy (for Bridesmaids) and Academy Award winner Octavia Spencer (for The Help) as the leads, the cast of Thunder Force incorporates a number of versatile and familiar talents. Since the film is a comedy, we can be thankful to see Jason Bateman as a man with crab-like attributes and, also being a superhero flick, it is cool to see Ant Man's Bobby Cannavale and Guardians of The Galaxy Pom Klementieff abandon their more heroic MCU reputations to play villains this time." Cinema Blend