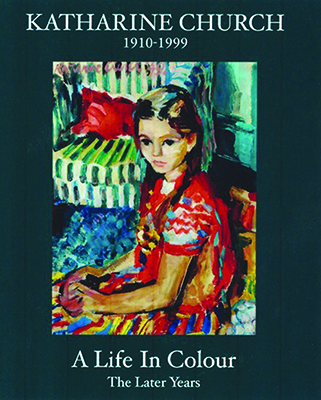 Katharine Church:  A Life in Colour by Vivienne Light
In 2013 I met John Duncalfe, who from 1979 to 1996 had been Director of the Duncalfe Galleries in Harrogate. In 1988 he had organised a major retrospective exhibition of the work of  Katharine Church, a painter who had lived in Dorset from the late 1940s. With over a hundred works, it proved one of the Gallery's most successful exhibitions. A photograph taken at the time shows a beaming Katharine Church standing next to John Duncalfe, the playwright Alan Bennett and the painter Ken Howard R.A., all great admirers of the artist's work.
When I met Duncalfe he was in the process of collating images and text for a book on the later years of Church's life and wondered if I might be interested in writing a foreword. Two years previously I had written about the artist in Circles and Tangents: Art in the shadow of Cranborne Chase (2011). I agreed to write the foreword, and at the end of 2015 Duncalfe's book Katharine Church 1910 – 1999 A Life in Colour, The Late Years was published.
When Katharine Church (familiarly known as Kitty West) died, the obituary in the Times described her painting style as 'calm, colourful, decorative, unmistakably English—little changed in seventy years. She moved in Bohemian and Bloomsbury circles.' To me this has always seemed a rather patronising, dismissive summary about a remarkable artist. The Independent and the Guardian certainly did better.
It was a chance meeting in 1986, in the Catalan town of Sitges, which initially brought Duncalfe and Church together. The first of the artist's works Duncalfe saw were town-landscapes of Sitges, painted from a temporary roof top studio. Greatly excited by them, he arranged to visit her once she had returned home to England. Home was Sutton House, five miles north of Wimborne Minster. What Duncalfe encountered on entering Church's studio was a feast for the eyes. Here were striking, rich canvases of colour, the work of a painter who could not easily be identified with any particular genre or corralled within any set group. The work was of itself: strong, linear, structural, 'dashing, generous' and boldly figurative. Colour lay at its heart, with directional strokes of black paint reinforcing outline and definition. Duncalfe immediately decided that this work must be shown. Though Church had exhibited actively in her early years, for too long she had been absent from the national scene. Her inclusion in the 1982 'British Neo-Romantics' at the National Museum of Wales had been one of the few recent significant shows.
From earliest childhood Church was determined to be a painter. This was despite robust discouragement from her socialite mother. However, as strong- minded as her mother, Church enrolled at the Royal Academy Schools (1930-1933). In the same year as graduating, she was offered a solo exhibition at the Wertheim Gallery in Burlington Gardens, London. Lucy Wertheim was willing to take risks, to invest in new-generation artists, amongst them Christopher Wood, Victor Pasmore and Cedric Morris.  In 1933 Church became her latest 'discovery'.
The paintings Church exhibited testify to her love of bold, fauve-rich colour and show that she was not intimidated by the expressive power and possibilities of oils. With the enthusiastic encouragement of the artist Ivon Hitchens, her painting became freer and increasingly spirited. At the same time she demonstrated that she could handle watercolour with a delicacy and transparency that recalls the fragility of glass. John Piper was to influence her in this and throughout their lives the two would periodically set forth together on painting expeditions, many of which took place in Dorset.
When Church graduated she was determined never to marry; art was to be her whole life. Thus when she suddenly announced in 1935 her decision to marry the painter and writer Anthony West, the son of writers Rebecca West and H.G. Wells, it came as a complete shock to her family and friends. Initially marriage and motherhood did not curb her painting, and between 1937 and 1947 she had three prestigious exhibitions at the Modern and Contemporary Lefevre Gallery. Amongst that gallery's other regular artists were Ben Nicholson, Barbara Hepworth and Henry Moore. Always a figurative painter, eschewing abstraction, the avant-garde Lefevre's selection of Church was a mark of high regard. Church also exhibited in other group exhibitions through to the early 1960s, including the Royal Society of Portrait Painters, the Tate's 'Figures in their Settings', the Royal Academy open exhibitions, and the New English Art Club.
After World War Two and a move to Tarrant Hinton on the edge of Cranborne Chase, Church and her husband parted, with Anthony moving to New York. This was a bitter blow to Church. In 1964 she took over the Hambledon Gallery in Blandford from Amabel Carr, its founder, and over a twenty-year period she established what one contemporary described as 'a West End Gallery in Dorset'. To do this she netted in artist friends from London, including Mary Fedden and Julian Trevelyan. She also cultivated a number of talented local young artists, including Peter Thursby, John Hubbard, Padraig Macmiadhachain and John Hitchens. Unfortunately running the gallery left little time for her own work and during these two decades she had just two solo exhibitions.
Throughout her life the subjects of Church's work remained constant, though this did not detract from their strength and dynamic energy. Apart from portraits—both adult and children—she painted interiors, flowers, still-lives, views through windows, town-land-and coast-scapes. Her portraits could capture not just a likeness but also the spirit, the true essence of the person. Perhaps her boldest portrait of all is a self-portrait painted five years before she died. As John Hubbard recalls, though she was never a person of easy temperament, or someone who would shy away from an argument, she never allowed any difference of opinion to become personal. She had good friends, especially the New Zealand painter Frances Hodgkins and the Bloomsbury diarist Frances Partridge, with whom she travelled to Russia.
Church was eighty-nine when she died. The nearest she had come to abstraction was in a small number of collages made in the 1930s, much influenced by John Piper. Otherwise, she ploughed her own furrow, largely ignoring modernism and contemporary trends. Today, her work has the freshness and immediacy that it had when first painted. As the art critic Laura Gascoigne has written: verve is a quality that shines from Katharine Church's work, and its brightness has not dimmed over the years.