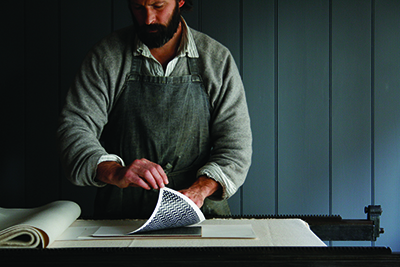 Every so often, if you are lucky, you can meet some exceptional artists and crafts people in Dorset. They are often hidden away in villages or remote rural locations and stumbling across them is an unexpected joy.  Cameron Short is, most definitely, one of those people.
Working from his renovated house, which was previously the village shop in Thorncombe, Cameron Short and his wife Janet are producing beautiful work with care and an attention to detail that is an antidote to our modern throw away, mass-produced culture. Cameron and Janet are hand block printers. They produce work inspired by the natural world, memories of a bygone rural era and childhood memories of growing up in the English countryside. There is a romance to the work, but there is nothing fey or sentimental about it. Strong, single colour prints include images of vagrants and hunters. One image includes a boy who is blind in one eye. 'We had an American company interested in our work', says Cameron, 'but they felt that the American market wouldn't accept any disability'. This is an unsanitised version of old-style rural life and one that is obviously too raw for the US.
The work is produced on a 1904 proofing press, as part of the ethos of producing images with the minimum of modern technology. By using traditional methods and taking care of every stage in the process, including the inks, fabrics and papers, Cameron believes there is a different texture to the work. His images have attracted attention from some of the very best in the business. He is a represented by Mark Henderson (formally from Gieves and Hawkes) as part of The New Craftsmen—an exclusive collection of handmade and unique pieces.
Surprisingly, Cameron hasn't always been an artist and didn't go to art school, although he did do an Art Foundation. He spent almost fifteen years as an advertising copywriter in London, working for some very big name agencies. He and his identical twin brother had forged an impressive career, however, there came a time when it just had to end. 'I didn't have a choice, really', says Cameron, 'I had to get out of London'. His boss was extremely sympathetic and wouldn't accept his resignation, giving him a redundancy instead. There then came the dilemma of where they were going to go. 'Our daughter was very little, Janet grew up in New Zealand, but we decided against that. I had grown up in Hampshire, but my parents had recently relocated to East Devon. As soon as we started to explore the area, we knew this was where we wanted to be'.
He had already made contact with his mentor, Marthe Armitage at this point, gaining rare access to the artist and her methods. 'The first time I saw her work, it was like a light bulb going on', he says, 'I knew I had to track her down and meet her'. Marthe is famous for her hand drawn lino cut wallpapers, in fact, they have been described by The Bible of British Taste as, 'the best handmade wallpapers in the world'. She is notoriously reclusive and shuns the limelight, so it was a matter of luck and serendipity that gained Cameron access to her studio. He was hooked on her methods and started working on his own designs as a consequence. The work with Marthe played a large part in his decision to leave London.
However, the first two years in Dorset were hard.  Cameron took a labouring job to make ends meet; working on his wood blocks in the evenings. The family were living in a small rented cottage and the dream of owning their own home and studio felt like a long way off. Then fate stepped in and the fire damaged, derelict shop in Thorncombe came up for auction. Previously a coal yard and general junk collecting space, Janet and Cameron have spent the last few years renovating the house and shop with the same meticulous attention to detail. The property is now stunning and a testament to what can be done with very small amounts of money, but a very big vision. The couple are planning to open the workshop to the public on Friday and Saturday 11am-5pm and if you happen to find yourself in the vicinity, it is well worth a visit.
Cameron also plans to run very small, bespoke workshops once a month from March 2016. He is keen to teach other people the art of woodblock printing and wants to keep the workshops to a maximum of two people in order to obtain the most benefit from the day. 'There is a moment after the block is inked up and lifted off the paper which is pure magic', he says, 'I am eager to share it'. Both are passionate about the joy of handmade and the skill of self-sufficiency, that is, not relying on others to do things they can learn to do themselves.  Their beautiful website is a testament to this ethos, Janet having made it with a template and £90.
As well as renovating the house, starting their business and creating work, the couple have three young children. The youngest two, although several years apart, share the same birthday, 'They are called Hobbs Pudding twins in Cornwall', says Janet. Cameron and Janet are now sharing the studio and take it in turns to work and look after the house and children.  'I tend to have three days in the studio and two on the domestic and for Janet, it is the other way around', says Cameron.  This shared way of working fits in with their lifestyle and the way in which they want to produce work, that is carefully, slowly and without technological intervention. 'It is all about the hand and the eye', says Janet.
They are keen not to be seen as Luddites though—'It is only the internet that makes it possible to work like this', says Cameron. 'It means the world is our shop window and whilst we choose to live simply, we couldn't do without the freedom modern technology has given us'.
Cameron Short was a winner in the 2015 Marshwood Arts Awards.