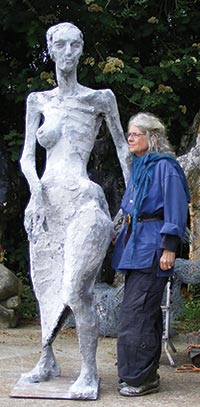 A new exhibition celebrating the 40th anniversary of Bridport Arts Centre sees three generations of artists tackle issues such as romance, feminism and ecology.
Katherine Locke has been to talk to Greta Berlin about one family's intriguing journey.
Greta Berlin is in the mood to reminisce. The forthcoming exhibition spans three generations of artists in her family and it is an appropriate time for reflection. 'My daughter came up with the idea to exhibit together years ago, when she was still at art school', she says, 'but it is only now that the time feels right'. The mixed exhibition features Sven Berlin (Greta's father), Greta Berlin with her sculptures and her daughter, Zennor Box, showing her paintings.
'Even though Zennor came up with the idea twenty years ago, there is a synchronicity to it coming together now which I like', Greta says. Sven Berlin died almost fifteen years ago; Greta describes herself as 'being near the end of her career', and Zennor's work has attracted much acclaim (including working with Aardman Productions). 'The idea also coincided with Bridport Arts Centres 40th anniversary, so it felt like the perfect moment'.
It is also something that Greta terms 'a big step' for her to show work alongside her father. 'He was a big, powerful person', she recalls, 'he had very fixed ideas about what constitutes art and would be vocal about transgressions'. Showing work in the same exhibition is like 'stepping out of his shadow', she says. Having creative parents can make it difficult to find your own voice, she muses, and as Sven sculpted, as well as being a prolific painter and writer, it must be particularly hard to step away from his influence.
Zennor has been able to do this more easily, Greta says. 'She was always full of energy and enthusiasm, even as a child, and she was always ready to take up a new challenge', says Greta. At first glance Zennor's work appears easy and undemanding—birthday card images of bears and bulls. It is only on closer inspection that the underlying uneasiness becomes apparent. 'I look for the click moment when you first see one of my paintings', says Zennor. She strives for an instant engagement, followed by the realisation of the unexpected.
Her work explores the narrative of fantasy and fairy tales, hence the frequent use of animals, but delves deeper into human issues of concern, such as the use of fossil fuels and our addiction to the digital. Both Zennor and Greta would describe their work as political with a small 'p'.
Sven however, described himself as 'the last of the romantics'. His passionate view of artists as outsiders led to him living a traditional gypsy lifestyle in the New Forest for many years, complete with a painted horse drawn wagon. Born in London in 1911 into a fairly conventional family, Sven started his creative career as a dancer. He became a prolific artist, oscillating between sculpting, painting and writing according to the seasons. 'He was a different person with each discipline', Greta recalls.  He wrote mostly in the winter and Greta describes him as 'awful' when he was writing. She puts it down to the lack of physical movement, and the cerebral, inward nature of writing that left him wrestling with his demons.
Sven is well known for his fictional autobiography, The Dark Monarch, which was considered so controversial, it was withdrawn from publication six weeks after its release in 1962. The book charted the rift between Sven and the St Ives group, sparked by his distaste for the abstract tendencies of the work they produced. His thinly disguised portraits of leading artists of the period, including Ben Nicholson, Barbara Hepworth and Patrick Heron, led to a flurry of law suits at the time. The book was re-issued in 2009 to coincide with a group exhibition of the same name at Tate St Ives. The exhibition included work from Paul Nash, Henry Moore and John Piper amongst many others and explored the tensions between progressive modernity and romantic knowledge.
Greta Berlin's work includes a different set of reoccurring themes, such as mothers and children and the fecundity of nature. Pussy Riot and the struggle of protesting women have also influenced her work recently. When asked if she considers her work to be feminist, she replies that she thinks it must be, as she believes in equality, but is not interested in separation. She has been reluctant to ally herself with existing feminist art groups, preferring instead to work in the context of celebrating gender difference. Her work is a beguiling mix of the fragile and the strong. For instance, using traditionally hard (or 'masculine') material, like sheet steel to describe a tender or difficult moment.
She says her acquisition of a plasma cutter enabled her work to develop in a way she finds very exciting. As well as physically cutting the steel, it can also be used for finer work, such as drawing directly on the metal. This technique can be seen in her Caged series, which also uses light to describe the mute despair of the imprisoned women. The cut out bars illustrate how we can become prisoners ourselves, frightened of the shadows of our self-imposed exile.
Romance, feminism and ecology—these are big issues, tackled in unique ways by three generations of artists. It is fascinating for us, the viewers, to witness the diverse artistic expression from the same family, mainly because of its rarity. It is an opportunity that doesn't occur very often. The work spans from the 1950's through to the present day and represents, not only changing cultural approaches to art, but also how personal experience informs expression in ways that can't be faked or forced.
Each artist is true to themselves and produces work that is fully explored and genuinely felt. A family with an abundance of talent, a fascinating back story, and an artistic legacy that lives on. This exhibition fits perfectly the Bridport Arts Centre's 40th anniversary, as it explores the idea of creative legacy in the past, the present and the future.