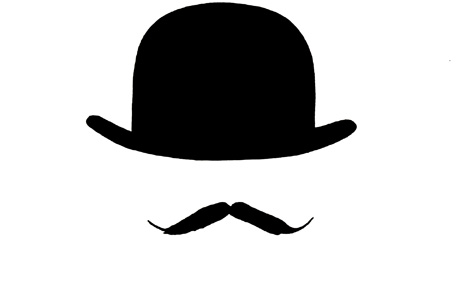 I am sure he would have joined me in wishing you a very Happy Christmas.
Agatha Christie wrote a novel entitled Hercule Poirot's Christmas, produced in 1938, but this article is about her first published novel, published 100 years ago this year, in September 1920. It was entitled The Mysterious Affair at Styles and was our first introduction to Hercule Poirot, Captain Arthur Hastings and Detective Inspector James Japp of Scotland Yard. Miss Lemon is not included in this book.
In 1919 Agatha Christie met John Lane of Bodley Head Publishers about her novel. He suggested a certain amount of rewriting, which she carried out and Bodley Head gave her a contract dated 1st January 1920 for six books. The novel was serialised in The Weekly Times in February 1920 and began sale as a book on 21st January 1921.
In the story, Hastings has been invalided home from the Front and given a month's sick leave. He met John Cavendish, an old friend who invited him to spend his leave at his family home, Styles Court. There Hastings collided with his old Belgian friend Poirot, who was staying with some Belgian refugees. Poirot was described as a little man, no more than five feet four inches, with an egg-shaped head and a very stiff and military moustache. Hastings said that Poirot had been one of the most celebrated of the Belgian police and had inspired Hastings to follow his methods.
Soon after this meeting, Mrs Emily Inglethorp was murdered. She was about 70 years old and had recently married Alfred Inglethorp some 20 years younger. Emily had earlier married Mr Cavendish, a widower with two small sons and she brought them up when Mr Cavendish died.
I made a list of the participants to assist my following of the narrative, as follows:
John Cavendish, aged 45, a barrister now looking after the Styles estate, adopted son of Mrs Inglethorp, married to Mary, who works on the land. Lawrence Cavendish, younger brother of John, qualified as a doctor, unmarried and unemployed. Evelyn Howard, 2nd cousin of Alfred Inglethorp, aged about 40, a nurse. Cynthia Murdoch, works as a VAD in nearby Hospital Dispensary, a ward of Emily Inglethorp. Dr Bauerstein, a poison expert, lives in the village as does Mrs Raikes, an attractive wife of a local farmer. Several housemaids/cook and two gardeners. Enough for Poirot to consider and Hastings to puzzle over.
I will not spoil any more of the story, but like so many of Agatha Christie's stories, it is very convoluted. Enjoy it by obtaining the book or watching it on television.
Since publication of The Mysterious Affair at Styles, Agatha Christie wrote some 37 books featuring Hercule Poirot, plus two plays and a number of compilations of short stories. Later she introduced an elderly spinster, Miss Marple in about 14 books plus short stories, in which she 'assists' the police to reach a conclusion. The Murder at the Vicarage was the first Marple. Soon after the introduction of Poirot and Marple they were both performed on stage, film and then television.
Actors performing as Poirot have included, the first on stage, Charles Laughton, films have included Austin Trevor (1931), Peter Ustinov (3 films), Albert Finney, David Suchet, Kenneth Branagh. Miss Marple has been played by Margaret Rutherford, Angela Lansbury, Geraldine McEwan, Joan Hickson and Julia McKenzie, among others. I once advised an elderly lady that Miss Marple was on TV that day and she scathingly replied 'But not the Proper Miss Marple'. Perhaps she remembered Margaret Rutherford.
But with so many television appearances from 1989 David Suchet, has surely become the Hercule Poirot we all think of, supported by Hugh Fraser as Captain Arthur Hastings and Philip Jackson as Chief Inspector James Japp. And of course, although not in The Mysterious Affair at Styles, Pauline Moran as Miss Felicity Lemon, and Zoe Wanamaker and Julia McKenzie as Ariadne Oliver.
Agatha Christie was born in Torquay, Devon on 15th September 1890. She was the last of three children, the eldest being her sister, Margaret and the middle child, her brother, Louis Montant. Her father, Frederick Miller was American and her mother, Clarissa Boehmer, was born in Ireland. Her father had inherited wealth and was nominally a stockbroker. He died in 1901. Agatha had little formal education, apart from her parents and 'Nannie'. Probably the latter taught her to read. Later she had two days a week with a local teacher and dancing lessons. She was very close to her mother and loved their home. Agatha had two years in Paris and a season in Cairo.
In 1914 she met Archibald Christie, who was training to be a pilot in the RFC while she had become a VAD in the local hospital, where she probably learned about poisons. They were married on Christmas Eve 1914. He was transferred to the Artillery and became a Captain. They had a daughter, Rosalind in 1919. Archibald was promoted to Colonel and went to work in the City.
Agatha had already written stories and poems, but her sister challenged her to write a detective story and The Mysterious Affair at Styles was the result. Archibald read it and liked it, so she tried several publishers until Bodley Head took it up, as mentioned earlier.
In April 1926 Agatha's mother, Clarissa, died and Archie announced that he wanted a divorce. These two events probably caused Agatha to run away to Harrogate for a couple of weeks, leaving her daughter and husband behind. They were divorced in 1928.
Agatha then visited Ur, in Mesopotamia (Iraq), staying with the archaeologist Leonard Woolley, having travelled out with his wife and taking an interest in the excavations. Returning again she met a young archaeologist, Max Mallowan, aged 25, who encouraged her interest in their work. They married in Edinburgh on 11th September 1930. Agatha bought her dream house, Greenway, above the River Dart in Devon in 1938. Max Mallowan was knighted in 1968, so Agatha became Lady Agatha. However, Agatha became Dame of British Empire in her own right in 1971.
Dame Agatha died at Winterbrook, Oxfordshire on 12th January 1976. Thus ended the famous writer of detective stories.
The copy of The Mysterious Affair at Styles which I read recently, was a Harper Collins paperback which included the unpublished ending, rewritten at the advice of Bodley's John Lane. This ending has Poirot in the witness box, addressing the judge as 'Mr. Le Juge'. The published ending has what we now know as a typical Christie ending with Poirot arranging the participants in chairs in a semicircle around the drawing room, like a stage set. This volume also contains an introduction by John Curran which I found very useful.
I have also read Agatha Christie—an English Mystery a biography by Laura Thompson which was also useful. Both came by courtesy of Bridport Local Library.
Again, Hercule Poirot and I wish everyone a peaceful and Happy Christmas.
Before Christmas, Bridport History Society will meet on Zoom on Tuesday 8th December, for 'The Digby Girls', presented by Jane Ferentzi-Sheppard. Jane has to be congratulated for keeping the Society going, whilst unable to meet normally. Contact Jane for Zoom details on 01308 425710, or emailjferentzi@aol.com.
Cecil Amor, Hon President of Bridport History Society.