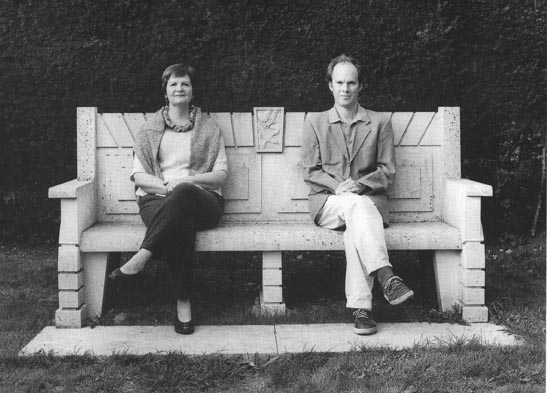 Twenty years ago, seventy photographs were chosen by Ron Frampton and Joy White to be part of an exhibition of monochrome images to be exhibited at The Town Mill in Lyme Regis. It was the first year of the new Millennium and the exhibition, along with a catalogue comprising nearly a third of the photographs, was a celebration of the art and beauty of black and white photography. Most of the photographers who participated had studied with the late Ron Frampton at The Somerset College of Arts and Technology and at Dillington House in Somerset.
The exhibition, A Sense of Place, demonstrated the power and beauty of the monochrome image in subjects ranging from portraiture, coastal landscape, architecture, documentary and art photography. As well as the talent of those who took the photographs, it also demonstrated the excellence of the tutor, Ron Frampton, whose passion for both photography and the West Country became legend. This month we have been in touch with some of the photographers whose work appeared in the catalogue to find out what they are doing now, and how much the experience of learning Ron's techniques of photographing and printing stayed with them.
Nicky Saunter remembers the joy of 'seeing each image come to fruition in the darkroom, hanging the work together, the excitement of publication, and being pushed to Ron's exacting standards of professionalism.' A 'serial entrepreneur' who set up and developed the Boston Tea Party coffee house chain, Nicky now works in advocacy, acoustics, drug policy, land-based training and nature restoration, and having cofounded the Beaver Trust helps communities to welcome beavers back to Britain. Nicky says she still uses every technique Ron taught her. 'His inspiration was to teach us by osmosis' she says. 'We worked together, looking at the masters, appreciating each others' successes and just loving monochrome photography. Along the way the technical knowledge simply seeped in.' She has even reestablished her darkroom explaining: 'There is nothing quite like the quiet magic of silver reacting on paper to create a unique image every time and the physical beauty of a handmade photograph. I sometimes miss the camaraderie of my darkroom mates though.'
Justin Orwin, whose image of the Pilgrim was chosen for the cover of the Marshwood Vale Magazine in 2002, went on to make a career out of photography. Initially he worked on weddings and portraits and now runs a commercial photography studio in Ilminster, working with local manufacturers and Interiors specialists. 'I also spend a lot of time photographing both people and landscapes as part of my more personal work, using the skills Ron taught me about composition, exposure and printing in the darkroom', he said. 'I am also teaching others the intricacies of traditional fine art monochrome photography with my workshops.'
'A Sense of Place was, for me, a milestone in my photography. I had never had a photograph in print before and I had excitedly pursued subjects suitable for the book. This gave me great confidence in my photography and in photographing people. You always knew with Ron that if it wasn't good enough it wouldn't be going in the book or the exhibition, so you really had to work hard to reach his exacting standards.'
Bill Wisden Hon FRPS, Chair of the Distinctions Advisory Board at The Royal Photographic Society, wrote the forward to the catalogue. He pointed out that the 'removal of the reality of colour' enabled the photographer to express ideas in a much more subjective manner.
Pauline Rook, another successful photographer who contributed to the exhibition had initially been inspired by the photographs of James Ravilious. She did a day of portrait photography at Dillington House with Ron Frampton and said: 'that was the day my life changed.' She spent five years under what she described as his 'patient guidance' and went on to become a successful commercial photographer. She also took on many 'wonderful commissions' including documenting a year in the life of Cannington College and a project with James Crowden to celebrate the 800th anniversary of the signing of Bridgwater's Town Charter. 'I have had a wonderful journey over the past 20 odd years' said Pauline. 'It has opened so many doors for me and I have met so many interesting people and seen some wonderful sights. I am truly grateful to Ron for unlocking all this for me. I continue to photograph as keenly as ever and have taken part every other year in SAW (Somerset Art Weeks).'
After assisting fellow student Pauline Rook for a year, Katia Marsh set up her own business and has been working ever since. She considers herself extremely lucky to have been in the right place at the right time and gained such a solid and meticulous grounding in the art and practice of photography. As a single mum bringing up two small children in rural Dorset, Katia remembers it as 'a total dream being able to study what I loved, part time in the evenings and gain a highly respected professional qualification at the end of it!' She now specializes in social and commercial photography—weddings, portraits, events, and works with businesses and charities. 'Whilst a career in photography hasn't made me a millionaire, it's providing me with fabulous opportunities' she said. Including 'documenting the origins of Bark Cloth in remote tribes of Papua New Guinea, Prince Philip's charity work in various royal palaces, Blue Lias and amonites in Mustang Nepal, Margaret Atwood with the penguins at London Zoo.'
Kirsten Cooke remembers that Ron was very strict in his darkroom technique. 'Ron instilled an incredible way of working in all of us,' she said 'Everything had to be clean, everything had to be precise.' Discipline is something that is echoed by most of those that worked with him. 'We made meticulous notes with every image that we put through the enlarger. So you got into this habit. If you go back in a year, or two year's time, you have your notes. That kind of thing stayed with all of us I think.' Kirtsen carried on as a photographer for many years and now has a special passion for photographing empty houses and buildings. 'That's something that I'm fascinated by, because I think there's a residue from whoever lived in the house before it's sold or how houses move on from one family to the next.'
Over the many years since Ron Frampton began contributing to this magazine, we have been very fortunate to have been able to publish and publicise photographers that have worked with him. Especially Robin Mills and Julia Mear who still work on our cover stories.
A Sense of Place, the exhibition and the catalogue are a fascinating reminder of, and representation of, an art that captures more than the eye can see.
For more information visit:
Katia Marsh: www.katiamarshphotography.co.uk
Pauline Rook: www.rookphoto.co.uk
Justin Orwin: www.orwinstudio.com
Kirsten Cooke: www.kirsteningercookephotography.co.uk
Nicky Saunter: www.beavertrust.org