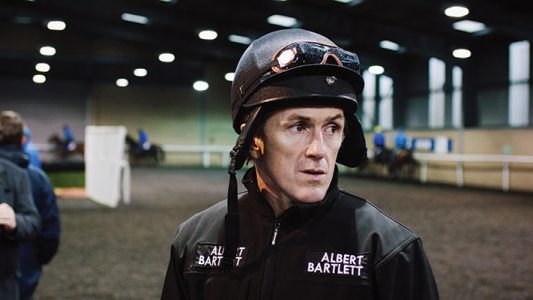 'Pain is temporary, losing is permanent.'
A local TV and film producer has spent over a year working with one of Britain's greatest sporting heroes. Simon Ford talks to Fergus Byrne about the imminent release of Being AP.
'Being AP is an unusual film', says Simon Ford, Broadoak resident and executive producer of a new film that follows, in intimate detail and over the course of a full year, the life of champion jockey A.P. McCoy—the best and most accomplished sportsman in the British Isles. 'It is an epic tale of a man who, having dominated his sport for a generation, is still operating at the peak of his powers' says Simon. 'But he is all to aware that no one, not even he, can remain champion forever.'
For those not familiar with A.P. McCoy, he is a man addicted to winning. In over twenty years as a horse-racing jockey, he achieved legendary status in the UK, tallying up more than 4,000 wins, despite being taller (at 5'10") than most of his peers. In this gripping documentary, McCoy nears the age of forty and confronts a fate that unnerves him more than any injury: the pressure to retire.
With such a history in a sport followed by millions, Being AP could easily have become a hagiography but as Scott Tobias pointed out in Variety, it felt like "the work of an official biographer who went a little bit rogue". Simon Ford agreed, 'Although we believed that, remarkably, his extraordinary achievements hadn't been fully acknowledged outside the racing world, we didn't want to make a fan movie. Instead, we wanted to make a film that went beyond the clichés of the modern-day sport. Something that swept away the array of PR managers who believe they can best burnish their clients' reputations by never letting them say or do anything interesting. Fortunately, we had a willing ally in A.P. McCoy. From day one he wanted us to see and feel the pain as well as the pleasure that comes with his addiction to winning.'
And there was no shortage of pain. As well as the physical agony McCoy experienced with shattered ribs, punctured lungs, breaks in his collarbone, shoulder, arm and sternum, the pain that his wife Chanelle feels is open and clear. While he approaches every race with the fear of losing, his wife is more worried about bodily harm. Over the course of McCoy's career, races have gotten faster, making jumps more perilous and accidents more life-threatening. Chanelle wants to ensure her husband's future as a father to their two young children, and the tension between the couple escalates as McCoy nears a decision about his future.
McCoy is a complicated figure whose drive for greatness comes with risks and sacrifices. Director Anthony Wonke follows him on his tireless journey from race to race—sometimes several in a day—as he tries to push his record out of reach for future challengers. It's rare for an athlete of McCoy's accomplishments to give a documentary crew so much access. Cinematographers Thomas Elliott and Andrew Thompson make the most of it, capturing horse racing in all its beauty and intensity with new camera technology that brings us closer to the jockey's experience than was ever possible before. Again and again, we watch McCoy shrug off bad falls and keep racing. Echoing her husband's deepest fears Chanelle declares "Pain is temporary, losing is permanent."
A keen racing fan himself, Simon Ford is all too aware of the dangers that go hand in hand with the spectacle, colour and excitement of a sport that has lifted and dashed the hopes of so many. 'I am reluctant to stray into sporting clichés myself' he says. 'But it is a fact that being a jockey is the only job you do where you must always be followed by an ambulance. Well for a year we also joined the ride, and it has been a privilege for our team to observe a true champion at work from the inside.'