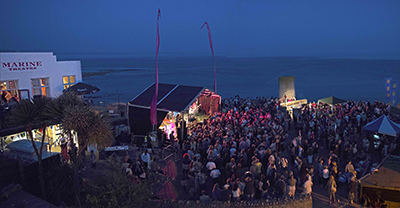 B Sharp, the Lyme Regis based charity that has helped inspire young people to reach for their dreams, has produced fantastic results. Director, Fran Williams, talked to Fergus Byrne about where they go from here.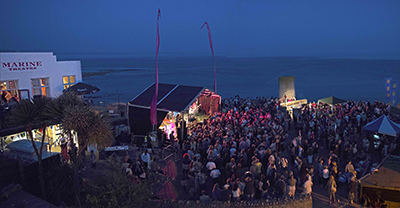 It's sometimes hard to grasp what an enormous change the music industry has undergone in the last fifty years. In 1965, the same year that Bob Dylan was booed at the Newport Folk Festival for playing an electric set, Jimi Hendrix signed a three year recording contract for the princely sum of $1—yes, one dollar. The same contract gave him a paltry 1% of royalties on all recordings. Inevitably the agreement was the subject of legal wrangling for years and it wasn't until July 2002 that a high court order was issued banning the company from releasing recordings on which he had performed.
In the interim years, many musicians and even more entrepreneurial businessmen and women have made fortunes in an industry that has probably been affected by advances in technology more than any other. We went from vinyl to CD to digital in a very short time. Last month Apple released their new music platform prompting Spotify to announce much-disputed figures about how much money that new bands could make by streaming their music on their platform. It's easy to see why many young people have a warped view of the industry. With X Factor, The Voice, Apple Music and Spotify headlines blasting from all media on all devices, it's easy to forget what a valuable role music plays in the lives of people of all ages all over the world, regardless of whether they seek fame and fortune, or simply personal pleasure.
And that is something of which Director Fran Williams and Music Leader Pete Wild of B Sharp in Lyme Regis are only too aware. After a hugely successful Busking Festival at the end of May which saw musicians of all ages and calibre bringing the streets of Lyme Regis to life, with music and song on every corner, the young people's music organisation are looking forward to putting on the next Big Mix Festival in Theatre Square on July 4th. This year is the third time the Festival will be held and for Fran and Pete, co-producers of the event, it is the culmination of an enormous amount of work and passion, from both the young people involved and the team of volunteers that help out at their headquarters in Lyme Regis. The team includes Jacques Verhaeren from Papa La Gal who helped set up B Sharp and is a music leader and Polly Benfield their treasurer. Both have been with B Sharp since inception. Many of the founder members are working in the arts sector now and come back to work or help at events as alumni.
B Sharp started in 2007 after a public meeting to see what young people wanted. About thirty-five young people turned up and top of the list of their activity needs was music. Music and skills development became the goal of a new organisation that they called B Sharp.
Eight years on, sitting in the kitchen of Fran's house in Lyme Regis, where the view of the expanse of Lyme Bay somehow seems like a call to embrace opportunity in a wider world, Fran is animated and enthusiastic. Both she and Pete swell with energy and appetite for the future of B Sharp and what it can do to help young people achieve. 'We want to really embed the importance of youth culture for everyone' said Pete 'to bring people together through music and contemporary art.' Fran believes that, as an organisation, they must keep developing what they do and not lose sight of that. They want to build up a strong workforce to include young leaders, youth workers young promoters and young event organisers. They want to inspire and motivate people and enable them to feel that B Sharp is a route for them to develop their ideas and their career pathways—be they musical or not. 'Music is the focus but it can actually be a range of things' said Fran. 'So if for example a young person came to us and said I'm a set designer can we design a set for the stage, we'd say fantastic, go for it, photograph it, use it, put it in your portfolio and go for a job interview.' That's the message she would like to get across.
Ayvin Rogers, a Lyme Regis businessman, DJ and social philanthropist, who chairs the organisation, echoes Fran's point that although music is the focus of the organisation they build transferable skills and there are opportunities in the industry beyond performance. 'For every job in the music industry as a performer, there are another thirty or forty people backing them up' he says. 'Whether it's in law, publishing, music libraries—and that's just fringe stuff—there's all sorts of related opportunities to get work.'
The Big Mix Festival on July 4th invites young emerging bands from the region and musicians that have worked with B Sharp over the years, such as The RPM's, to come back to their roots and share their music; it is an opportunity to showcase the work that young people, who have already benefited from B Sharp's work throughout the year, have been doing. 'We have about 45 young people who come together each week that are in about four mixed groups with young music leaders and they all compose original music' said Pete. 'We just help them arrange it, give advice and help them with their confidence.' The Festival, which starts at 1pm at the Theatre Square in Lyme Regis and runs until 11.30pm, is also run in part by the young people involved. As well as leading workshops and festival activities and working on new ideas such as the 'Crafternoon' workshop area where people can make their own earrings, hair braiding, nail painting and body art, young people will work as technicians and production staff and there will also be a hooping workshop and skate event this year.
Like many exciting and enabling initiatives, The Big Mix Festival www.bigmixfestival.co.uk has already outgrown B Sharp in many ways. Fran points out that running their year-round programme of weekly activities and new projects, B Sharp are at capacity already. They have built a model that many outside organisations have admired and believe they can learn from and their future plans for the festival will take it to a new level. They want to develop and create more opportunities for young people, to make their ideas happen and roll out an effective model for other communities to adopt. B Sharp are opening up opportunities for training and work experience in related fields including promoters, event management, artists, designers, journalists, bloggers and social media promotion, and with expansion into other areas, there will be options for technicians, riggers, stallholders, stewards and volunteers.
However, initiatives that can have such a positive and far-reaching effect on the local and wider community need expertise and people to help. B Sharp is looking for support from individuals in the community in several ways: The Board of Trustees is looking for a new chair. People can join their mailing list to receive newsletters and bulletins and can visit their Facebook page at facebook.com/bsharpmusic. Ideas on how to improve B Sharp's work and reach more young people are always welcome and volunteers to run a 'friends' scheme and fundraisers to run community events can help the organization to grow. Most importantly, B Sharp needs the financial support of philanthropic organizations and individuals who share their vision to bring opportunity and inspiration to the young people that are the future lifeblood of the community.
Anyone who would like to get involved should contact B Sharp's Director, Fran Williams on 01297 444252 or email franwilliams@bsharp.uk.com.
The Big Mix Festival opens at Theatre Square beside the Marine Theatre in Lyme Regis at 1pm on July 4th. Tickets are available from Lyme TIC. For more information visit www.bigmixfestival.co.uk.