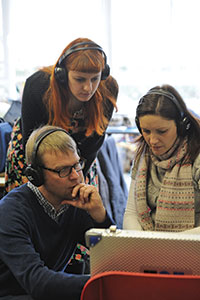 Peter and Sally Snelling, the brains behind multi-award winning film production company My Pockets, have already produced a diverse range of thought-provoking, inspiring and occasionally controversial films. Their ethos has ensured a stream of authentic and collaborative work which has brought them to the attention of the mainstream. Katherine Locke has been to see them.
My Pockets is a multi award winning Bridport based production company, specialising in community filmmaking. Run by husband and wife team, Peter and Sally Snelling, the idea for My Pockets started when Peter moved from London to Dorset in 2002.
Having studied screenwriting at the National Film School, he spent his postgraduate life as a jobbing writer on indie shorts underground films. It was very interesting stuff, but hard to get work seen and recognised. 'The move to Dorset coincided with a huge change in the film industry' he says. 'The arrival of digital changed everything. It was suddenly cheaper to make films and much more accessible to a range of people, rather than just professionals. It was like a Punk moment in film'.
Almost overnight anyone could make a film and the arrival of online platforms such as My Space and, later, YouTube and Vimeo, meant that the entire process from writing, to making, to distribution could be done on a very low budget. The film industry was quick to recognise the potential and started to back young filmmakers who were keen to immerse themselves in the new medium. Peter received a Film Council grant to make a short film called The Man Who Drew Mice and the fascination with making films with people who aren't trained filmmakers began.
'The most interesting people for me', says Peter, 'are ordinary people. Not celebrities or professionals, but the stories we all have to tell'. Peter is passionate about supporting people to make their own films, encouraging expression and offering technical support whilst leaving ownership of the work to the filmmakers themselves.
Film funding shifted in the early 00's and organisations like First Light (now Film Nation) offered new opportunities to make films with community groups. Whereas there had been a time when filmmakers had to be based in London in order to be taken seriously, there was now a move to support filmmaking in the provinces. 'London was quite an aggressive and competitive filmmaking environment in those days', says Peter, 'it was easier to take risks here in Dorset and be more creatively, rather than commercially driven'.
There followed a series of Award Winning films made with local young people, including the Chicago Children's Film Festival Winner 2012, Can You Teach a Worm To Tango?, a film that Terry Gillian described as 'wise', and One Week Later, which won the First Light Best Drama prize, presented by Danny Boyle.
The latest project from My Pockets illustrates their ethos perfectly. Sally, who is a producer and project leader explains 'We are about to start a film project with Young Offenders in Portland', she says. 'There are two aspects to the work. We start by showing films to a group of inmates—we aim to be controversial and will show Scum (a 1979 film portraying brutality in a borstal), and The Loneliness of the Long Distance Runner for example'. The idea is to engage the inmates in discussions around how these films portray their own experiences as well as exploring how the films were made technically. 'The boys involved in the film club, will then go on to make their own film, with our support'. So how do My Pockets work with these hard to reach groups and achieve such extraordinary results?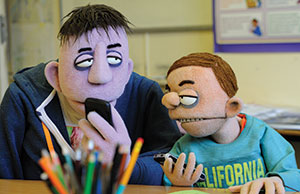 'The key to working with young people is quite obvious really', says Sally. 'It is all about being interested in them, not being patronising and having a healthy dollop of humour'. My Pockets also believe in diving straight into the business of film making with groups of young people. 'We don't spend endless sessions explaining the rules and being precious about the equipment.
'We want them to plunge in', Peter explains that often it is that 'naughty' energy that they want to harness and capture. 'We like to surf the naughty wave' he says. 'That is where the interesting stuff comes from'. He adds 'We are not there to do good, we are there to do bad!'. The couple believe that the success of My Pockets 'is all about letting people express themselves in their own way, not in the way we want them to'.
Sticking to their ethos and becoming known for risky filmmaking now means that big production companies are knocking on their door for their expertise. 'Our journey has brought us back to the mainstream, which is sometimes surprising', they say. 'We had strong identity and vision when we started, but we were very much on the outside. We wanted to offer something different that was both collaborative and authentic and I think we have stayed true to that original aim. The irony is now, is that the mainstream now want what we have'.
This was very well illustrated with their pilot film Fuzzbox for BBC 3—a short film where puppets are given the voices of real young people talking about sex. It was one of eight short pilots for the channel with an emphasis on youth comedy. The pilot was up against some very stiff competition, including a film from Steve Coogan's production company Baby Cow. Fuzzbox proved very successful and was voted No 2 of all the films entered, as well as trending on Twitter.
This example of staying true to themselves has really paid off for the company. 'We have a lot of projects on the table for 2014', they say. At the moment their projects are split 50:50 between publicly funded and commercial. Sally has her own project, Stitches, coming up. She will be working with young people to teach sewing and business skills by emphasising the commercial opportunities of making.
Peter too is returning to his original screenwriting passions. He is developing a script with funding from the BFI. 'There is no guarantee how these things pan out', he explains, 'but it is fantastic to be given the opportunity'.
When asked what the film is about, he sums it up neatly. 'It's about a hopeless loser trying to escape a small town', he says.  Mmmmmm…….wonder where he found the inspiration?