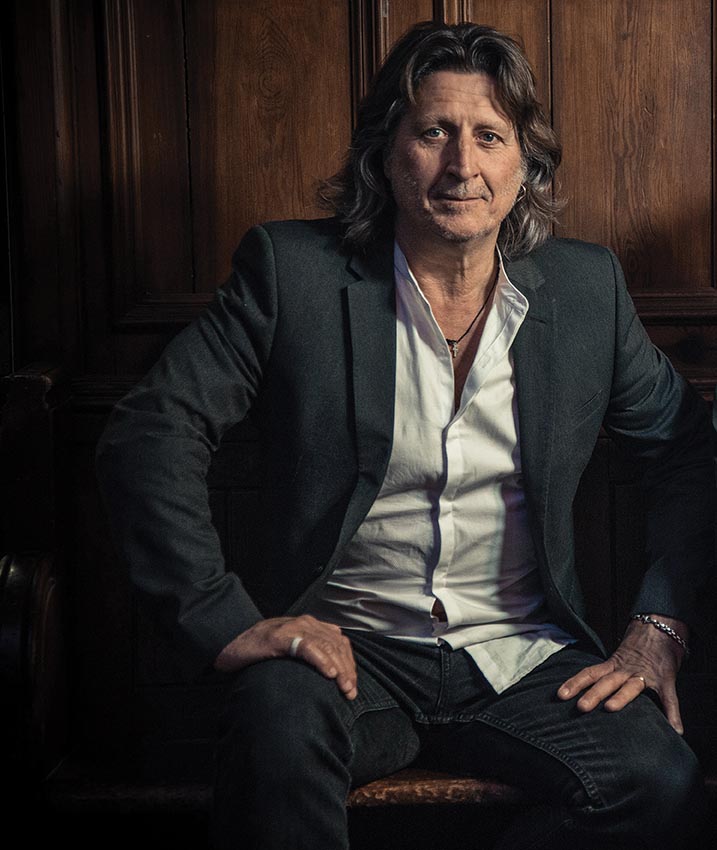 Folk sensations Show of Hands will be returning to their roots this month when they play in Bridport as part of the town's second Winter Solstice Festival. Margery Hookings catches up with one half of the duo, Steve Knightley, who reveals a big soft spot for the Vale and surrounding countryside.
When Show of Hands play at Bridport Electric Palace on Friday 22 December, it will be like coming home for Steve Knightley and Phil Beer.
Steve's title for the gig is the rather tongue-in-cheek The Only Way Is Wessex.
Featuring many of the locally-based songs that are their trademark, the concert for the Bridport Winter Solstice Festival will recall the duo's early days when they first performed in West Dorset more than 25 years ago. They recorded their first CD live at the Bull Hotel.
"Twenty five years ago, our ambition was to play at Bridport Arts Centre," Steve reveals. Since then, Show of Hands have gone on to fill the Royal Albert Hall five times and have won numerous plaudits, including three BBC Folk Awards. Both Steve and Phil are recipients of honorary doctorates in music from the University of Plymouth.
Peter Gabriel describes them as 'one of the great English bands'; The Scotsman observed that Phil can' play nearly every stringed instrument known to man' and broadcaster Mike Harding rates Steve as 'one of England's greatest singer songwriters'. The BBC's Mark Radcliffe says Show of Hands are now 'at the top of their game'.
Steve and Phil are two of the most popular ambassadors for acoustic music and have taken it all over the world, from Australia to India, Germany to Canada, the Netherlands to Hong Kong plus key festival appearances including Glastonbury, WOMAD, Cambridge and Celtic Connections.
But this part of the country, and Dorset in particular, is in Steve's DNA. During the war, his mother was evacuated from Southampton to Bettiscombe. Brought up in Exmouth and now living in Topsham, he's still clearly drawn to this area. It's yielded a rich seam of subjects for the band's songs.
"West Dorset is my favourite place, particularly the Vale. I love the way it's enclosed."
In 1986, he moved to Corscombe from London before finding Church Cottage in Whitchurch Canonicorum, where he lived for ten years until 2000.
For six years, he worked part-time at Beaminster School, teaching music, media studies and history.
"John Pugsley was the head at the time – he was such a lovely man. He was quite relaxed and knew I could bring my musical connections to the school."
Steve had left London at the age of thirty two after trying, unsuccessfully, to make his mark in rock music.
On his return to the West Country, his folk epiphany began when he crossed paths again with Phil Beer, an old friend he had known since they were sixteen. The pair of them had lived on opposite sides of the River Exe, with Steve in Exmouth and Phil in Exminster.
"I was returning to the sort of music I was playing in my teens, traditional West Country songs," he says. "Phil said he could get us some folk club gigs and we needed to start writing. So I started using local people and local stories. When we were out and about, people engaged with them. The audience weren't just sitting down in respectful silence."
In the early 1990s there was a thriving folk scene in the Bridport area.
"We progressed on to the festival circuit with the help of Peter Wilson who was our agent."
From those days, Show of Hands, with Miranda Sykes performing with them since 2004, have never looked back. Fervently loyal to their West Country roots, they jumped at the chance of playing at the Bridport Winter Solstice Festival, which is curated by Grammy-nominated musician Simon Emmerson, a record producer and founder of Afro Celt Sound System and The Imagined Village.
"We knew we were free and I trust Simon," Steve says. "The reason he lives here is because I was talking to him at the BBC Folk Awards and he said he wanted to move to the West Country and asked me where should he go."
Steve had no hesitation in recommending his beloved West Dorset, where Simon has lived now for more than ten years.
Show of Hands are looking forward to coming back to Bridport and playing some of the old songs. "It's a great line-up and a lovely venue," Steve says.
Show of Hands play at Bridport Electric Palace on Friday 22 December. For full details please visit electricpalace.org.uk