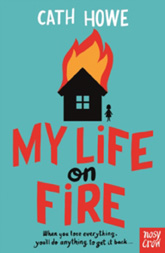 My Life on Fire by Cath Howe
Published by Nosy Crow RRP £7.99
Reviewed by Nicky Mathewson
"Houses don't burn down. That's wrong… The truth is, houses burn up…They burn up and up into the sky with huge flames that eat everything until there's nothing left."
Ren and her family were lucky to be out that night enjoying pizza at a friend's house, blissfully unaware that their house and everything in it was being devoured by flames. Lucky to all be safe but obviously devastated, they begin a new existence in limbo. Staying with their gran who is far from welcoming, and feeling the strain as normal family life is paused, the family show signs of crumbling.
On Ren's return to school she finds that the class have been busy with an art project called My Life in a Box which involves making a collection of all the things that are special to you which express who you are. Well how on earth could she do this when her life and all her special things had just gone up in smoke? Struggling to express herself and think straight, Ren retreats into a world of stealing to comfort herself, but how long can she continue without there being consequences?
Cath Howe is a perceptive storyteller who can cast a light on how trauma can affect children whilst making the story fun and engaging. I really enjoyed it and would recommend it to anyone who likes realistic fiction. Perfect for 9-12 year olds.