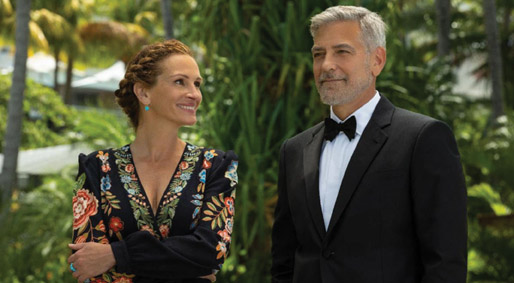 Plaza Cinema Dorchester
Emily (2022). Directorial debut of actress Frances O'Connor (Mansfield Park, Importance of Being Earnest) "Shot with breath taking beauty and acted with extraordinary emotion and grace, this exploration of the life and development of Emily Brontë is tremendously enveloping." The Film Stage. Christoper Schobert.
Odeon Dorchester
Ticket to Paradise (2022). Julia Roberts and George Clooney. "I would believe Ticket to Paradise was found in a 1998 time capsule: the film has the naif and adorable romantic tone of that decade" Espinoff. Randy Meeks.
Cineworld Weymouth
Jackie Brown (1997). 25th Anniversary re-release of the Quentin Tarantino classic.
"Jackie Brown is about two-and-a-half hours long, but it zips by like a film half that length, and every second the iconic Pam Grier is on screen in her titular role as a money-smuggling flight attendant is a second worth relishing." Nashville Scene. D. Patrick Rodgers.
Amazon Prime
Fury (2014). Brad Pitt stars as tank commander Don 'Wardaddy' Collier.
"This isn't disposable popcorn entertainment, or a winking "war" film like Inglourious Basterds. Ayer's aim here is a film that will stick, and stick with you. And he achieves it." The Wrap. James Rocchi.
Netflix
The Good Nurse (2022). Jessica Chastain and Eddie Redmayne lead in this tense medical mystery. "Tobias Lindholm's The Good Nurse is based on a book of the same title about the serial killer Charles (or Charlie, as he prefers) Cullen, an ICU nurse who would give his patients lethal doses of insulin or digoxin while they were hospitalized." The Wrap. Fran Hoepfner.
BBC iPlayer
Who You Think I Am (2019). "Juliette Binoche is wondrous as a woman with a fantasy identity in an exploration of the perils and pleasures of life online" The Observer. Mark Kermode.