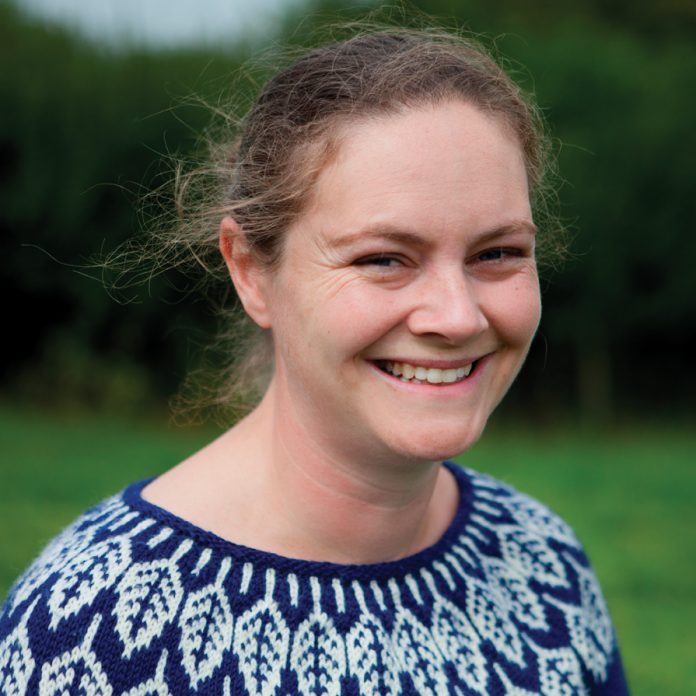 I grew up in the centre of Oxford where my parents, both physicists, were academics at the University of Oxford. I spent a lot of my childhood with a family who lived in a narrow boat moored on the canal at the end of our street. They ran a wheelwright's workshop and kept ponies on Port Meadow right in the middle of Oxford, which they used for carriage hire in the wedding business, and I used to help prepare the ponies and hold them outside the church while the wedding took place. When I was 12 they moved to a smallholding further up the canal where they ran a farm shop from their boat and kept a couple of cows which were hand milked, some chickens and pigs, as well as the ponies for the weddings. I spent every weekend there, usually with my best friend, sleeping in a caravan in the field or in the horsebox and helping with the livestock. My life in the countryside, immersed with farming and horses, had already taken root.
Before university I had a gap year working in a lab in Oxford growing tissue cultures for medical experiments, then went to Wye College in Kent to study Agricultural Science. It was the last year they offered that course, and I was one of only two students on it. Wye College had been owned by the University of London but had recently been taken over by Imperial College London who, during my time there, embarked on an asset stripping exercise, and tried to sell the site to build 4,000 houses on the College farm. They had signed a secret deal with Kent County Council to allow the development through, but the story was uncovered by two local journalists who blew the whole thing open and saved the beautiful village of Wye. About a month after I had started the course they also announced that they were going to stop teaching us, and make all the staff redundant, at the end of my first year. Fortunately, they relented on that and let us finish our degrees with some staff staying on to teach us, but given the circumstances it put a different complexion on the prestige of gaining an Imperial degree.
I met my husband David at Wye, and after university we bought this farm and moved here. It was only 16 acres originally, then we bought another 16 the following year, and now we rent grazing from our neighbour as well. Alongside the farm work I worked for Symonds and Sampson, training to be a land agent, which involved doing a post graduate diploma at Reading so that I could qualify as a rural surveyor. However, after a couple of years I realised that I did not enjoy the negotiation involved in being a land agent, and went to work for the Farming and Wildlife Advisory Group (FWAG). There I ran a scheme called the Dorset Arable Project which advised arable farmers on integrating conservation measures with arable farming, as well as soil and nutrient management and other general conservation advice. When the Dorset Arable Project ended I went to Kingston Maurward College and taught Agriculture, teaching all levels of students there, from 14-year-old school students to first year degree level.
After a time, with our sheep numbers growing, I found myself working too many hours away from the farm, as David worked full time elsewhere as the workshop manager for an engineering company. We had to do the farm work before and after our off-farm jobs, which meant early starts and late nights, and we had sheep on rented ground spread around West Dorset which all needed checking too. So I left Kingston Maurward and went to teach Countryside Management at Milton Abbey School, three days a week, as well as some further work back with FWAG, which gave me more time for the farm and enabled me to finish my post graduate course which I'd had to abandon earlier. However, since my oldest daughter arrived five years ago, followed three years later by another daughter, I've been back working on the farm whilst looking after them.
We've always had sheep here. When we took on the farm in 2007 we bought some Poll Dorset ewes at a sale, and as we were very understocked we then bought some Dorset Down ewes from a neighbour. They seem to suit our system rather better than the Poll Dorsets, so they've gradually taken over, and we now just run Dorset Downs. The Dorset Downs have good confirmation and grow fast off very little grass, which fits our low input farming system—we don't feed any hay or concentrate feed outdoors and our fields are mostly unfertilised permanent pasture. We have a small flock of approximately 80 ewes plus followers, so up to around 250 sheep at some times of the year. All our sheep are registered with the breed society, and are also performance recorded as part of the Signet recording scheme which gives us information on how likely each lamb is to have fast growth rates, high muscle depth and low fat depth, and this helps us make sure our flock is continuously improving.
Our main output is breeding sheep; the rams sell well as crossing and pedigree sires, and the young breeding ewes are extremely popular. Although Dorset Downs are registered as a rare breed, they make a good choice of breed for today's market, the meat being particularly sweet. We regularly take stock to the local agricultural shows, which is a great way to present and market them, and the children enjoy showing their sheep too. For the last two years the judging for the shows has been on-farm, and this year we were delighted to have won the Melplash Agricultural Society's Best Managed Small Farm (199 acres and under).
I am a keen hand and machine knitter, which is partly why we see wool as a major part of our sheep output, rather than the general nuisance that many sheep farmers find it these days. Dorset Down sheep have a very nice fleece so for a long time we've been selling our wool to crafters, who often asked if we could process it for use in knitting, weaving, rug-making and other crafts, but this was not cost effective for us to do by hand. Our customers were telling us that there was a huge demand for quality wool to be processed, because there are very few wool mills in the UK who will process small quantities.
Having spent years discussing, researching and costing, we took the plunge and started building Rampisham Hill Mill in January 2021. Getting it off the ground through the Covid pandemic and Brexit has made everything much more difficult, but we have replaced our old timber cow kennels with a new mill building and custom built wool processing machinery. We started processing in September 2021, and David and I are now both working full time in the mill and enjoying managing the complexities of processing wool. Our customers bring us wool from many different breeds of sheep, from all over the UK, which we process to their specifications and return to them. Through our website we also sell raw fleece from our flock and other local farms, as well as wool and yarn processed in the mill. Each batch, which can be as little as an individual fleece, requires a completely different approach to process. It's difficult to believe that such enormous variation in characteristics between different sheep breeds' wool comes from animals of the same species, but you have to remember that some were bred to live in the comfortable Dorset meadows, and some have to survive life in the Outer Hebrides. Even wool from individual sheep in the same breed can behave differently to the rest during processing and give varying results. Steps involved in processing wool include washing, drying, opening, carding fleece into batts or sliver, gilling, and spinning and plying into yarn, using high specification modern machinery, as well as some machines from bygone times which still work perfectly.
The diversification promises to be a rewarding venture in so many ways. There's an echo of the past, to when West Dorset was known for spinning flax, and much earlier to when the UK was globally renowned for the quality of its wool. It's a huge challenge setting up something that nobody else is attempting, but I've always loved a challenge.