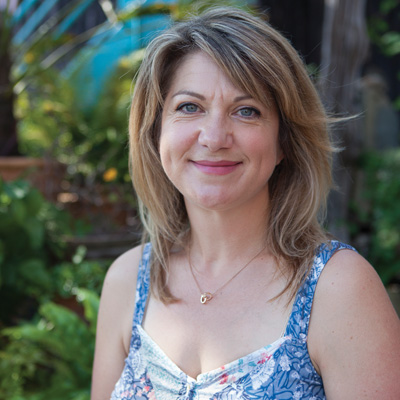 In 1983 when I was four my family moved to Bridport. My Dad worked as a Design Lecturer at Weymouth College and my Mum worked for the Bridport News. My parents were both artistic and most of their friends were artists so my sister and I had a cultured and open minded upbringing. As children we had a passion for wildlife and I spent every opportunity to be with animals. I did work experience as a general assistant at The Kingcombe Centre, where I learned how to identify butterflies and insects and each lambing season, my sister and I would help out on a friend's farm in Stoke Abbott.
From age 16 I attended Weymouth College and studied for my A- Levels. I was eager to see the wide world and so at 19 I got a job in London as a PA and childminder for a successful makeup artist named Lucy Halperin. Lucy had many celebrities on her books and a group of celebrity friends called the Primrose Hill set. The friend of Lucy's that I liked the most was Mary McCartney, eldest daughter of Paul. She was so lovely, friendly and down to earth and I always enjoyed it when we saw her and her kids at her flat in St John's Wood.
My job was pretty much 24/7 and I lived with Lucy and her daughter Dylan in Belsize Park in North West London. Dylan's father was Paul Weller and she was one of his 6 children. He and Lucy were no longer together but Paul would visit Dylan twice a month and take her out. He was always so polite and friendly and one day I cheekily asked if I could have some tickets to see him play. He gave me some backstage tickets to watch him at the Albert Hall. I found it to be a majestic venue and I was so excited to find that the seats were in a Royal Box alongside Jude Law and Sienna Miller, who were friends of Lucy's and a hot couple at the time. One of the best experiences of living on Steeles's Road as a 20-year-old was that seven doors down from our house was the infamous Supernova heights, home of Noel Gallagher. Oasis were at the height of their fame at the time and I was a bit of an Oasis fan so to see all the fans crowding outside hoping to get a glimpse of Noel was very exciting.
After four years working for Lucy I felt like I needed a bit of a break from it all. In 2003 aged 23 I was offered a full time marketing communications job at an exciting new startup called REN Skincare. My job initially was to help establish and expand REN's retail concessions and I spent half my week working at Selfridges. After a year we opened a concession in Liberty and then Harrods in 2004 and after this we secured a contract supplying REN to John Lewis and Space NK Apothecary. I was very lucky to travel to many countries during my time at REN, working with International distributors in New York, Moscow, Berlin and Amsterdam and the most exhilarating was a tour of Asia, covering Hong Kong, Kuala Lumpur, Singapore and Seoul. However, after 11 years I was feeling increasingly frustrated with living in London, it was becoming more and more expensive and more and more crowded! I craved something different.
In 2009 my fiancé, who is a Marine Biologist, was offered a position working for a marine conservation organisation located in The Bay Islands of Honduras in the Western Caribbean. We moved to a small island called Utila, part of an archipelago on the Meso American barrier reef. Utila was underdeveloped and full of character with a diverse and vibrant community. It was really hot in the tropics and electricity for the island was run off a generator, so no one could afford to run the air con. We'd have fans plugged in all over the house and on us at night, without them we'd melt! Aside from the ferocious mosquitos and sand flies, the wildlife was utterly wonderful and I was entranced. In our garden were hummingbirds, iguanas, wonderful orb weaver spiders that would weave webs a metre across and we found tarantula burrows in our garden which were fascinating.
In 2010 I qualified as a Divemaster and took a job working at a dive centre called Captain Morgans. I got to know and explore the dive sites intricately and would see Hawksbill Turtles, Eagle Rays, Barracuda and Nurse Sharks. On a dive one day, a bull shark came to investigate us as I was leading a dive. It was so beautiful and powerful and perfectly adapted to its habitat which inspired huge respect. Another awesome shark that was a big part of life on Utila was the majestic and enormous Whaleshark. They came to the waters around Utila twice a year, in April and October. When we were lucky enough to spot them our boat captain would quietly guide the boat alongside them and me and my divers would slip into the water, snorkeling around them at a respectful distance until they slowly swam away into the deep.
In July 2011 my husband and I moved from Utila to the bigger Island of Roatan 25 miles across the sea. I got a job at an American school as their middle school Language Arts teacher, teaching students age from 11-16 which was hard work but really good fun and being with the kids every day was incredibly rewarding.
As beautiful as the Caribbean was, the culture of the developing world was very different and I saw a lot of poverty throughout Central America. There's very little money to develop infrastructure and gang warfare and corruption was rife. I didn't ever really experience anything negative on my travels and had some wonderful adventures. Of all the Central American countries, Honduras had the worst reputation of all and the city of San Pedro Sula is supposed to be the murder capital of the world. I felt this was a little unfair as it is a beautiful country with a lot of untouched jungle and river gorges and they rely on tourism. But you had to keep your wits about you in the cities and you'd never consider walking the streets or going out after dark, it was always best just to get a taxi from one point to another.
As Westerners we were seen as wealthy by the locals, regardless that we were living on a meagre traveler's budget. Over the four years in The Bay Islands we experienced regular robberies throughout the community and were often worried that our apartment would be broken into. Police were often corrupt and were not much help; sometimes they'd even arrest people just so that they could demand a ransom for release. The first incident we experienced was on Utila in 2011 when some friends of ours were very nearly shot by a psychotic local in a bar. Then later in 2011 we were shocked to hear that a popular local boat captain had his throat cut by a thief whilst on his boat. He was murdered for just $200 in cash. Then in 2013 on Roatan our close friend's Dad was shot in the head as he left his apartment. To this day, we don't know who did it, or why but it was suspected that it was over some property. Our group of friends were all utterly devastated and what made it worse was that the lawlessness of Honduras meant that there was no justice.
It was a while after this last shooting that my husband and I felt that it was time to return to the UK. We wanted to start a family and considered staying in The Bay Islands as it was our home and we loved our friends and our way of life. But with some thought, we didn't feel that The Bay Islands were secure so we returned to my childhood town of Bridport to be near my parents who had missed me over the 17 years that I'd been away.
In 2015 and 2018 we had two little boys and in February 2017, I was invited by some friends to be part of a project to create a mobile zero waste shop in town. We called it The Green Weigh. It was the beginning of a personal journey towards a more sustainable lifestyle. It was very rewarding but after two years, the logistical and financial challenges of being a mobile business whilst having very small children at home became too much and we made the difficult decision to sell our zero waste shop. I was keen to continue my eco-journey and in November 2020 I created an ecommerce business called GoGoEco. My goal is to help West Dorset reduce throwaway plastics through zero waste online shopping and I hope to help our community lead a more sustainable lifestyle. I believe in making a cleaner future and cleaner oceans for my kids and am delighted to have returned to Bridport with my family.