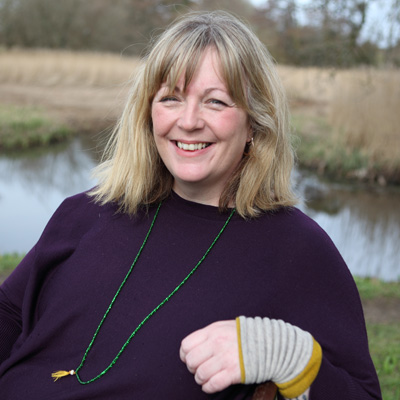 We lived in Uploders for the first 6 months of my life, my Mum (Susy) and my Dad (Michael), who was an artist. We then moved to South Perrott, in the northwest of Dorset. My Dad worked in London at the Royal Academy when I was little, which meant he was away for most of the week. When I was 7 we moved to Bridport, and I went to Bridport County Primary school, which is where my son Thomas now goes. I have a brother, Sam, who is three and a half years younger than me and lives in London.
I've always sung, but my Mum started me on violin lessons when I was quite young, about 5, and I learned what's called the Suzuki method, which was more about learning by ear rather than by reading music. My Mum and Dad weren't practically musical (although my Dad and some artist friends were actually in a band called The Flying Lizards in the '80s, playing rather avant garde numbers, (with spoken lyrics rather than singing), but from a very early age I was taken along by my Mum, and her twin sister Rose, who together spent a lot of time going to book fairs, as they were both book dealers then. Sadly my Mum passed away when I was 15 (and I went to live with my Aunt and Uncle, Jane and Dave Young), but I have happy memories of joining in with their singing as we drove along, and my Granny would proudly say "she was singing harmonies by the age of four!" We would sing lovely songs like "You are my Sunshine", which I tried out on Thomas, who's 8, but he found it too sad because he didn't want the sunshine taken away! It became clear as I grew up, whatever instrument my parents tried to get me to learn, it always seemed to come back to me singing, although I wish I'd persevered with an instrument well enough to accompany myself—but I'm surrounded by talented friends who will always oblige.
When I got to Colfox I was lucky enough to have Rex Trevett as my music teacher. He was just amazing, and nurtured people with even the smallest musical talent. At Colfox there was his Big Band, which I joined in my first year, and I sang with them for the five years I was at secondary school. I then went to Weymouth College to do the Performing Arts Diploma, taught by Lindsay Ingram. I had been getting singing lessons with Sammy Hurden from when I was 13, so to have been taught by Rex Trevett and Sammy Hurden, both so inspirational, was amazingly fortunate. With Sammy, I learned how to breathe properly, and she taught me to sing such a variety of music, e.g. African, Bulgarian, Jazz; in fact with both her and Rex it was more about what I wanted to sing instead of being told what I had to sing. I had been influenced a bit by my Dad's vinyl collection, which at one point I "borrowed" from his house. There was reggae, Dylan, lots of "Americana", the Laurel Canyon musicians, all very eclectic, but Sammy widened my musical horizons. Then I saw the film The Commitments, in 1991.
I'd always known that I wanted to sing, and now I knew it was with Sammy, and it was she who then suggested we do a couple of small gigs. I had been singing with the Big Band so wasn't too scared of performing, but this was very different because the Big Band was 40-odd people, and very structured. At one of these gigs was Chris Lonergan, bass player from Weymouth, who saw lots of potential in what we were doing, and that was how the Jess Upton Soul Band was born. There was me, Sammy, Chris, Clive Ashley on tenor sax, Julie Trevett on alto sax, Matt Barge on trumpet, Terry Cottam on guitar, Dave Kenderdine on drums, and Steve Mutter, a conga player. We performed a lot of songs from the Commitments soundtrack, so it was mostly classic soul—Aretha Franklin, Otis Redding, Carla Thomas, and once even a cover of Stevie Wonder doing Blowin' in the Wind, which was a bit bizarre. Later we branched out a bit into some instrumentals, a bit of acid jazz, some Randy Crawford and a Nina Simone number I loved to do. Mainly the music was danceable, had a funky bass line and a horn section, and with a few slower numbers well placed in the set, people really enjoyed our gigs. We performed at weddings and parties all over the country, and gigged in London at the Mean Fiddler.
Julie Trevett had started a new course at Weymouth College called the Jazz Diploma, and that introduced me to loads more musicians. One of them was Steve Wilson—he and I just clicked, and we found ourselves performing in a play that David Martin and Lindsay had written called Feet, a modern imagination of the Christmas story. That was followed by another play that Lindsay wrote for her MA, called The Return of the Grievous Angels, about two country singers, a fading star and his rather more successful (and talented) girlfriend, played of course by Steve and me, and performed at Weymouth College. The soundtrack was lots of Gram Parsons, Emmylou Harris and Lowell George, and so Steve and I got a set together and started gigging, sometimes with other Weymouth musicians Robbie McIntosh, and Marco Rossi.
The Soul Band continued through all that until I moved to London in 1999, when simply because of the distance it became difficult to keep it all organised. But when I moved back to Dorset, my friend Gabby Rabbitts was running the Electric Palace, so we would do Christmas reunion gigs, which were excellent fun. The Soul Band lasted for about 20 years all together, then Steve and I got our own band together, which we called Jess Upton & The Guilty Pleasures. There have been a few different incarnations, but being a bit smaller than the Soul Band made us a bit more affordable for weddings, etc. We perform songs that belong to different genres than the Soul Band would have done, but we think they're really fun. And Steve, Robbie and I perform as a trio as well. I've also sung on a few of Sammy, Steve and Robbie's recordings.
I had moved to London needing a change of scene. Some friends needed another person to share a flat in Highgate, and asked me to join them. My Granny had recently died, and I'd inherited a bit of money, so off I went to London, travelled a bit, and worked at various jobs, including one as PA to a magazine editor. Gill Meller, Lindsay's son, was working with Hugh Fearnley-Whittingstall in the early days of the River Cottage TV shows. I would come back to Dorset to visit my then boyfriend, who was also cooking with Gill and Hugh. It turned out I knew one of the girls on the River Cottage team from London when I'd worked as a PA, so when Hugh needed one, she suggested me. Until I actually had my first day at work with Hugh, I had only had two phone calls with him, so it was a bit of a baptism of fire. He handed me a huge file of correspondence and I've been trying to catch up ever since! That was 2005, so I've been with him 16 years. I've worked on all the books and TV series since then. It's the most diverse job I've ever had, but it's never, ever dull. I love working for Hugh; he's so passionate about what he does, it's hard not to. I was only in the office at HQ a couple of days a week before all this, so working from home isn't that different, but I do miss the company sometimes. Just to have someone to bounce ideas off.
As a musician, at the beginning of the pandemic our entire diary was emptied within a few days. A year of work down the drain. I was lucky I had a job to fall back on. For those whose sole income it was, it has been devastating. And obviously there were weddings, parties etc… people's plans up in smoke. Some postponed and rebooked, but some found that with the financial uncertainty, they just couldn't afford to. It has been very sad.
Thomas and I sing harmonies in the car sometimes; he picks up a tune quite quickly. But in true offspring style he finds me acutely embarrassing—when I remind him people actually pay me to sing, he'll say "yeah, Mum, I know, you told me already…" But he did wish me luck with this interview.