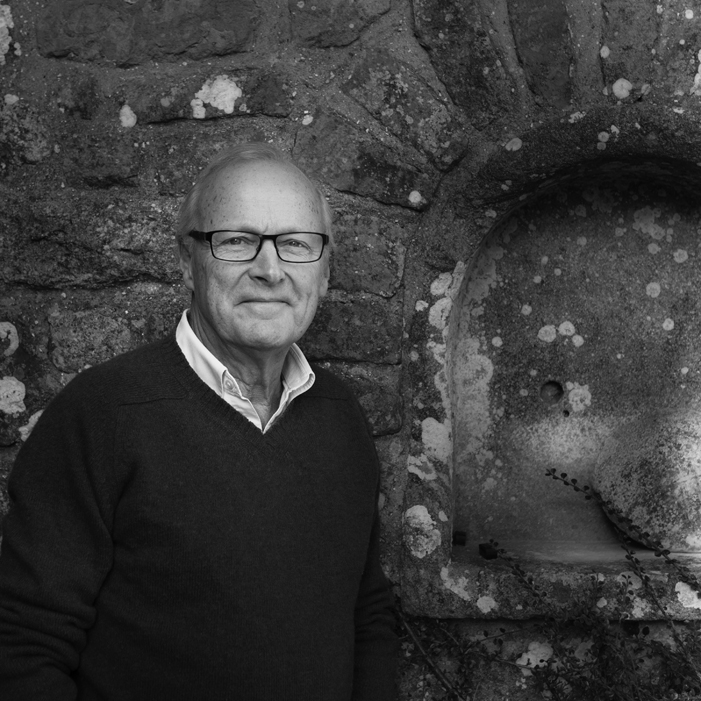 'I'm quite proud of my palindrome birth date, 5/4/45. We were in Rochester, where my Dad was in the Navy at Chatham Barracks, but the next year we moved to Dormans Park near Lingfield. I have an elder brother, Charlie, and a younger one, Hughie. We had a wonderful upbringing with freedom to explore and have adventures, and we rode horses. As a boy I soon got into racing because we could hide our bikes in the woods and watch the action at Lingfield. They filmed The Rainbow Jacket there in 1953, which was a big inspiration to me.
Everything was wonderful until I went to prep school, which wasn't good. Like a lot of boys in those regimes, I was beaten a lot. The 'character building' process was also added to by being told one would never amount to anything which, after a while, one was in danger of believing. After that I went to school in Ardingly in Sussex, which was altogether more enjoyable, although I was academically weak; really I was into rock 'n roll, motorbikes and all that. I left school at 17, before A levels, and went to work in the family wine business.
My father had cellars in the City of London and on the Kent coast. I was the only one of us three brothers who agreed to join. My father agreed to a merger with a big wine group just before he died in 1963, my mother sold the shares and I left soon after.
I didn't have much idea about what I wanted to do with my life. Looking at it, I have the CV from hell, but after driving a delivery van for a while in London, I got a map of England, and with my eyes shut, stuck a pin in it and came up with Nottingham. So I packed a bag, went there and got a job selling internal phone systems, which came with a car and £25 a week. Then I met a guy in the next bedsit to me, who came in to borrow sixpence for the meter and spotted my guitar. I told him I wasn't a guitarist but was more of a drummer, and he offered me a place in his band. We called ourselves These Times, and played local gigs, The Kinks, The Who, Wilson Pickett, Robert Parker, stuff like that, and we did all right. We played a lot of deb parties in London and the country, which were good fun, but driving up and down the motorways sitting on amplifiers in an old Transit wasn't, and was just a bit dangerous. I remember we played a coming out dance for the Weld family at Lulworth Castle in 1966, and the van broke down. We arrived at 2am, but played through until 6am, which everyone thought was just fine.
In April 1967 I took a job in Mallorca, playing guitar and singing in a bar at night and working as a waiter during the day. That was hard work with long hours, so when I was offered a job as a tour company courier I jumped at it and had a very busy but amazing summer. Mallorca at that time was our own mini San Francisco, as downtime was spent partying and enjoying the amazing music mix of the time, led by the Beatles' incredible Sgt Pepper album which arrived at the beginning of June. That November, I came back to London and got a job in an antique jewellery shop in the West End, which I loved, but I was a rotten dealer, and found a job in entertainment.
Initially I worked for GTO, a firm that managed a number of successful acts at the time. I assisted Lawrence Myers who produced a film called Remember Me This Way starring he who has been obliterated from pop history. I then became an A&R man for Firefly Records, a subsidiary of A&M records. This was run by Miles Copeland (Police etc.) and John Sherry who ran a successful agency with a roster of bands that were constantly touring the UK, Europe and the US, like Wishbone Ash, Climax Blues Band, Renaissance and Curved Air. I listened to thousands of demo tapes sent in by hopefuls. You'd listen to the first few bars then discard or, rarely, keep going. I eventually found a band called Jet, featuring talented musicians who'd played with the likes of Sparks, John's Children, Nice, and Roxy Music, but they self-destructed after we had obtained recording and publishing deals and a support spot on tour with Ian Hunter and Mick Ronson.
It was time to regroup, so in the winter of 1975/6 I drove a minicab at night which covered the West End. It was a fascinating time with a varied clientele. That led into the hot summer of '76, and enjoying the wonderful weather that summer I quit work, lived with my brother Hughie in Pimlico, and played a lot of cricket for a music business team. In September, an Australian guy in our team asked me if I'd like to work for him in his employment agency in London, placing Aussies and Kiwis in temporary secretarial jobs. That seemed like a sensible thing to do; then three years later I started on my own, accidentally expanding into a nanny agency when friends asked for help with their young families. Thanks to the booming economy of those years the business was surprisingly successful.
In 1981 I met Baffy at a friend's wedding, and we married in 1985. She had a son, Marcus, who was 8 when we met and is now an electrician in London. We added two more, Rupert, who's a guitarist with Palace who will be recording their second album in 2018, and Rory, who's in commercial property, both also in London. We moved here in 1993 and love being right next to the farm and living next to the Fooks family, who are delightful.
On meeting up with an old friend, Derek Fitzgerald, when we arrived in Dorset, we started a band, which is now a six-piece. There have been a few personnel changes but Rupert plays bass with us when he's free, as does, occasionally, Rory on drums. We play '50s rock 'n roll, Carl Perkins, and Chuck Berry etc, at weddings, birthdays, and parties, and at occasional public gigs like a festival at Sherborne last summer. Luckily, Dorset is full of really good musicians.
When Rory was about 3, the funding for his playgroup in Powerstock disappeared. Baffy suggested holding a kite festival on Eggardon Hill to raise money. It's a perfect situation for kite flying; she asked Sarah Harris who owns the land around it and the National Trust who own the hill fort for permission, which was generously given. The first one was in 1996; there was a kite shop, BBQ and cider and tea tent. People came from far and wide to fly their kites, and much money was raised for local charities. Baffy and award-winning West Milton cider man, Nick Poole, ran it for many years, but when she became ill with a cancer she had to stop. The Round Table then took it on for a year, but very sadly it finished last year after 20 years.
Baffy made a complete recovery from her cancer, thanks to wonderful treatment at Yeovil hospital, and life has taken on a slightly different hue as a result. She enjoys painting and is really quite successful. I play real tennis at the Hyde in Walditch, a beautiful old court which belonged to the Gundry family
I am involved with racing with Harry Fry who's family have been friends since we met at Perrott Hill. I ran his successful racing club for two years, and when that stopped I've happily continued to look after a few syndicates for him. I have been a keen motorcyclist since I was sixteen and love to ride in Europe whenever possible. Baffy and I feel blessed to have taken the correct forks in the roads to end up here in Dorset, with our valuable mix of family, neighbours and friends.'