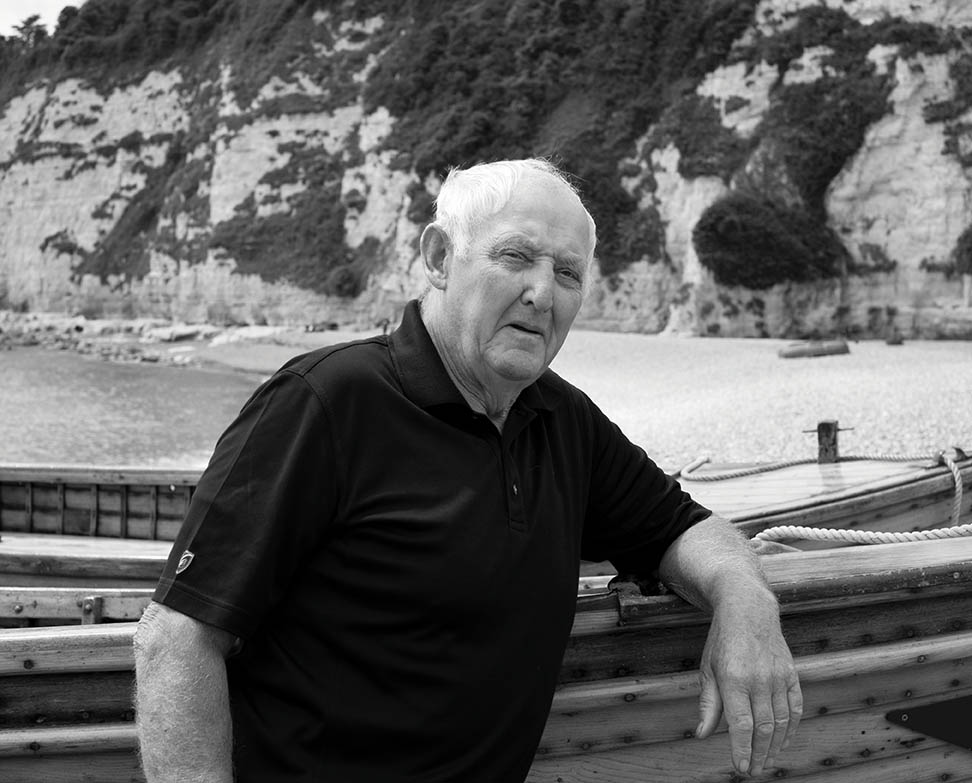 Julia Mear met Peter Bartlett in Beer, Devon.
'I was born in one of the Fisherman's cottages on Sea View Road, the fifth one down, in 1932. The locals know me as 'Chunky'. My grandfather, Joseph, was one of the first tenants of these cottages. He and my father, Herman, both fished. My grandfather died aged 38 years and left eight children behind. My mother, Isabelle Tuck, was from Bournemouth. She was one of a twin and her aunts brought her up. Their family ran a café in Swanage. My mother went to Sidmouth to learn the business with a view of running the café in Swanage later but she never did that. Instead she met my dad; he was 42 when they got married. My father had a few huts on Beer beach. In the summer he did his deckchairs and beach huts and in the winter he went fishing. There were lots of herring to catch in those years between the wars. The owner of a boat took on Father as an extra man and they went three in a boat herring drifting. It could be quite perilous if you struck shore. During the war Dad was an auxiliary coastguard. Mum worked at the Anchor Inn as a cook, she was there for 16 years.
I have a brother, Timothy, who is three years younger than me. When he was born I went to stay with my aunties in Bournemouth for about six months. My brother didn't stop crying and I told Mum to throw him out the window—that's what they tell me anyway.
As much as I wanted to go fishing, I was too young. But, by 11 years old I was working 35 hours a week for my uncle, Ken Bartlett, who was a baker in the village. His son and workman both went off to war and he talked me into giving it a go. I could get the dough out of the trough which you couldn't see in the evening but by the morning it was lifting the lid off! Bread was bread then and we'd cook five hundred loaves in a morning. Even at 11 I was soon able to cut it into lumps and weigh each one—2lb 2oz for a large loaf. Then I'd throw it onto the table for my uncle to mould it up. I was excused from school on Tuesdays and Thursdays until 10am so I could help my uncle. He would then go off and deliver in Seaton in his little Morris Eight van. In my 1 1/4hr lunch break I would deliver more bread through the village with a carrier bike. Then, when I came out of school we finished off delivering in the what is now Peco area and Barline. We still had to load the van to go to Branscombe starting at Quarry cottages around 5.30pm. In 1947 we had some bad snow and couldn't see the roads for three weeks or more but we never missed a delivery in Branscombe. We put chains on the tyres and somehow managed to get through all the steep windy lanes.
My uncle was a big influence on my life. I still done a bit of fishing when I could, but through doing the bakery work, it meant I never had holes in my shoes again. I left school at 14, the bakery always had to come first but the sea bit was no trouble to do; I loved it out there. I started off with crab and lobster pots and at 17 I had a brand new fishing boat that I paid £319 for, which would be about £20,000 today. It was some feat at the time because my mum needed 10 shillings of my pay to feed me.
I got better at fishing and in the summer, in the fifties, after I came back from pulling my pots, I ran a boat for Dougie Orley. There was a lot of money to be made and we took out around eight boat trips of people each day. By then they had started letting out self-hire boats and Dougie let mine out as a self-hire as well so I had a share of that. He once said to me the worse thing we did during those times was to not charge double! We charged £1/hour for a whole boat load of people and me as skipper. He was a good friend—his daughter now owns and runs the Dolphin in Beer. In the sixties I went begging to the bank for a loan and bought my first 'bigger' boat. This meant I was able to achieve the best of what you can achieve to be a successful fisherman. In my time I've had five wooden boats built for me. The last one I had built in 1974 and it's still on the beach today.
I've been married for 60 years. My wife, Barbara Ebdon is from Axminster, she looked after Dr Parkinson's children. I met her at a dance held in the Plaza Ballroom, the building behind the Guildhall then. The band playing was The Modernaires. There were dances every Saturday in Axminster back then, they were very popular. We would get the bus to Axminster and then a taxi home. George Hoare ran the taxis, he's still alive today. If you didn't get to the taxi in time you would have to stand on the running board with the window down and hang on! If any lights came, George would slow down and shout 'jump jump' so we'd jump off until the lights had gone then get back on. We were lucky if someone got out at Musbury so we could get inside the taxi. We got married in 1955 in Axminster and rented The Dairy in Beer, now Jean Bartlett's Holiday Cottages. We got it rent free plus £5/week. Barbara ran the dairy and I managed to convert some sheds out the back into a bit of a bathroom. This was sheer luxury from what I'd been used to; it had been a tin bath by the fire before that.
I learnt that if you worked hard you could earn a bit more than what you needed. Sadly, young people today struggle to get a property or a boat with the prices today. The cottage I was born in was built for £200 and the last one sold for £360,000.
From about 1949 to 1973 I'd done years of pretty serious fishing. When you're going out there on your own you have to make your own decision on how the weather is going to be. If I was carrying passengers I'd be out for the day sometimes so I had to be careful. I'm not very religious but in all my fishing life I have prayed for real five times; meaning I thought I'd need some help to get me back when the weather had changed worse than I'd estimated. But I've always loved it out there. You never knew when you were going to see dolphins and they seemed to like to play a game with my boat. They'd stay about an hour or so, leaping out of the water almost landing in the boat at times. It's magical when they're in the boon; they perform like they're doing a show just for you. It used to be a regular thing years ago but it's much rarer nowadays.
We had two children, Jane and Simon and it felt right raising my family and being able to support my children rather than giving parents money like I did from such a young age. Barbara and the children came out a fair few times on pleasure rides. But mostly for family time and days out the weather would have to be winter rough to keep me off the boats. Jane works as a midwife in Honiton and Simon's got the self-hire boats on the beach. My son never wanted to go fishing like I did. Today you have to have certificates to go out fishing before you even know if you like it. Someone once said to me there's nothing you can't buy to go out fishing but they were wrong; you can't buy experience.
I've got a beach concession for my beach huts—you get a length of beach for huts and deckchairs. Although I don't own any boats now, I still go out on my son's self-hires; some of which used to be mine. I still have five traps but I don't go out every day; I'll go out on my own, much to my wife's disgust! I wouldn't say I'd like to fall overboard but I'd rather go that way than end up stuck indoors with illnesses, the thought of that haunts me. I still wonder what I will catch tomorrow; gives you something to get out of bed for.'