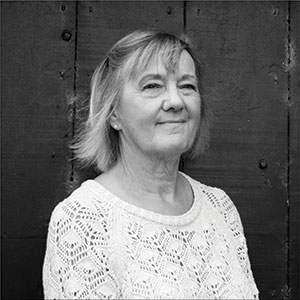 Julia Mear met Julie De'Ath Lancaster in Honiton, Devon. This is Julie's story:
"I was born in Nuthall, Nottinghamshire, after my father, Arthur De'Ath, went there to work for Rolls Royce. My two brothers and I went to school in Eastwood. Growing up for me was wonderful really. Our mother, a highly intelligent woman was never in a situation to fulfil her dreams or potential. She wanted to make sure that all of us had the opportunities denied her. I started ballet when I was little and I also did violin, piano and singing. One brother played the oboe and the other the piano.
Out of school I'd joined a local girls' choir. The conductor, who was also my singing teacher, was a former professional singer and a perfectionist, insisting all our many concerts were sung from memory. At first this was hard but I can still hear pieces and find myself singing the bottom alto part. We were singing wonderful music which involved a vast amount of learning, but what a marvellous habit to acquire. I am so grateful. A music degree from Trinity College of Music London followed, in joint singing and piano. Shameful to admit, I missed most of my keyboard harmony classes! Trinity was near Oxford Street so a great deal of time and money was spent in Selfridges. However, I went on to win the college Elisabeth Schumann Prize and as a result sang in Wigmore Hall, a major world concert venue. My first two professional concerts were as a contralto. I recall coming down to Weymouth Choral Society and also my first Messiah with the London Transport Society in Southwark Cathedral. The tenor soloist amused me as he was wearing his pyjamas under his evening suit as it was so cold!
After Trinity I worked with Pamela Bowden, a very fine teacher. I was very lucky to be one of her pupils as she was a singer with an international reputation. She taught me how to use the top of my voice. It's not just how well you sing, but also your range and where the quality sounds best. It took a long time to adjust to the new sounds in my head and use all my vocal range. At London University I did a Post Graduate Certificate of Education so I was singing and teaching. I was based in Harlow, Essex at the time. One of my brothers worked for a firm of agricultural engineers in Axminster, Devon and had a tied cottage in Vale Lane. My husband-to-be had a business called Pressure Sensors at the end of Vale Lane. He and my brother spent evenings together in The Green Dragon. I came down to visit my brother and met Chuck Lancaster. I am very proud of my name De'Ath and therefore have been Julie De'Ath Lancaster ever since. I moved to Axminster and we married in 1974. Not long after, my parents also moved down from Nottinghamshire. I realise how fortunate I have been—having worn two hats; as a professional singer and a music educator, and found work wherever I've been based. We moved from Axminster to Offwell, up to Sheldon on the Blackdown Hills and finally to Willand near Cullompton. Chuck and I had a fantastic 30 years together. Chuck was very supportive, and when I wasn't teaching, I was singing. I did a Verdi Requiem in St John's Smith Square London and remember Chuck saying he couldn't sleep because he had the Verdi going round in his head—it takes over your life.
Later I worked for Devon County Music Service, based in Exeter, as an Advisory Music Teacher, working in schools all over Devon. As the vocal specialist on the team I have also been a repetiteur, the person who teaches the singers their notes. Any visiting conductor expects everyone to know the music thoroughly, so it's quite a responsibility. Sir David Willcocks came down several times to conduct large scale choral works in Exeter Cathedral. He was rather scary—his reputation as a conductor was global and he knew exactly what he wanted. For example, he didn't want the T of the word either before or after the bar line, it had to be exactly on the bar line! Very pedantic but of course this attention to detail gave him the most fantastic results.
Chuck and I had two daughters, Sophie in 1983 and Rebecca in 1985. This is how I know how long the Sheldon Singers, a four part adult choir, have been together. After Rebecca's first birthday, some of our friends in Sheldon village came to our house to sing carols. Chuck made coffee, poured beer and we sang. It started with eight people in our lounge. Later on, children of our singers came too and it became a lovely mix. Eventually we outgrew our house and moved across the lane to the village hall until Chuck, I and the girls moved from Sheldon to Willand. This meant moving rehearsals to Mill Water School in Honiton which is where we are today. However the school is relocating after Christmas so we are moving to the Baptist Church and perhaps we'll go to a pub afterwards!
We have become quite experienced over the years. I've always auditioned any new member which may seem frightening to some, but it means I know the sounds of all my singers and I can put them in the correct place within the choir. All are welcome and although sight reading isn't a requirement, it helps to have a musical ear. We are always looking for people who don't mind auditioning, to join our community choir. Singing is fantastic for your health and wellbeing—breathing, posture and the mental processes you go through. We have singers from Exeter, Lyme Regis, Uffculme and Wellington.  We rehearse every Thursday 7.30 until 9.45pm. The Sheldon Singers do several concerts a year and have been touring all over Europe during the last 14 years, giving concerts in places like Notre Dame, The British Institute in Florence, the Dom in Bamberg and, a tremendous privilege, singing a Pilgrim Mass for over 2,000 people in Santiago de Compostela. I used to be Director of Music in St Paul's Church Honiton. Being a church musician means you have to be quick to learn, read a tune of the hymn or psalm on one page and the words on another—a great skill to develop. I've been fortunate to teach singers at Exeter University for the last 22 years—a wonderful job. You sadly can't do a music degree there anymore but the young people I work with are delightful. It's lovely to encounter former students working professionally. Many of them I cannot now afford to employ!
After my husband died of cancer ten years ago, I decided to raise money for Marie Curie. I did a trek to Everest Base camp and together with talks that I was asked to give afterwards, raised around £10,000. Walking holidays abroad are important to me, as well as aiming to complete the South West coast path. My dog and I walked many miles together, but now she has died I have a small coterie of friends whose arm I can twist to come with me. I love my garden and plants and last year I also started an allotment. In winter I tend do needlework, tapestry and golf when the weather permits. Along with three other ladies, I still play the harmonium at Sheldon Church for services there. My passion of course is singing and I never used to think that there would be a day when I didn't want to sing, but when my husband and then my mother died, it changed. When you sing, it's not like talking to anyone; it's a very personal thing you are sharing. After those two great losses, I found I couldn't sing the way I wanted. This is why conducting has always been so important and I love it. Probably because I'm bossy, but mainly because I've always been interested in so much music, and there is still so much to do!
My father was known by neighbours as the Beautiful Dreamer, as he always sang that old song. Mum loved music but was too embarrassed to sing. I feel so thankful to have had all these singing opportunities and I want to enable everyone else to have such tremendous joy in their life and singing is the only way I know how to do that."