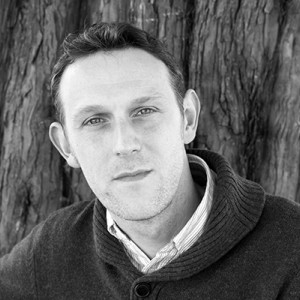 Julia Mear met Tim Pritchard at the Archway Bookshop in Axminster. This is Tim's story:
"I was born on 29th September 1977, in Crowthorne, Berkshire, it was where my parents had moved to after they were married. They pretty much picked it; my mother was from Kent and my father from Somerset, and Crowthorne was slap bang in middle, so there were no arguments about who was closer to their families and jobs. Dad commuted into Reading and subsequently London. His entire life he worked for Gillette and ended up running the British side of the company. I have one brother, Dan, he is two years older than me—we were enough for Mum and Dad. When I was five or six we moved to Cairo for Dad's work, the company had operations in Egypt and he went over to head up the factory there. It was probably one of the most fascinating experiences of my life, coming from a Church of England school here, to living in the suburbs of Cairo. The school was incredible in Cairo, an American college—they took everyone from nursery to degree level and it was just like an American high school, but in Cairo. Then you would step outside the gates and you were back in Cairo with everything that that entailed. A normal weekend for us would be riding our horses around the pyramids which, looking back seems surreal.
A Saudi princess who had an apartment not far from the school kept pet apes, one of them escaped, and it was very vicious! We were all kept safe in school buildings. The ape was shot dead in the school grounds after attacking a few people. It was a scary moment.
I came back to England at the very end of my primary school education. My father's work brought us back to the same house in Crowthorne initially. My father's education was as a chemical engineer and my mother was a physicist. I however had inexplicably been pulled towards the arts—this was my only passion at the time. It seemed quite frivolous compared to my family's education and careers. My brother followed in Father's footsteps. But I continued with my art through extra-curricular activities, I had my head in poetry and got involved in every school production going. I did my A'levels in Maths and Science as expected but never gave up on the arts and did A'levels again in English, Drama and Geography. My mother had a latent artistic side which came out later in life but at the time it wasn't seen as a career path. My Aunt Ros also happened to be Darcy Bussell's first ballet teacher.
I had my heart set on Drama school but my parents didn't, and without their support for fees I couldn't go. I ended up doing a Drama and Theatre Arts degree, at Goldsmiths University in London.
I had an incredible time with so many other creative people. Towards the end of my first year there I got a job at the Royal Albert Hall. I would do a full day at University and in the evenings I would dash across London to the Royal Albert Hall. I was mainly front of house which was amazing fun. I'd met somebody who'd worked there but they weren't taking anyone on (there was a waiting list). I decided to just turn up, telling them they really probably needed me in some way. Initially I was doing ticket checks on the door—showing people to their seats, then front reception desk, hospitality, meet and greet that sort of thing. It was just amazing—awards ceremonies, huge charity dinners and concerts—I met all sorts of people—some briefly, some you were assigned to, some did a run of shows every evening for a few weeks. I met most of the Royal Family. Tom Cruise and Nicole Kidman, whilst they were still together, Judi Dench—who was just fabulous, Nina Simone and Cliff Richard for 20 consecutive shows! Cliff was showcasing new talent, a young chap, not sure he came to anything but they sang a couple of songs together. He and I were the spitting image of each other, it was bizarre. Cliff mistook me for him and so did the fans. So there was a certain door they could go out and all these people gathered around me and I suddenly realised they wanted to get my autograph. For a few nights I had to be bundled out so I could catch the last bus home in time. As much as I loved acting, singing is one thing I cannot do; I can't hit a note, so that was really funny.
Another time we had a bomb scare. Obviously procedures had to be followed—and it came through to me that we had to evacuate, shut down the show and evacuate 5,500 people within 3 minutes. It was quite a frightening night even though it turned out to be a hoax. We couldn't go back in and the building was shut down. When it was time to go home I had to go without any of my belongings to catch the last bus—still dressed in my pillar box jacket with gold brocade; not something you want to do that time of night across London.
University had finished and I woke up one day and realised I didn't want to be in London anymore, but I didn't know what I did want. I came down to Lyme Regis, somewhere I had come as a child. I thought I was going to be down just for the weekend and out again. But, I got a job in a local book shop and never went back to London. I was in my mid-twenties then, I just loved the whole area and really quickly built a life around me and it felt like home. I was at Serendip for a few years then I moved to Gingerbeer, a shop friends had opened. It was at that point I decided I could open a business. So I bought the picture framing business at the Town Mill in Lyme. I absolutely loved it; I met so many fascinating people. People who collected art and of course the artists and sculptors; everyone had a story to tell. I could see their work progress and change over the years.
I also met, my now husband, Simon, he applied for a summer job in Serendip when I was there. At that time, bizarrely, he was in London, at the Wimbledon School of Arts studying sculpture. About a year after we met, Simon moved back to Lyme, by which point we just knew it was going to be the two of us. He then got a job at The Woodroffe School as a teaching assistant. He wanted to go back to university to do his teacher training. Sadly, Lyme was too expensive to live on one income with university fees so we moved out to Feniton, Simon was at Exeter university so it was logical for us both, to commute to Lyme and Exeter.
Simon had just finished his training when my father died very suddenly. They had moved down to Devon about the same time as I met Simon, Dad had retired and they wanted to move to the West Country to retire. They had bought an old farmhouse just outside Honiton. He was only 66 years old, it was totally unexpected, and suddenly everything looks a bit different after that.
The Christmas after Dad died, we got married at the Guildhall in Lyme Regis on 30th December 2011. It was a very simple do with just immediate friends and family. In the evening we went to Combe House Hotel—a very special place for Mum and Dad. My brother and his wife were over from Australia.
Then I sold the picture framing business, essentially I took a year out before I bought The Archway Bookshop. So I spent a lot of time with Mum, we helped each other through that time, and I helped finish the farm house off so Mum could downsize. She is still close by in the heart of Honiton. Feniton had only ever been temporary, so at this time Simon and I bought our home in Musbury. The minute I saw the house I knew it was the one we wanted. We filled the garden with chickens and the house with the cat, dog and the tortoise.
In January 2013 I bought the bookshop, which was again an almost blind leap of faith. I was always a bookish child and I always thought I was going to be a great actor, wonderfully eccentric, and when I retired from the stage I would run a bookshop. I obviously missed out on being the great actor!"