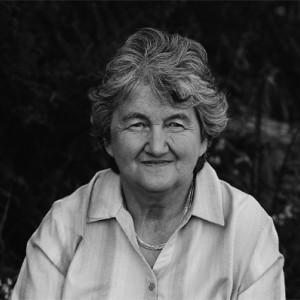 Julia Mear met Yvonne Burton at her home in Morcombelake, Dorset. This is Yvonne's story:
"I was born in the farmhouse at Westhay Farm, Stonebarrow, Dorset, in 1943, named Sylvia Yvonne, but I am known as Yvonne. My grandparents and great grandparents, on my mother's side, farmed Westhay and Stonebarrow Hill between Morcombelake and Charmouth. They grew a lot of wheat on the land and milking must have been very hard work in those days – I remember how cold the cowshed was in winter, all the milking was done by hand. We had some wonderful times at the farm, the farmhouse was a special place full of character, and I always enjoyed visiting my grandparents with my sister and cousins. The house had a very dark passageway that went right through it which was a bit scary, there was no lighting in there but we had great fun exploring. Cooking was done by paraffin stove and on the open fire. There was a wonderful fireplace which you stepped up to with bench seats either side, with large logs burning. You could look right up the chimney and there was always a kettle and cooking pot hanging over the fire on hooks. The outside loo at the bottom of the garden had three different sized seats with a stream running underneath – it was very chilly in the winter. You certainly would not want to sit there and read the paper.
My mother, Marjorie Austin was one of nine children, one of which died at an early age – so she had five sisters and two brothers. Sadly they have all passed away now.
When my grandparents retired to North Chideock, nobody took over Westhay Farm from them, so it was sold to the National Trust. What upset the family most though was that the National Trust demolished the farmhouse. Their excuse was that the builders were sent in to pull down an old barn and pulled down the farmhouse by mistake! At least the farm cottages are still there today.
I grew up in the nearby village of Ryall with my parents and younger sister, Sonia. We went to school at Whitchurch Canonicorum. We had to walk in all weathers as there were no school buses for us then, it was a mile each way and I was only five. My mother and her brothers and sisters must have had a tougher walk to school from Westhay Farm to Charmouth. Every year we would look forward to the local flower show in Whitchurch Canonicorum, making our miniature gardens out of berries and flowers we found in the hedgerows – mum would be fretting about us not eating any of the berries. The flower show was held in the Reading Room but that's no longer there now. Sonia went on to train as a teacher, she lives in Hereford with her husband Paul and are both now enjoying their retirement.
In 1940 my mother, Marjorie Austin, married my dad, Edward Love, who was a motor mechanic at Star Garage, Morecombelake, everyone called him Ted. The garage later became Frodshams Motors – now that has gone too. The Love family owned the gravel pit on Hardown Hill, Morecombelake, where they sold the gravel they brought down by horse and cart. My grandfather, William Love, and his father were quarrymen and worked the pit – that's where the name Love Lane originated from as their family lived in the cottages in the lane. Grandad was in India during World War I but returned to the quarry after the war. When the quarries closed he went to work as a baker at Moore's bakery in Morcombelake – he delivered the bread to all the surrounding villages on a pony and trap.
My great uncle Tom Hansford, who was my grandmother Lillian Love née Hansford's brother, was in the navy and served on the Iron Duke during the Battle of Jutland in 1916. He used to ferry Admiral Jellicoe ashore, he had a lot of tales to tell about it – I only wish I sat and listened to his stories more as he is gone now.
I left Lyme Regis Senior School in the late fifties and went to work in Charmouth, in the ironmongers shop owned by the Child family. In the sixties they took over Morgans Newsagents where I worked for 39 years. I finished in the late nineties and saw a lot of changes in ownership of this shop over the years. Working in the newsagents, I got to know nearly everyone living in Charmouth but Charmouth has changed so much now, lots of new houses have been built in the last 15 years – there aren't many people there now that I remember.
When I decided to retire from Morgans I thought it would be great not to be in a routine but it was not so good and I found life boring, so, I went to help out in the shop at Golden Cap Holiday Park, Seatown for two years. Then I went to help out in the card shop, Cards and Things, in Bridport and stayed there for seven years – now I'm definitely retired! I enjoy the quiet life at home and lovely walks with my border collie, Sam – there are so many beautiful walks around here. I cannot persuade my husband, Maurice, to retire – I don't think he knows what the word means. Maurice has worked as a Plant operator for Axminster Excavators for the last 15 years – he's 69 now.
I have always loved animals from an early age having my own cat named Rustler. I remember one day mum sent me down to the farm at Ryall owned by Mr and Mrs Barnes to get some apples or eggs – they had some baby white rabbits so I ended up going home with one in my basket forgetting about apples and eggs. I was told very sternly that I would have to be responsible for feeding and cleaning it out and I always did. I used to take the cats for walks and one day we met the bull terrier from the bottom of the road – he rushed to get the cat so I picked the cat up quickly and the dog bit the back of my leg!
Maurice and I met in Charmouth when we were both working there and married in 1964. We moved here to Morcombelake, we have a couple of small paddocks and since we have been here we have always had border collies, but over the years we have taken in all sorts of animals needing a home – ducks, chickens, ferrets, rabbits, goats, budgies, cats and a Shetland pony – Dobbie, that had been in the family from a young pony and lived with us for about 25 years to the ripe old age of 35. This meant we have not had many holidays. Dobbie had lived with my aunty and uncle in Evershot and was ridden by my cousin Carolyn, I am very proud to be godmother to Carolyn's daughter, Kelly, she's 21 now and they live near Dorchester.
I am the only one from the Love and Austin families still living in Morcombelake. Westhay Farm and Stonebarrow is a very special place to me which is why I still live very near to it. I helped to set up the 'Past and Present' event at Whitchurch village hall in 2009, organised by Sylvia Creed Castle. It was so popular we ran it again earlier this year. It was full of photos and the histories of local families and farms around Whitchurch Canonicorum, Wootton Fitzpaine, Morcombelake and Ryall, so I had plenty to contribute.
Three years ago I had a life threatening illness. Maurice found me collapsed on the floor in the night and called an ambulance. By the time I got to hospital my heart had stopped and they had to use the crash trolley to bring me back to life. I woke up in intensive care two days later – it was very scary and frightening. Then they moved me to a high dependency ward – the Coronary Care ward. After lots of tests I was taken to Bournemouth Hospital where two very good heart surgeons found what was wrong – they put hot wires in my heart and burnt out the problem – something they told me I was probably born with, but I'm still here to tell the tale.
Someone from the hospital told me I have been given a second chance in life now and I should enjoy everyday, even if it's just listening to the birds singing – which I thought was very nice, and I do."