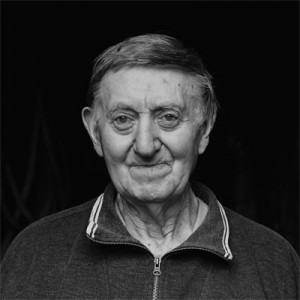 Julia Mear met Charlie Holbrow at his home in Chard, Somerset. A hard working man with an independent spirit, he truly has a marvellous memory for detail. This is part of Charlie's story.
"I was born in 1923 and brought up in the foothills of Clee Hill in South Shropshire. Before I was six I'd been choked, strangled and almost drowned. As a baby I nearly choked on a crust of bread. Mother was panicking and I was black in the face, but a great Uncle swung me by the legs up and down until out comes the crust and I'm saved. When I was two I got amongst our two milk goats, got their chain wrapped around my neck and, but for Uncle Bert seeing me, I'd have been strangled. Later on I fell out of a tree into a dam and was saved from drowning by a twelve year-old neighbour that I'd been visiting.
I had to leave school at 13 because of the lack of money. Over a weekend I switched from school to agricultural labourer and worked at the 3,000 acre Kinlet Estate nearby, owned by Squire Childs. I worked as a poultry boy for 15 bob a week for a seven-day week. They employed 40 poultry boys and had over 250,000 hens on free range at three farms. I stayed for 18 months but had enough and in 1938 I went to work in the coal mine – Chorley Pit. The pay and hours were better, 17 shillings and 4 pence a week, that's the equivalent of 85 pence for 5½ days. Chorley shut so I went onto Highley Pit until 1941 then to Blidworth Pit near Mansfield. Blidworth was 864 yards deep and about 2 miles out to the coalface. The air which was full of dust, would nigh on burn your face – it was very hot and dusty. I stayed there about 18 months then moved onto Blaenaven Pit in South Wales (now turned into a museum). If I didn't like their set up I always quit, I never was one to stay and moan, I'd rather pack up and move on.
I worked in 21 pits in 11 years. I left South Wales after six months and went to Keresley Pit outside Coventry. This didn't suit me at all – it was 22ft of coal and it wasn't the job I'd been promised. I ended up in a tribunal. They decided I should leave Coventry within two days and go to Dunsthorpe Pit, South Derbyshire. I said 'I don't need two days – give me two hours and I'll never step in this city again'. I got on a bus right away. When I arrived at Dunsthorpe Pit, the manager sent for me as he'd heard what had happened and asked if I'd come to work or wreck the place – I told him I was a worker. He sent for me again a month later and told me he wished he had 200 more men like me. In 2½ years I missed only two shifts due to dysentery. The wages were double what they were anywhere else – £3 a shift. I worked 6 nights a week. Saturday night I went to bed – I wasn't a drinker. When I decided to pack up, the manager, Bill Hunsworth, sent for me and asked why I was quitting. I told him I was going to Canada as soon as I could get transport, I wanted a change. He told me if I was ever looking for a job come back to him. He was the best man I ever met in England – fair, friendly and someone who appreciated an honest workman. After the war he was made general manager for Leicestershire and South Derbyshire coalfield. He lies in Ashby-de-la-Zouch graveyard now.
Three times I've had my life saved – by a Welshman, an Irishman and a Japanese man. Once when I was working in Yarn Drift, Blaenavon, I was climbing across a loaded conveyor when somebody started the belt and my head got jammed between a big lump of coal and the roof. I thought my time was up until somebody spotted my lamp and stopped it just in time. They had to break the coal lump to get my head free.
Another time I was working nights at Blidworth Pit and my foot got caught and I was being pulled into the conveyor transmission. The belt was travelling at about 4mph and there were steel joints every so often on it. An Irishman heard me shout and had the sense to grab a steel prop and jam it into the roof and the conveyor to stall it. Luckily I wasn't badly hurt and carried on with the job.
In July 1947 I went out to Canada. I got a job as a logger up the coast – it was dangerous work. I worked with German, Swedish and Ukrainian nationals. One time I was timber felling alone in Eastern Ontario. The snow was 4ft deep and it was cold, in the dead of winter. Somehow I got a tree across both thighs and was pinned down and freezing. I was helpless. I had been there an hour or two when a Japanese fellow came down the trail and managed to save me. I've missed death by inches time and time again. I even had two attempts on my life – once in England and once in Canada. In 1955 I left Canada and came back to England; I'd had enough of frost and snow.
I bought a cottage in Worcestershire. I had plenty of money saved as I never drank or smoked. I went timbering. They'd just opened the Sudbrook pulp mill outside Chepstow and I got a contract with them to supply hardwood. I helped to cut the first 500 cord of birch ever put through to see if it would pulp to make a super map paper. It was the first mill to manufacture hardwood. Turned out such a good paper before long there were six across the world in production. I had the rigging, plenty of experience and had bought my own 7-ton Bedford lorry. I had the first Dolmar chainsaw ever to come into this country. I had to wait three months for it to come off the production line. I got the hardwood from local estates, paid them £1 a ton standing and cleared it. The best pulp would fetch £5 a ton at the mill so I had £4 to produce it and deliver it to the mill – it was hard work.
In 1961 I sold the cottage and went down to New Zealand but came back to England in the hard winter of 1963. It was like walking into a refrigerator, nine weeks of frost that started at Christmas right through to March. I went to Cheltenham – mother had a place there. The only job I could get was with Elliot Brothers who supplied fuel in the areas – they had 36 lorries. They were only too pleased to see me wanting a job shovelling coal off the back of lorries. As the weather got better I went cutting down orchards for Alfred Robertson Company – I had plenty of timber work for a couple of years.
In 1971 I moved to Puriton, near Bridgwater in Somerset and worked on site clearing the run for the M5 motorway. After that I moved nearer to Chard and got a job at a sawmill in Tatworth. It had belonged to Bill Day who'd kept the Dolphin pub. He'd won £30,000 on the pools and bought this site at Tatworth and put in a saw mill – he sold it to Halls Timber Company. There were only three of us at the mill. I was there about 18 months or so. I went on holiday in Kent with my Mrs every September when the fruit was ripe. When I came back the mill was burnt down. I made a good move then.
The old Chard station was a Roads Company owned by Colas, handling bitumen. It was a subsidiary of Shell Oil. I took a job there driving a loader. I'd been with them for nine years. The boss said he'd retire me at 60 but I said I was good for another 10 years. But it was their policy to retire us at 60 and they told me I'd be well looked after. I was not a friendly person – I used to fall out with everybody. But they gave me a retirement party at the pub and a sledgehammer with an inscription on it, which cost £35 to do.
In 1983 I continued with my timbering. I had a lorry and went timbering for orchards and had a yard at West Farm in Cudworth until recently, when I had to pack it up. I was working the timber for a big farm with nine acres of woodland. I worked for the old man for 15 years – it was him that encouraged me to go onto the yard to work their timber. The apple orchard was redundant so I ripped it up for them, had plenty of work there. He died and I gave it all up about 18 months ago.
Throughout my eventful working life, I've been married three times. I had a son, Adrian, with my first wife Rosemarie and I now live happily with my third wife Diane. The poor old body that has served me so well over many years, in all sorts of situations, has finally decided to pack up. I got a hip gone, bad legs and white finger from the vibrations of all the machines. I'm on my last legs now, after all I'm 86, and this is where I will stay now."