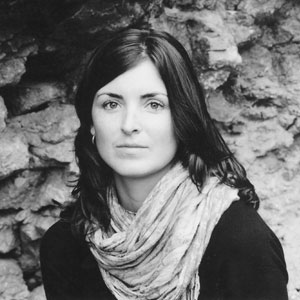 Julia Mear met Emma Molony, aged 28, in the East Devon fishing village of Beer. This is Emma's story:
'My grandparents lived in Fishpond in the Marshwood Vale where my dad, Rowland Molony, worked on local farms during the holidays. His father, Marcus, met my Dutch grandmother in Holland during World War II while he was a Wing Commander in the Royal Air Force.
My mum, Elizabeth Baxendale, was an Art teacher in Bulawayo, Zimbabwe when she met my dad. He'd just finished training as an English teacher and sailed out to Cape Town on an adventure with two friends, in 1975. They drove up to Bulawayo and he was teaching there when he met my mum. They were married within three months.
Susie, my sister, and I were born in Zimbabwe, but as life became increasingly difficult and dangerous in the 1980s, my dad decided we needed to move to England. He came over three months before us to look for work and somewhere to live. He came to the West Country, a place he loved; he found a winter let in Beer, and a job teaching English at Sidmouth College.
It was painful for mum's family in Africa to see us go. The Baxendales had settled in Zimbabwe in 1896. They'd put down roots, never returning to their birth country. My great grandfather Walter, from Lancaster, started a mineral water factory in Bulawayo, and my grandfather Oliver who, when orphaned was brought up in Wiltshire, returned and opened a bookshop and printing works there. Evocative memories of Africa for me are linked to smells, dust, jasmine and warm milk at school.
One of the most exciting parts of finding myself in this fishing village, aged 6, was living in a house with a staircase. Also, the really steep hills, the salty sea air, and waking to the sound of seagulls – it was like nothing I'd ever experienced. My English grandparents had always sent us very 'English' cards with snow-covered village scenes and carol singers, and here we were, living in a little English village, being angels in the nativity play and carol singing. Even Father Christmas seemed more real. The best thing was knowing I wouldn't have to go to boarding school, and there would be no more snakes.
We wrote to our gran in Zimbabwe about how it always rained on Mondays in England and that she needed to bring lots and lots of jumpers when she visited.
Growing up in Beer meant we didn't need to go abroad much. We spent long summers on the beach, and of course there was Beer Regatta. It was great being a teenager in East Devon, often visiting old ramshackly pubs where friends' bands would play. I enjoyed going to Colyton Grammar School for the chance it gave you to meet people from all over the area.
Afterwards, I went to study Art History at Leeds University for three years. Then I wanted to move abroad but couldn't afford to travel. I found a paid Internship at The Peggy Guggenheim Collection in Venice – a collection of modernist art in the eccentric American collector's old palazzo – kept much as it was when she lived there. I worked for three months, giving tours, talks, guarding, stewarding and just getting a feel of working in a small art collection.
I wanted to remain in Venice, so I supported myself with a variety of jobs; one of my favourite was painting the faces of visitors at the Carnevale. Then over the summers I worked at the Venice Biennale with contemporary British artists and architects; sometimes I had to transport their work on unstable boats through the canals.
I loved the gondoliers; they are kings of their world. I learned voga alla veneta – upright rowing – and tried their gondolas, but they are so light it's incredibly difficult to steer them.
The day came when I had to choose whether I was going to stay forever in Venice or come home. On Christmas Eve 2003 I left Venice and moved back to Beer. Coming back to an English Christmas made it much easier to leave. This was the first time I'd be living in the village as an adult, and what started out as three weeks turned into three years.
I wanted to work in community arts, so I did various voluntary jobs and started a printmaking course at Double Elephant Print Workshop in Exeter – I'm now one of the five voluntary directors. We do printmaking using etching and screenprinting techniques with vulnerable groups: adults with mental health issues, the rurally isolated elderly and children excluded from school. We also run a portable printmaking workshop that we take to schools, museums and galleries. As outreach coordinator, I fundraise and manage these projects.
I'm looking forward to working as artist in residence at Michael Morpurgo's Farm for City Children in West Devon this month. Nethercott Farm works with an artist each term to explore experiences of farm life. For lots of the children it will be their first time in the countryside.
I never anticipated staying this long in Devon. I keep discovering more to things: the local festivals, nettle-eating competitions, pub gigs, Beer festivals and Regattas. We have great parties with local bands on friends' farms and in village halls. Although a lot of my friends who grew up here now live elsewhere, there's always someone home each weekend, and increasingly they are moving back here. I think we have strong friendships because we all have a strong connection with this unique part of the West Country. It's as if there are lots of things unspoken between us, things that we all appreciate about these valleys.'