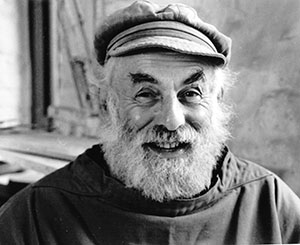 Life started at Wandsworth Maternity Hospital 1932. Because I was born with blue eyes, my mother decided I was to be a sailor and called me Beresford, the then Admiral of the Fleet being one, Sir Something Beresford. My eyes have subsequently turned mud colour, so I have become a potter.
I was too young to make any notable contribution towards winning the war (1939-45) although I did have the dubious distinction of being the youngest junior ARP (Air Raid Patrol) warden in South London and was issued with a very superior service gas mask and tin hat. Schooling and College lead to a teaching career. Sadly, my mark on the education profession was even less profound than my war effort.
My Damascus Road Light shone on me in the pottery section of Brighton Museum. I knew that pottery was for me, and so it has been for the rest of my life – so far!
Moving a little bit south and west every ten years or so, I have now arrived in a stable at the Town Mill in Lyme Regis. The horses left in 1925 but the flies have stayed. I share it with them and my colleague Don Hudson (a recently degreed mature student from Harrow). We make and hopefully sell useful and useless pots – his earthenware, my stoneware. We try (and sometimes succeed) in keeping our workshop and sales area open seven days a week.  We like to think that we will never be too busy to stop and talk to anyone who wants to.