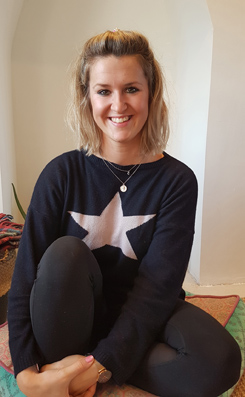 Recently engaged to the man she moved to Dorset to be with, Charlotte Cattermole has a bigger than normal spring to her step. Establishing Charlotte Grace Pilates soon after she moved to Bridport 18 months ago, Charlotte set about teaching Body Control Pilates. She started with taster classes, which were immediately fully booked, giving her the confidence to offer initially nine, now 15 classes, in venues such as The Tithe Barn in Symondsbury and The Health and Wellbeing Centre in Axminster. She aims to provide comprehensive Pilates classes with a difference. Charlotte's goal is to help relieve people of pain and teach them to gain control of their bodies, freeing up movement and finding a sense of calm through exercise.
Charlotte has first-hand experience of how Pilates can relieve pain and heal the body. As a child growing up in Suffolk, she competed in gymnastics at national level and then moved into athletics, again competing at a high level. The regime and training took its toll and Charlotte was plagued with injuries. Physiotherapy and Pilates were prescribed to help her. During this time Charlotte learnt a lot about the body, biomechanics and our physical makeup. She furthered her knowledge by doing a sports massage course, duly setting up a massage business. However, her fascination with the human body and its movements was not sated and so she took a leap of faith and enrolled in an intensive Pilates instructor course in London, recommended to her as the best qualification she could gain in the field.
After two years of long-distance dating, Charlotte moved in with Alasdair, who had just opened a new bar in town, the popular The Pursuit of Hoppiness. Together they plan their future and businesses, both bustling with ideas and happiness. As their working lives are so busy, the couple don't get to spend much time together and so save Sundays for each other and family. But Charlotte also manages to slip into the bar after a day of teaching, to say hello to her fiancé and grab a cheeky glass of prosecco, on her way home.