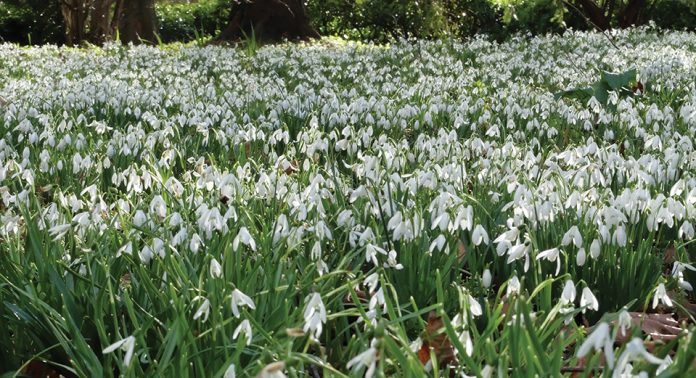 I doubt if one person in a hundred, perhaps even one in a thousand, can now tell you what Candlemas is. As familiarity with Christian tradition steadily erodes, it's not surprising that we lose sight of some of the lesser festivals of the church, and Candlemas is one of them: held on February 2, forty days after Christmas, it is the feast of the purification of the Virgin Mary, according to Jewish custom, after the birth of Jesus. It also marks the presentation of the infant Jesus at the temple. In practical terms, it was the day when everyone in the parish brought their candles to church to be blessed, so that they might ward off evil spirits.
But Candlemas has another, very attractive, connotation: it is particularly associated with snowdrops. Indeed, the flowers were once known as Candlemas bells, and it is easy to see how they were the perfect flowers for the feast—flawless symbols of purity. It's not hard to imagine what pleasure must have been taken in gathering them, or in merely having them growing by the church, on the day itself. And even today many of our best snowdrop displays are associated with the old faith, clustering around churchyards and ancient religious foundations, ruined abbeys and priories, where they were planted with Candlemas in mind. For years I attended a fishing dinner in early February in what seemed to me the loveliest village of the loveliest river valley in Hampshire, and one of the highlights of my visit was always to go and admire the sheets of snowdrops on the site of the thousand-year-old ruins of its nunnery.
I have spent a certain amount of time thinking about why I find Galanthus nivalis (the 'snowy milk-flower') such a moving sight. It is certainly beautiful, but there is something else going on here. I think it's to do with timing. The flowers appear at the toughest time of the year, when the earth is locked down hard, and they're the very first sign of something else, an undeniable signal that the warm days will come again. I think they fill me with elation because what I am looking at, against the dead tones of the frozen earth, is hope, suddenly and unmistakably manifest in white. But perhaps there's something even more…
Last year, in the first winter after we moved west, I started looking out for snowdrop sites, and one of the first I came across was Herringston, the ancient house just south of Dorchester where the flowers line both sides of the long drive. But I soon realised there were more ambitious displays, and one of the best, as many people will know, is to be found at Kingston Lacy, the Restoration mansion near Wimborne now in the care of the National Trust. As Robin Mills' photograph (above) of the flowers there clearly shows, the sheer scale of the blooming can be spectacular—a sensation of wondrous abundance that can rival that of bluebells. And I found that many other great houses in Dorset have extensive snowdrop displays which can be visited, from Minterne to Mapperton, and that some whole villages are covered in snowdrops, such as Compton Valence, while Shaftesbury, with an extensive planting programme, is attempting to become Britain's first 'snowdrop town.'
But it was the snowdrops in a Dorset churchyard which moved me most. I'm not going to name it, since I feel that the site is so delicate that it would not well support any sort of sudden influx of visitors. The church in question is very small and hidden away—it can't be seen from the main road—and it is an exquisite building, dating back to the early Middle Ages, and I find services in it to be very moving (it helps to have a vicar who fully appreciates it). I was told about its snowdrops last February and when I got there, I could scarcely believe my eyes: the churchyard was, quite simply, full. It was completely covered in a blanket of white, as if there has been a sudden and heavy fall of snow not an hour since. I had never seen anything like it. To have a sacred building of such beauty anyway, suddenly complemented by a loveliness that seemed almost unearthly, had me struggling for words, and what came to mind was the idea which animated the 17th century religious poets such as George Herbert: the beauty of holiness. And for a brief moment I felt possessed of an insight: that's what Candlemas bells are really about.