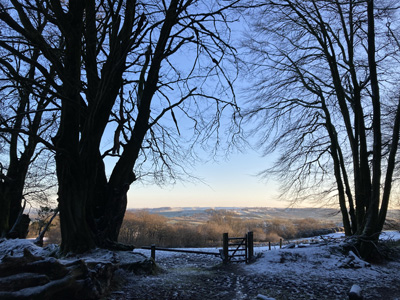 An art exhibition and sale will launch a new project celebrating community life in a West Dorset village.
Margery Hookings reveals more.
It was when I was walking in the fields overlooking Broadwindsor that the idea suddenly came to me. We were in the middle of lockdown and everyone was being encouraged to get out and about enjoy the local countryside.
As I was coming down from Lewesdon Hill on my daily walk early one morning, I looked down at the ground under my feet. I wondered what the field was called. As a farmer's daughter, I'm aware that fields have names. Back on my late father's farm in South Somerset, the top field, where my grandfather used to grow teasels as a commercial crop for the manufacture of woollen cloth, was called Bella's Nose. I don't know why and probably never will. But just knowing the field name gave me a sense of place and connection with the past.
I contacted the local farmer, who I regularly message when walkers leave gates open and cattle are in the wrong field. Clearly relieved the animals had not escaped, he told me I had been in the rather uninspiringly named Ten Acres. He then rattled off some more names: Sheepwash Plot, Dry Meade, Stallplot, Marrowpits and Nappy Ground.
The roll call got me thinking. Wouldn't it be nice to find out all the local field names and discover more about land use now and in the past? And then maybe tie in something about using the countryside responsibly. There are too many incidences of gates being left open for animals to stray, dogs worrying livestock and doing their business without owners ever clearing it up.
The idea developed into The Place I Love, a project celebrating community life and bringing people of all ages together in respecting and loving where we live. I'm leading it as a project manager for Windrose Rural Media Trust, the charity well known for its community work in rural areas and its film archive from Dorset, Somerset and Wiltshire.
It involves the creation by local artist Megan Edwards of an interpretive map of the village which will go on display and, on a smaller scale, for leaflets. It will highlight footpaths, places of interest and the things that people love about the village with a strong nod to the Countryside Code.
The project is being launched at an art exhibition and sale at Comrades Hall, Broadwindsor, on Saturday 18 October from 10am until 4pm. Local artists—both professional and talented amateurs who live in the village—will be displaying their work, much of it inspired by the local area. Expect landscapes, portraits, abstract, animals and photographs.
During the course of the project, I'll be interviewing local people about what it is about the village they love. The project harnesses the help of local volunteers and also involves two of my colleagues from Windrose. Amanda Boyd will be researching folk songs from the area and James Harrison will create a short film. Research material will be deposited at Dorset History Centre.
The project has been made possible with the help of Dorset Council's Community and Culture Fund, Dorset Area of Outstanding Natural Beauty's Stepping Into Nature scheme (funded by the National Community Lottery) and its Sustainable Development Fund, Broadwindsor Group Parish Council and in-kind support.
The project is due to be completed in February when the map will be unveiled.
The Place I Love theme presents the village with lots of interesting opportunities and could be replicated in other areas. Already, villagers have come forward with ideas of their own that are a great fit, such as working with primary school children to create their locally-inspired artwork and The Place I Love litter pick. A local joiner has created special display panels from which we can hang artwork.
It's all about respecting the local environment and those who live and work within it.
It would be lovely to see you at the art exhibition, which is being organised by an art group local to the village. Admission is free. Refreshments, kindly provided by the WI, will be available during the day. There are no card machine facilities so, if you're planning to buy, please bring cash or cheques or speak to the artist about making a direct payment into their bank.
The Place I Love Art Exhibition and Sale of work inspired by and created in Broadwindsor, Dorset, is being held at Comrades Hall, High Street, Broadwindsor, DT8 3QP, on Saturday 16 October from 10am until 4pm. Free admission. Refreshments available.
Margery Hookings has lived in Broadwindsor for 20 years and in Dorset for 39 years. A trained journalist, she now writes a weekly column in The People's Friend Magazine, along with regular features focusing on local heritage, landscape and community for the Marshwood Vale Magazine. She is a project manager for Windrose Rural Media Trust, assistant editor of the Somerset and Dorset Family History Society's quarterly magazine, The Greenwood Tree, and helps publicise Bridport Literary Festival.