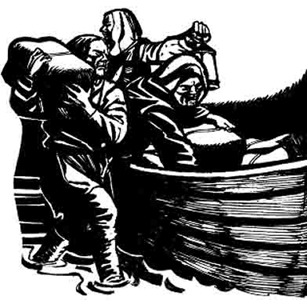 Some time ago I gave a brief mention of Isaac Gulliver, a renowned Dorset smuggler, but I think he is worth more than just a brief note. He was one of the best known of local smugglers, trading in wine, spirits and tea, but he changed his lifestyle later on to become an upright citizen.
Isaac Gulliver was known as the "Gentle Smuggler", presumably to distinguish him from the others who were anything but gentle! He was born in Wiltshire in 1745 and moved to Dorset and married Elizabeth Beale at Sixpenny Handley in 1768.
Gulliver frequently operated from Lyme Regis and is said to have employed 40 to 50 men who wore a kind of livery, with smocks and powdered hair, so were called the "White Wigs". At Lyme they had a room open to the sea at the mouth of the river, where they could rest, eat and drink, whilst waiting for their call to business, only 100 yards from the Customs House. In 1763 Gulliver brought contraband totalling £20,000 into Lyme and other ports. In 1776 he landed goods in full view of the Customs men. From about 1789 no goods could be seized above the high water mark, so wine was landed close to the Customs House and allowed to remain on the beach close to the Customs House and the Cobb-gate.
Gulliver used vessels of about 100 tons, called "tonnagers", with papers made out from Cherbourg to Ostend. One boat was boarded off the Cobb and found to be loaded with wine, but the next day she entered the Cobb without a single drop of wine on board. Mr Raymond of the Customs house seized her and the smugglers were tried at Dorchester, but pleaded that they had thrown their cargo overboard to avoid the vessel sinking. The smugglers were safe, with all the hundreds of bottles of wine stored at Bridport.
A bribed Customs Officer said they had a conversation, saying "Let us be off, or we shall share the same fate as Admiral Kempenfelt". (Admiral Richard Kempenfelt, 1718 to 1782, died when HMS Royal George, a 100 gun warship, accidentally sank off Spithead and Portsmouth. He and 800 others were drowned.)
Isaac Gulliver was a friend of the Rev William Chafin, Rector of Lydlynch, owner of Chettle House and a wine connoisseur. Chafin was said to have fathered three illegitimate children. Chafin sold Gulliver Eggardon Hill, where he planted trees within an octagonal bank and ditch, to act as a landmark for his smuggling ships. The trees were said to have been felled later on a government order. It is said that Gulliver also owned Kings Farm (House) or North Eggardon House. Of course, the "Spyway Inn" is close to Eggardon. His route to Bath and Bristol with his contraband was supposed to be either from Bridport Harbour, Burton Bradstock or Swyre, through to Puncknowle, Powerstock, over Toller Down, Corscombe and Halstock. Shipton Gorge boasts a "Gullivers Lane", but this may possibly refer to another Gulliver.
Isaac Gulliver owned a lugger "The Dolphin" and a well known white horse. He used a shop to sell wine and spirits and some say he once evaded capture by posing as a corpse and on another occasion dressed as a shepherd.
In 1779 the Salisbury Journal advertised the sale by auction of 24 of his pack horses and in 1782 he took advantage of the Government's pardon for smugglers who entered the navy, or could provide two substitute men. Gulliver could easily afford to bribe substitutes and then gave up smuggling tea and spirits, but continued wine smuggling which was apparently less serious. There is a story that he was pardoned for providing information about a French plot to kill King George III.
Gulliver became wealthy, owning a luxury schooner and had two daughters who married well, Elizabeth married into a banking family and Ann a Blandford doctor. Isaac became an upright citizen and a church warden. He died in 1822 and is buried in a vault in Wimborne Minster.
An Act of Parliament of the time made the lighting of fires along the coast, as a signal to homeward- bound smuggling craft, a punishable offence.
William Crowe, Rector of Stoke Abbott from 1782 to 1788, wrote a poem, "Lewes-Dun Hill" which refers to Burton Bradstock:
"These, Burton, and thy lofty cliff, where oft, The nightly blaze is kindled; further seen…The stealth – approaching vessel, homeward bound – From Havre or the Norman Isles, with freight of wines and hotter drinks, the trash of France, – Forbidden merchandise".
Thomas Hardy, in his novel The Distracted Preacher tells how Lizzy Newberry lit a bush on the cliff, at new moon, to warn smugglers that the "Preventive-men" were about locally. She expected they would then sink the tubs, strung to a stray-line at sea, to be later raised by a "creeper", a grapnel. In the same story Hardy tells how the tub carriers carried "a pair of tubs, one on his back and one on his chest, ….slung together by cords ….weighty enough to give their bearer the sensation of having chest and backbone in contact after a walk of four or five miles". He also said that almost everyone in the villages was involved in the gangs, even the clergy benefitted from the trade and churches were good hiding places for smuggled goods.
Rudyard Kipling wrote Traders of the Night, a poem, which includes : "Five and twenty ponies trotting through the dark, Brandy for the Parson, 'baccy for the clark".
Kipling went on to say that if you were outside as the "Gentlemen" came by, you should turn your face to the wall and not look at them, or let them see your face. Presumably then you would not recognise them, or they you.
Eventually the Government reduced the duty payable on many of the goods liable to be smuggled, which reduced the profit for the smuggler and the trade ceased. Or has it? Have you heard strange noises in the countryside on a dark night recently?
Bridport History Society is meeting on Zoom during lockdown. The November meeting is on Tuesday 10th at 1.30 for 2pm and is "The Bindon 1838 Landslip" by Richard Edmonds. For details of the Zoom, please contact Jane Ferentzi-Sheppard on 01308-425710, or email jferentzi@aol.com.
Cecil Amor, Hon President of Bridport History Society.