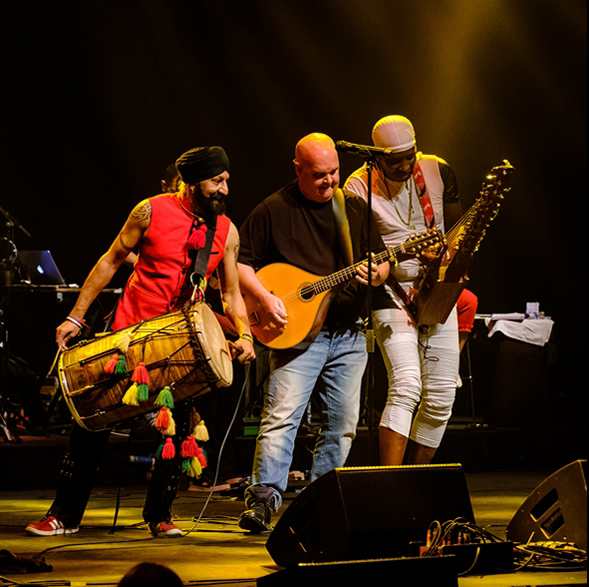 No one can deny that lessons have been learned in the last couple of months. Margery Hookings hears some of the positive stories through COVID-19.
It's been a funny old thing, this lockdown in the time of coronavirus.
We've all had to learn to live life differently, some of us more than others. And at the end of it all, will this time have changed us? I'm hoping, for the environment's sake, that we've learned lessons to take us into a brighter future. The joy of nature on our doorstep, blue skies without aeroplane trails and the pleasure of walking and cycling as regular exercise.
I've been playing music requests from my window overlooking Broadwindsor Square every day at one o'clock for 72 days. What started out as a leftfield idea two days into lockdown soon turned into something else, which all the village latched on to and supported with gusto, especially when professional musician Simon Emmerson lent me his speakers and mixing desk.
The final Sound of Music Through The Square Window was on Sunday 7 June. It has attracted media interest worldwide, including an interview with Lauren Laverne for Your Desert Island Discs, a special Radio 4 programme about how people have turned to music during lockdown.
The daily playlist will be the soundtrack for our coming out of lockdown party, if we ever feel safe enough to have one.
I have a Sam Cannon picture on the notice board above my desk. The illustration is of an upright and alert hare, supported by this quote: 'The inspiration you seek is already within you. Be silent and listen.' The message I'm taking from this crisis is never underestimate the power of unusual ideas to bring a community together. Don't run things past a committee, maybe ask one or two trusted friends but then just do it.
For this piece, family and friends at home and abroad have shared some positive lockdown stories to take us forward into a post-Covid-19 age.
Dorothy Rowe, parish councillor.
'Last year, wildflower planting on the verges initiated by Broadwindsor Group Parish Council resulted in a beautiful display and rich habitat for wildlife. A larger area was planned for 2020, with sowing in mid-April.
But the impending lockdown in March prompted emergency measures. We had to arrange for the immediate delivery of seeds, compost and a trailer for displaced turf in place and a call for volunteers. Local parents and children worked in shifts to prepare, sow, and rope off three 6ft x10ft seedbeds, with another family undertaking daily watering.
From telephone conversations with elderly residents I didn't know previously, I've discovered they paint, write poetry and have a deep wisdom in their approach to life. I would never have known that if lockdown hadn't happened.
I'm hoping the many acts of kindness and selflessness during this unprecedented era will bring about a better world.'
Marion Tayor, artist.
'As an artist, having long periods of solitude is a way of life so in that respect little has changed. I have noticed a shift in my work, though. It has become more experimental and I have been exploring more fully the different mediums of clay and collage beside painting. Both of these are totally absorbing, allowing the imagination to roam free.
The main difference is now I am working for myself and not in preparation for forthcoming exhibitions, which have in the past imposed restraints and implied pressure. Now there is time for experimentation and play. However, without exhibitions, a valuable income source has been lost so it has become necessary to explore online platforms such as Instagram for selling work. Overall, I am reluctant to return to the old way of life of too much busyness. For me I feel the balance has been restored, with long walks and reconnecting with nature reinstated.'
Sam Smith, The Beautiful Boat Company, Lyme Regis.
'Lockdown led to our projects being put on hold. It gave us a chance to reflect on how far we have come since we started in 2018 and consider where to go next.
The slowed pace of life, coupled with a growing recognition across society that we need to make greater efforts to look after our planet, led us to look more closely at how to marry the romantic image of wooden boat-building with sustainable approaches.
We have always been eco-conscious, ensuring materials are responsibly sourced and using reclaimed timber where possible. Recent events have brought more people on board with this growing ethos, with a surge in enquiries for projects involving our stock of reclaimed teak.
Most of our boat builds to date have been sail or human power, but for motorboat customers, how best to work with electric propulsion has been on our mind for some time. The global lockdown brought this into sharp focus as reduced movement of people and commodities has seen unprecedented reductions in pollution.
So we have been busy researching the latest electric technology to integrate into our boats. And coming back to our primary passion, we are looking at a unique new build that combines these eco-aims in a boat for more serene cruising.'
Simon Emmerson, musician with Afro Celt Sound System the Imagined Village.
'I've just taken part in my first online Zoom festival. As a band with a 25-year history of headlining world music stages we have built a reputation as a top live act. Understandably we were initially very sceptical about how this was all going to work.
It was an amazing experience. We had Afro Celt founder N'Faly Kouyate locked down in his village in Guinea playing his grandfather's ancestral balafon and singing live, directly illuminated by his car headlights as his village has no street lighting.
Robbie Harris, our percussionist, was in his studio in County Mayo on the West Coast of Ireland. The rest of us were dotted around the UK. Not everyone could make it. Lottie Cullen our piper, was doing her bit to fight COVID-19 as a radiologist in Dublin Hospital. Rioghnach Connelly, our singer and flutist, was in an online discussion on the future of live music in a post COVID-19 world.
The festival was warm and welcoming. We had great craic as we showed everyone how we build up an Afro Celt tune from a fiddle reel to a full-blown track. We then played a video of the mixed tune we had written for the event called The Lockdown Gorroch Reel.
There were technical glitches—at times it was glorious chaos, at others there were moments of real intimacy as musicians performed to an enthralled audience from their own very private and personal spaces, including me from deepest West Dorset. It was great interacting with the crowd in their little Zoom boxes from their rooms, made over with personalised festival lights and hanging. People could post messages direct to us musicians during our performances and whooped and cheered at the end of every numbers The whole thing had the intimacy and interactive quality totally lacking in a bigger corporate festival.
If this is part of the future of live entertainment in a post COVID-19 world then count us in. It was inspiring, magical and generated a very moving sense of togetherness and solidarity so needed in these dark and fractured times.'
Jayne Ray, south west France.
'I worked for 23 years in the NHS. Firstly as a nurse, then as a midwife before moving into public health for the then North Dorset Primary Care Trust.
Since relocating here with my husband, who works in Toulouse, I became involved in a national charity in supporting English speaking people affected by cancer. I am now a trainer for the volunteers, and President of Gascony, Cancer Support France (CSF). I work with many wonderful volunteers locally and nationally.
At the beginning of the lockdown, I was fully occupied working with national CSF on developing our extended service provision, supporting all isolated, elderly or vulnerable English speakers in France, which has proved helpful in supporting a wider scope of people.
As restrictions ease, we do not need to take out a signed form with us. We can go out together and take our dogs to the woods. During the eight weeks of lockdown, I only left the house three times.
Working in my pottery studio—I'm PotteRayFR on Facebook—kept me sane, as did bread and cake baking and twice weekly yoga sessions on Zoom.'
Caroline Essame arts therapist and educator, Singapore
'In a city of tower blocks, I'm lucky to live on a university campus on the ground floor surrounded by gardens. Nature has always fed my soul and now more than ever, growing plants and gazing at greenery filled with birds is one benefit of lockdown.
The greatest blessing of all is having time to paint again. My paints have been in the cupboard for the past 12 years because I've been busy travelling, working and socialising.
Now I'm painting again and I've discovered once more the joy of making art. I've just painted the view from my balcony, looking with fresh eyes at what I see every day. Lockdown has reignited my creative fire and given me time for one of life's greatest pleasures, seeing, being and wondering at the beauty of the world around us.'
Andy Hull, teacher.
'As a secondary school teacher in the London Borough of Hillingdon on my journey to work teaching the children of key workers, there are a number of positives. Not only do I have an empty M25 to travel on, I have an empty car park to use too. My other team members make the most of the weather and cycle in.
We work on a rota to look after the small number of students attending, so when preparation and marking of work for my other classes is complete, I have turned to baking—a skill passed down by my late father.
I live on the outskirts of London, just inside the M25. Daily walks have become really important. My partner and I have found footpaths just ten minutes from our house into the open fields and woods of Hertfordshire that we never knew existed. We have been able to enjoy spring through the flowers, blossom and wildlife. I have also tried to grow seedlings.
As the days have turned to weeks, I finally picked up my guitar again after a long time.'
Betty Roussinou, Corfu, Greece.
'People who live in Greece stayed at home and could go out only with permission. I had to send a message to a certain number to get a message back saying that I was allowed to go out. You had to dial one number out of six depending on where you wanted to go. Police were everywhere, even in our little village. I lost my job in tourism and my husband has less work.
First, when restaurants and bars were supposed to be closed, some people didn't take it seriously. But they had to pay a heavy fine, starting with 3,000 euros and later 5,000. People who didn't send messages before they went out of their houses got a fine of 150 euros. We were so afraid not to catch coronavirus, but also not to pay the fine. Especially now that many lost their jobs. The government helped by supporting those who lost their jobs or businesses.
We got to a stage where we could open restaurants and cafes with strict rules, and also schools on certain days and with reduced numbers of pupils. Those children whose parents decided to send them back to school are separated.
I wish people in the UK behaved like us. After a couple of days people understood that if they didn't listen they would pay for it. It worked. Police were everywhere.
We behaved. That's why we loosened the restrictions. Finally, after two-and-a-half months I see tables and chairs outside the kafenion and tavernas in our village square. We all have lost a lot this year in the village, the island, the country and in other countries. I just hope all this happened for a good reason.'