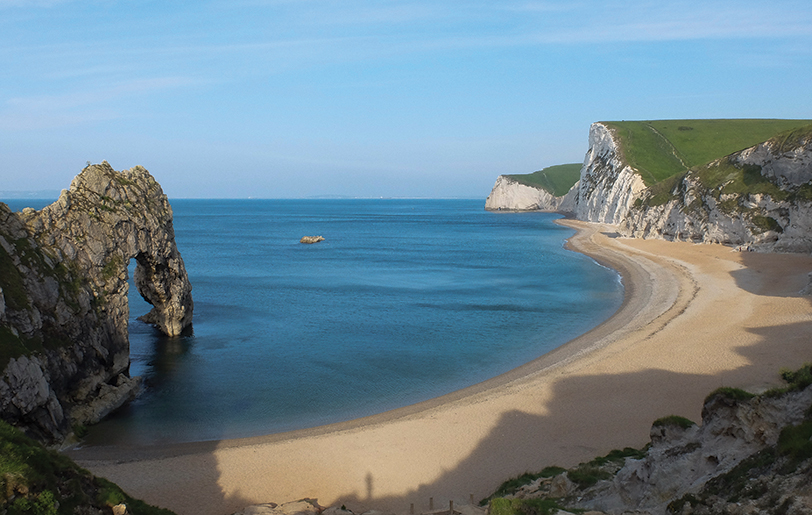 Some years ago a friend said that if you want to walk some coastal path, the bit you have to do is from St Ives to Penzance, round Land's End. In May 2007 I spent a few days in glorious sunshine walking this magnificent piece of coastline, a sea mist occasionally adding to the magic landscape of quoits, menhirs and ghostly engine houses. In places I waded through wild flowers almost waist high, and cliché though it is, I was blown away. The only disappointment was that I had to stop at night; I just wanted to keep going.
Since then, at first in rather random sections, then restarting at the official beginning, Minehead, and continuing the route to Poole, I have walked the whole path of 630 miles in excursions lasting from a day to 6 days as time allowed, met by family and friends with tea and cake at the end on June 19th. Occasionally with friends or family, but mostly alone, there hasn't been a single part that I haven't enjoyed. There is wild and rugged, the power of the sea awesome in its unceasing assault on the coast. There are empty, quiet stretches, when the thought arises that a badly twisted ankle and no phone signal would be a lonely wait for help. Estuaries have to be negotiated, sometimes a long walk with not much apparent progress, but wading birds and boat skeletons in the mud to appreciate. There is busy and urban, chic waterfront eateries contrasting with the colourful bustle of a thankfully still functioning fishing industry. And if some bits are flat, much of it is anything but flat. It has been calculated that the walker who completes the SWCP will have climbed the equivalent of sea level to the summit of Everest nearly 4 times. No one should underestimate the challenges, because in places they are tough, and one would be well advised to know your limits before taking on too much.
With the sea generally on my right, my senses were constantly alert to seabirds, seals, a basking shark, and the ever changing light and colours. Camera and binoculars should really have been supplemented by a sound recorder to catch wind, waves and kids on beaches.  Cold sea water on hot tired feet was exquisite; pints of Proper Job and cream teas were guilt free. I took many photographs, which will be made into a photobook as a visual record, but in my mind's eye it was as if a kind of panorama of some of my favourite things – birds, wildflowers, the art-forms of geology, and of course the sea in all its glory – rolled by in slow motion as I plodded along.
There were many surprises, some of the most memorable being other walkers who humbled me with their determination. One young woman, picking her way very slowly down a steep, stony slope with the aid of two sticks, explained how she was intending to complete the path one day to raise funds for the hospital ward that enabled her to walk again after a bad car crash. A young man told me, when I asked about his Cancer Research T-shirt, that he had a brain tumour but would hopefully live long enough to finish. A couple, probably my age but not nearly as lucky as me in weight and fitness, were grinding their way red-faced up one of the interminable climbs near Morwenstow.  I was concerned for their hearts, but met them in the pub later. They'd been "on the path" for 20 years, and nearly finished. Everyone says hello as you pass.
Living in Dorset the SWCP is of course fairly accessible, and Devon and Cornwall have long been holiday destinations for me, from boyhood to present day. So it's been interesting to see the changes over the years: the ubiquity of surfing and accompanying café culture, restaurants run by hipsters, art galleries for all tastes, all blending happily alongside the bucket and spade trade that was always there, although how local people can afford a place to live among the grand design development that has mushroomed in the towns and villages is a mystery. However, despite the remorseless efforts of the sea, the splendour of the cliffs is timeless and deserted coves are still there if you know where to look.
I've learned a lot about bunions and blisters, Tubigrip bandages and dodgy knees, and that whoever said there's no such thing as bad weather, only the wrong clothing, was right. The B&B's I've stayed in have been without exception hospitable; trains and buses, taxis (only twice) and family and friends giving me lifts have made the logistics of linear walking trips possible. How lucky I am.
This is a well organised National Trail. The South West Coast Path Association coordinates the huge funding necessary to keep it all maintained, signed, and safe. Membership is a mere £20 which entitles a guide book every year, a must with section descriptions, information on tides, public transport, B&B's and campsites close to the path, and there's a brilliant website. Planning a walk is necessary and part of the fun. However it's useful to assume that there will not be a phone signal, so phoning ahead to make arrangements en route doesn't often work, and if alone, make sure someone knows where you are that day. I became reacquainted with a public phone box to book a taxi when faced with an estuary and no ferry, but it was a good place to get out of the pouring rain.
Walking is highly rated for the benefits it brings to both body and mind. Good thinking time, people say. For me, it's been more a question of good not thinking time, the challenges and rewards being purely physical. To anyone considering walking the SWCP I'd say don't hesitate. On the walk you never know what's round the next corner; the same applies to life. There's nothing to lose.