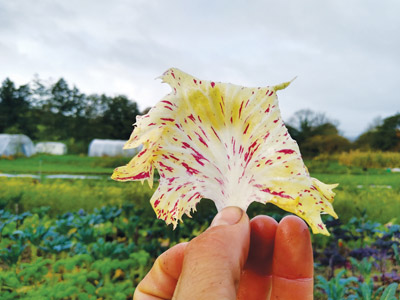 Autumn is well and truly upon us. We had a lovely beginning to October, with lots of sunny dry weather, and then the reality of autumn hit by the middle of the month, with wetter conditions.
November is a time when almost all of the planting is completed, with most of the polytunnel winter salads and herbs having been planted through October, and it is only really the garlic that can still be planted throughout the month of November, plus maybe some spring onions, broad beans and peas in polytunnels.
There are still some great vegetables to be harvested through the month, and the highlight for us is chicory. Those of you who know us will know that we are keen advocates of this beautiful vegetable (and perhaps even slightly obsessed). To me, its diversity is as exciting as that of tomatoes or beans. There are a huge range of varieties that have been bred for different conditions and to be harvested at different times through autumn and winter. It is particularly sensitive to temperature changes and shifts in daylength.
There are "precoce" (early) and "tardiva" (late) types of chicory which are treated quite differently. The tardiva varieties are initially grown in the same way as the precoce types, but they are then lifted in late autumn and forced in darkness, with their roots sitting in flowing water. There are some incredible tardiva varieties and this can be done by lifting them and putting them in a bucket of water and then the water changed every few days.
There are a few main types/shapes of the precoce varieties—Rosso di Chioggia, Rosso di Treviso, Verona, Variegata di Castelfranco, Variegata di Lusia, Rosa del Veneto and Pan di Zucchero (mostly named after the regions that they were bred in). Chioggia types are the typical solid round red varieties, Treviso types are the long, upright varieties and the Verona types are somewhere in the middle—round, but with a pointy top. The Variegata di Castelfranco types are a beautiful variegated, speckled variety known as "Tulip of the winter". The Variegata di Lusia are similar to Castelfranco varieties in that they are a variegated light leaf with red speckles and the leaves are most like a lettuce, rather than the thicker Rosso di Chioggia thicker leaves and the Rosa del Veneto types are much like the Verona type but have beautiful pink leaves rather than the usual red of the Verona chicories. Finally the Pan di Zucchero types (Sugarloaf) are a tall, thin and crispy variety. I hope you have kept up with all of this!! The main thing to understand is that there are different types, and within these types there are lots of different varieties too…So, for example we grow Lucrezia and Fenice, which are both varieties of Variegata di Castelfranco. The different varieties are usually bred to mature after different lengths of time, and are also bred to either be particularly hardy, or not as hardy. So we select some varieties for growing early and maturing quickly – for example Lucrezia matures around 110 days after sowing, and Fenice matures around 90 days after sowing.
So, we grow around 20 different varieties of chicory through the autumn and winter, giving us a diversity of leaf shapes, colours and textures, and giving us varieties that will mature early (65 days from seed to harvest for Sirio and Spring varieties), and some that will be much more hardy (such as Lucrezia, TT706, Bottiglione) and can stay outside in the ground through the winter. Chicory get very few pest and disease problems and are a much more reliable leaf to grow through the autumn than lettuce which so often succumbs to mildew.
So, although it is too late to sow any chicory for this year, make sure you put some into your sowing plans for next year – bitter is better!!
WHAT TO SOW THIS MONTH: Not a lot! We have made all of our sowings by now, and will start tentatively with a few sowings again in January, but nothing else before then.
WHAT TO PLANT THIS MONTH:
OUTSIDE: Garlic (if not planted already)
INSIDE: peashoots, sugarsnap and early pea varieties, spring onions, broad beans, garlic (for extra early garlic)
OTHER IMPORTANT TASKS THIS MONTH: If the weather dries, continue preparing beds for the winter if you need to plant them early in the spring (either mulch with compost, cover with straw or cover with black plastic). Don't be tempted to tidy up too much, as old crops and flowers act as a habitat for many beneficial insects. Start going through your winter job list – whether its cleaning glasshouses or polytunnels, tidying up your propagating area, cleaning and oiling your tools or even looking through seed catalogues for a bit of inspiration for next year!