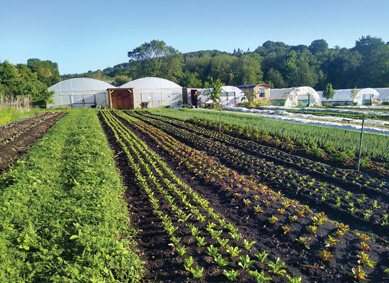 June is a good month to be a gardener or vegetable grower. The anxieties surrounding spring have all but disappeared, as the bulk of the first lot of planting is completed and the garden is in its full glory. There is still the lushness of spring lingering, before plants begin to fade a little through the summer and into autumn. Also, the blanket of fleece that has been protecting the crops through Spring and up until around mid May is finally all off and the garden is revealed.
It is easy to think that all of the work has now been done and it is just a case of waiting to harvest everything. However, it is important to continually sow and plant successions of various veg, so that when crops come to an end there is something ready to replace them. Early crops like peas, broad beans, radish, salad turnips (the most underrated of all the vegetables!), early lettuce and salads have all been harvested and it is good to make use of the space that they have been inhabiting. We generally mow down these crops once they are cropped and if its dry then give them a little water and cover with black plastic for a couple of weeks to kill off any weeds and crops. The plastic can then be rolled back, the bed raked and then planted up.
To make sure that you have something ready to plant in these beds its good to have an idea of what is best to sow through June and July. Successions of salads and herbs are the obvious contenders. We continue sowing lettuce every two to three weeks up until mid July, but we also start sowing certain types of chicory from the beginning of June (treviso and palla rossa types), along with salad burnet, buckshorn plantain, orache, goosefoot, summer purslane and New Zealand spinach (needs to be kept moist for good germination). Also herbs like dill, coriander and basil (for polytunnel/glasshouse/windowsill) along with other crops like fennel, carrots and chard.
We mainly sow seed in module trays, which gives us about an extra month before they are planted (i.e. if they are sown at the beginning of June they are usually ready to plant by end of June or early July). This gives us a bit of time to allow the previous crop to break down properly after it is mown down and black plastic is used to cover the beds. Make sure to sow any lettuce seed in the cool and keep it cool after sowing for a couple of days. We stack the seed trays once they are sown and leave them in a cool place for a couple of days before bringing them to the propagating space. Lettuce, along with endive, chicory and spring onions seem to be particularly susceptible to high temperatures during imbibition. This is the stage that the seed uptakes water and the enzymes and food within a seed become hydrated and active, leading to the start of the growth process. It is critical to keep the seeds below around 20°C during imbibition to guarantee good germination, so if you wondered why germination of your lettuce was poor in the summer that may be why.
So, this month enjoy the first harvests of peas and beans and make the most of the garden looking lush and bountiful, but also think about sowing successions to ensure you extend that productive period through the rest of summer and into autumn.
We have one more course at Great Trill later this year where you can learn more about the techniques that we use to run the market garden at Trill Farm and how we grow salad for autumn and winter. Check out www.trillfarmgarden.co.uk/courses.html for more details on our courses and to book.
WHAT TO SOW THIS MONTH: purple sprouting broccoli & January King type winter cabbage (early this month), French beans, chard, beetroot, chard, carrots, basil, late cucumbers, kale, fennel, salad leaves—summer purslane, buckshorn plantain, salad burnet, lettuce, chicory (Treviso and Palla Rossa varieties early in the month, other varieties later), endive, mustards and rocket (mesh to keep flea beetle off), goosefoot, anise hyssop, amaranth, orache, nasturtiums.
WHAT TO PLANT THIS MONTH:
OUTSIDE: Dwarf French beans, beetroot, squash and corn (if not already done), lettuce and salads, squash, runner beans, kale, chard, autumn cabbage
INSIDE: climbing French beans, cucumbers, basil, salads – goosefoot, summer purslane
OTHER IMPORTANT TASKS THIS MONTH: Undersow squash with a mix of red and white clovers, yellow trefoil, and other cornfield wildflowers—this will help to fix nitrogen, but more importantly cover the soil and provide organic matter and living roots for soil organisms to benefit from.