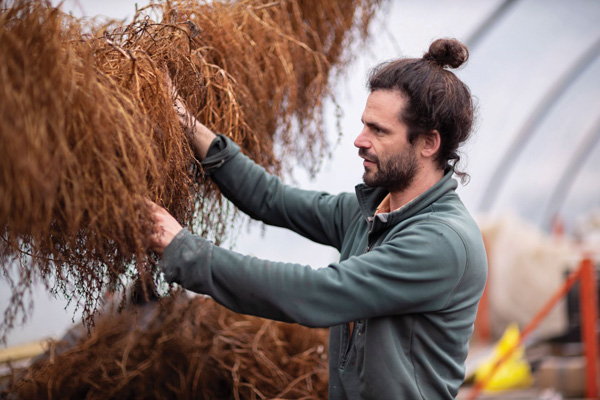 Getting through January is not always easy for a grower or gardener. Having said that, I have quite enjoyed January this year. Perhaps it has been the fair share of cold, crisp, blue skied day and maybe just appreciating having the luxury of being able to work outside (which of course does have its drawbacks, but personally speaking these are far outweighed by the benefits of being surrounded by nature). February brings us longer days—and the beginning of sowing the first seeds for early outdoor crops and some of the tunnel crops too. Don't let that panic you if you haven't yet thought about sowing anything – there is plenty of time before anything really needs to be sown. Growing commercially means that we need to maximise the space that we have and we make the most out of the polytunnels that we have as well as using fleece to protect early crops. We also have a dedicated propagating tunnel with heated benches to start off our seedlings, so we can start them a little earlier than normal. For home gardening it is usually best to wait until March for most sowings.
We experienced the first shock of Brexit this January when trying to order seeds from a couple of European seed companies who have a great range of organic seed available – including many varieties that are not available from UK seed companies. After scrolling through the online catalogues adding to our basket we went to fill in payment and delivery details and found that we were not able to import seed from the EU to the UK. The phytosanitary checks required would be too costly for the seed companies to incur for retail orders. This really brought home the vulnerability of the seed system and how reliant we are on a small number of companies who control the majority of the seed that is grown commercially. We have, for a few years now, saved seed both for ourselves, to swap and commercially for a couple of small seed companies in the UK, but having now seen the result of having relatively limited availability of seed varieties we are really thinking more about producing more seed and the importance of seed sovereignty. We were lucky to get our orders in to the UK companies before many of them closed their online shops as they were overwhelmed with orders from growers and a huge rise in sales to home gardeners growing their own since the first lockdown last March.
Seed is at the heart of our food systems. Without control over the seeds that we use to grow food we have very little control over our food systems. Saving seed and being involved in projects such as the South West Seed Savers allows us more autonomy. We can keep interesting varieties alive and bring more diversity to our fields. If each seed that is sown brings hope, then each seed that is saved brings back more control of our own food systems.
WHAT TO SOW THIS MONTH: If you have a heated propagator in a naturally well lit place: peppers, tomatoes, lettuce, beetroot, shallots, spring onions, spring cabbage, salad leaves (see above). If you do not have a heated propagator, best leave sowing until March.
WHAT TO PLANT THIS MONTH:
OUTSIDE: Wait until next month!
INSIDE: Most of the indoor space should have been planted up with overwintering leaves, herbs, and early crops like spring onions, early garlic and peas.
OTHER IMPORTANT TASKS THIS MONTH: If the weather dries, continue preparing beds for the spring by mulching with compost. Wash any polytunnel or glasshouse to make sure maximum levels of light are getting through to the crops. Try to finish off that winter job list, so that you are fully prepared for the onslaught of spring!