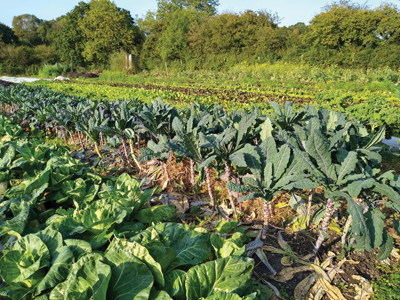 October is one of those significant months that signals a bit of a change in our work in the market garden. Everything other than the garlic and perhaps some overwinter broad beans has been planted outside, so it is a case of doing any last-minute green manure sowings in bare ground that pops up during the month (it is mainly just cereals that can be sown at this time of year—rye, oats and barley can be used as overwinter green manures that will protect the soil from the rain and wind and hold onto any nutrients, preventing them from leaching away through the worst of the weather).
It is a busy month in the polytunnels as we take out all of the summer crops such as tomatoes, beans, cucumbers, aubergines, peppers and the like to make way for all of the September sowings of overwintering salad leaves, herbs and some early alliums and legumes such as spring onions, early garlic and sugarsnap peas.
We tend to cut off the summer grown plants at ground level and compost all of the crop residue. We then soak the soil inside the polytunnels to soften it a little before clearing anymore weeds and raking out the beds to a fine tilth to minimise the lumpy soil that slugs love to hide under during the damp winter. Then we plant the new crops that will settle in over the next month or two before going into some sort of hibernation in January and putting on lots of growth from mid-February when day length starts increasing considerably. A lot of the overwinter crops in polytunnels and glasshouses are usually ready to harvest or be cleared just in time for the new summer plantings in May so it all fits together rather neatly.
As for outside it is mainly just continuing to harvest, making sure the squash has all been brought in to a frost-free place if not already, and getting the soil covered for winter. For crops that finish in September or early October we usually clear the ground and prepare it for sowing green manures such as rye, vetch, phacelia and maybe crimson clover (better sown in September). For crops that overwinter in the ground and are not too affected by slugs, such as some of the brassicas and garlic, we tend to mulch with a thick layer of straw. This protects the soil from the heavy rain, softening the impact and reducing compaction, as well as reducing weeds and also retaining moisture in the spring. It also provides more food for the soil life which will gradually take it in through autumn and late winter and have a positive effect on the drainage of the soil as well as all of the other benefits of increasing soil organic matter.
In the beds with crops that maybe finish too late to allow for a successful sowing of a green manure (such as the late lettuce, late fennel and other salad crops) we tend to mulch with compost once the crop has finished and then usually cover with thick black silage plastic to protect the soil from the worst of the rain and keep it relatively dry so that we can use these beds early in the spring. Otherwise we leave the crop to gradually break down overwinter and be taken in by the soil life before preparing the beds later in the spring either by cultivating or broadforking to alleviate any compaction and mulching.
October is also a good time to reflect on the season gone by and make notes of any successes and failures before they have vanished from your mind. Many crops we only sow once a year, so just get one chance at growing. Although we have been growing for ten years now, that means that we have only grown tomatoes ten times—which is nothing really, so it's really important to learn and adapt each year to make sure the next year is just that little bit better (and hopefully easier!).
WHAT TO SOW THIS MONTH: Spring onions (for polytunnel/glasshouse), broad beans, garlic, peas, sugarsnaps and peashoots (all for overwintering in the polytunnel/glasshouse), mustards, rocket, leaf radish (last chance for sowing these for overwintering in polytunnel/glasshouse)
WHAT TO PLANT THIS MONTH:
OUTSIDE: overwintering spring onions (if not before), direct broad beans and garlic.
INSIDE: overwintering salad leaves, coriander, chervil, parsley, spring onions, overwintering peas.
OTHER IMPORTANT TASKS THIS MONTH: continue mulching beds for the winter, and it is probably your last chance to sow cereal rye as an overwintering green manure in any bare ground. Make a start on your winter job list before it starts getting too wet and cold!