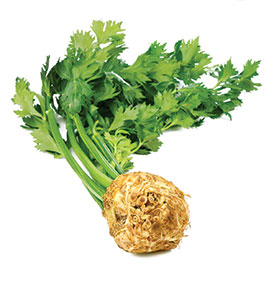 Celeriac is a challenging vegetable to grow, but is worthwhile for its exotic and sensuous flavour. It needs a long growing season to get to a decent size, and requires lots of space, water and rich soil.
Best sown indoors late March or early April, with a view to transplanting outdoors in the warmth of May, they grow slowly, and do not get a good size until August. If you do not have a greenhouse, you can buy plants for around 40p each.
Sow the tiny seeds on top of a firm surface so they don't disappear downwards forever. They can take more than a fortnight to germinate unless kept warm in a propagator or airing cupboard. It is best to put glass or clear plastic tightly over the surface to keep the seed on the surface moist. Last year I rather sloppily wrapped a carrier bag over my module tray, and only the seeds on the edges where the plastic was tight germinated.
When warm enough outdoors, usually May, plant out 15"-18" apart. The plants grow slowly but consistently, so you can catch crop a sowing of lettuce in between until June. Like celery, the plants need constant moisture and nutrients. By October they will be a good size.
Size is important partly so you can boast about it, but mainly because you have to peel off half an inch of knobbly surface to get to the succulent white flesh beneath, whatever the size of your celeriac.
Enjoy eating all through the winter, watching out for woodlice who sometimes eat out the whole middle by March. The best way to avoid woodlice attack is to have a strong plant growing steadily in moist and rich soil. The tops remain green and attractive all through a mild winter and these leaves can be used in stews and stocks for flavour. If the winter is cold, it can be best to lift the roots in November and store indoors to prevent discolouration and possible rotting of the root.
So, a long growing season, lots of space and moist, rich soil. And why didn't the skeleton go to the party? Because he had no body to go with.