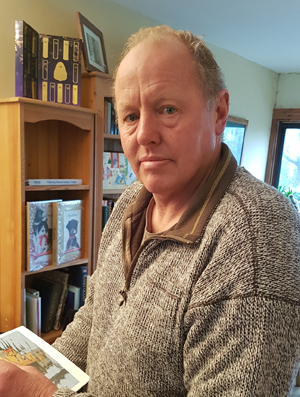 The best way to catch John Worswick is as he is emerging from the deck of his yellow boat, pulling himself up the ladder on to the quay in West Bay, clothed in a dry suit, and a sack of freshly gathered hand-dived scallops over his shoulder. Those in the know wait for him, in the hope of buying scallops by the dozen, from the man who only minutes before has been on the seabed. However, they are live, so a certain level of knowledge must be with the purchaser, as the scallops click and pop open and shut in the open net bags.
John has been scallop diving for 20 years now. He goes out in the morning, with his small team in all weathers, searching along the Jurassic Coastline seabed for the fan-shaped shells to harvest. Arriving back in the early afternoon, John unloads their haul to sell to large fishmongers in the area. They clean down the boat, and that's it for another day.
The sea has provided a living for John for almost all his working life. Before moving to Dorset, he lived in Southend on Sea, where he grew up. Spending a childhood learning to sea fish from his father, they would search the beaches for bait, to save money. During a holiday from his new job in the civil service, John realised he made more money gathering lugworms to sell to tackle shops than at his desk employment. He promptly handed in his notice and continued to gather and sell bait for the next 20 years. It was only when he happened to go scallop diving with a friend shortly after moving to Bridport that John switched his focus.
Entranced by the underwater world, when John goes on holiday he aims for warmer climes but continues to dive, so he can take underwater photos of the sea life he so admires. Next year the Maldives are calling, with John hoping to get some good shots to mount on the walls of his house, alongside other marine holiday snaps. John loves what he does and finds his way of life almost stress-free. In fact, the most stressful time of year, he says, is waiting for his luggage to come through the conveyor belt at the airport on holiday.