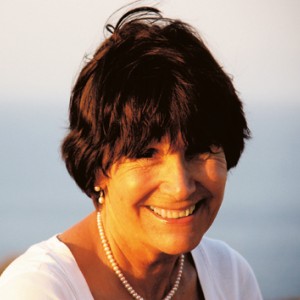 Josceline Dimbleby has an extraordinary life story. She has travelled all over the world and, drawing on her exceptional memory for people, food and places, has written a new memoir/cookery book entitled Orchards in the Oasis. As a diplomat's stepdaughter, she was able to experience parts of the world that were little known at the time. She spent her early life in Damascus, travelling from London with a governess she hardly knew and spending five days at sea in order to get there. This is the sort of travel accompanied by leather suitcases and initialled brass bound trunks, where dinner was served on linen tablecloths and eaten with silver cutlery.
Josceline (or Jossy as she is known to her close friends and family), evokes the era beautifully, using her early experiences of food to reveal the nature of the country and of a period long forgotten. She recalls her first time in that kitchen in Damascus – 'As soon as Khalil showed me the kitchen I knew it was a place I would often be in. …Beside the spices was a pile of fresh mint, chopped finely, and lamb was roasting in the oven; it was a fusion of smells quite new to me, and mouth-watering. Joseph gave me a light, crispy little pastry; sticky with honey, it had a slightly scented taste.
That was the moment, I have always felt, in the distant aromatic kitchen, which awoke my taste buds and kindled my lifelong passion for food and flavour.'
These early experiences of cooking with herbs and spices stayed with her through her many travels as a child. By the time she returned to England as a young adult, she was hooked on a style of cooking which we would describe today as 'fusion' or 'world cooking', but at the time (London in the 1960's), was about as exotic as it got. She recalls not being able to find the ingredients she needed to recreate the tastes she longed for. The chapter in the book First Dishes from a Basement Flat describes how, as a young woman, she modified the dishes of her youth with the, very limited, dried herbs and spices available. She struggled on, however, in a tiny kitchen with no light and ended up producing such delights as her version of shepherd's pie, which included the very un-English spice, Cumin.
She married the broadcaster David Dimbleby in the early 1970's and went on to have three children with him. It was her desire to be at home looking after them that first led her to write about her particular style of cookery. 'It was something I could do whilst still being there for the children after school' she says. After an initial successful magazine article, she was asked to write a food column for The Sunday Times and says 'At that time, the food coverage in The Times was almost non-existent. I had a tiny column in which I would include two or three recipes'. It is a far cry from today's papers stuffed with food magazines and celebrity chefs. She was subsequently asked by Sainsbury's to write her first cookbook for a supermarket Cooking with Herbs.
'In the 1970's' she recalls 'Sainsbury's stocked one pot of dried herbs and one pot of mixed spices, so I insisted that if I were to write a book about cooking with herbs, that they ought to stock a few more'. It is almost entirely down to Josceline and her passion for delicious flavours, that we have the fantastic choice of ingredients we have today. Many other food writers are attributed with having 'revolutionised' British cooking, but Josceline Dimbleby is perhaps one of the few that genuinely deserve such an accolade. There are many people who learnt to cook curries and spicy dishes from her recipes in those slim volumes from Sainsbury's. It was a window into another world, a world that was just beginning to open up in the 1970's. 'More people were beginning to travel' she says 'I think the books came at just the right time'.
She went on to write the first Cooking for Christmas cookery book. It is hard to imagine now, but this was the first ever cookery book dedicated entirely to Christmas food. 'It was the only Christmas cookery book on the market for many years' she says 'then Delia Smith did one and then everyone'.
Despite initial reservations from the supermarket, the books were a tremendous success and Josceline went on to write about food whilst indulging her passion for travel. She talks about how travel can bring about 'clarity of mind' and how there is nothing more delicious than getting on a plane and leaving all your responsibilities behind. 'It is always a huge effort to arrange a trip' she says. 'but the minute the plane takes off you are returned to a childlike state, with a complete lack of responsibility'. Put like that, it is easy to see how it can become addictive.
Josceline has travelled from Syria to Peru, from Turkey and Iran to Morocco and Lanzarote, from North America to Burma, Vietnam and India, all the while collecting tastes and recipes. She has been described as having a 'sensual intelligence', that is the ability to recall tastes and memories (rather like Proust!). For Josceline food and people are inextricably linked. She is not just a recipe collector, scouring the world for new tastes sensations, like a 19th century lepidopterologist, she is passionately involved in the stories behind the food and the way in which eating brings us together. 'There is a reason why peace making is called Breaking Bread', she says.
She talks about having found the trick of getting put through to the appropriate department in call centres. 'If I know the call centre is in India, I will ask which region the person is from. I can then start a conversation about that area's particular delicacies. It never fails!', she jokes. This is not mere idle chitchat, but an illustration of how central food is to making deep and lasting connections with people.
Her latest book wonderfully illustrates this. A collection of recollections, interspersed with delicious recipes, which chart her travels and travel companions over the years. She recalls events in such detail, it makes you wonder how she does it. 'I have always kept an appointments diary' she reveals 'Just very basic stuff like "Dinner with M", but it is amazing how it jogs the memory'. So important is this diary, that she says she is probably one of the few people to know, not only exactly what date, but exactly what time, she lost her virginity!
Josceline has an unashamed sweet tooth and the cake, tart and pudding recipes are particularly lovingly rendered. These are recipes that she really enjoys, from the humble Almond and Lemon cake made in her London basement, to the more exotic Apricot and Pomegranate Jelly, these are puddings that the reader can really connect to.
The book is also beautifully illustrated; both with her own photographs and mouth watering food photography by Jason Lowe. If you are one of those people who have cookery books on the bedside table, you will love this book because it gives you reading material as well as recipes. Surprisingly, Josceline has never achieved the sort of celebrity status other food writers have acquired, although many more famous chefs (including Anthony Worrell-Thompson) quietly acknowledge her as the inspiration behind much of their work.
It is said that people only ever try three new recipes from any new cookbook. Well, there are plenty in this new book that might prove the theory wrong. It is my guess you will be tempted to try many more than that.