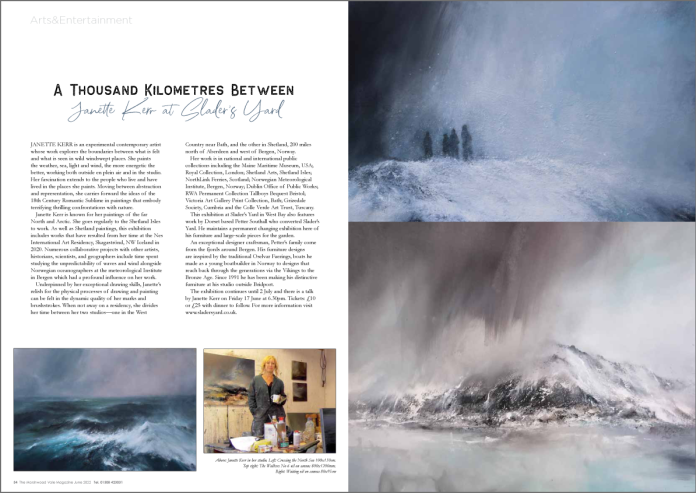 Janette Kerr is an experimental contemporary artist whose work explores the boundaries between what is felt and what is seen in wild windswept places. She paints the weather, sea, light and wind, the more energetic the better, working both outside en plein air and in the studio. Her fascination extends to the people who live and have lived in the places she paints. Moving between abstraction and representation, she carries forward the ideas of the 18th Century Romantic Sublime in paintings that embody terrifying thrilling confrontations with nature.
Janette Kerr is known for her paintings of the far North and Arctic. She goes regularly to the Shetland Isles to work. As well as Shetland paintings, this exhibition includes works that have resulted from her time at the Nes International Art Residency, Skagaströnd, NW Iceland in 2020. Numerous collaborative projects with other artists, historians, scientists, and geographers include time spent studying the unpredictability of waves and wind alongside Norwegian oceanographers at the meteorological Institute in Bergen which had a profound influence on her work.
Underpinned by her exceptional drawing skills, Janette's relish for the physical processes of drawing and painting can be felt in the dynamic quality of her marks and brushstrokes. When not away on a residency, she divides her time between her two studios—one in the West Country near Bath, and the other in Shetland, 200 miles north of Aberdeen and west of Bergen, Norway.
Her work is in national and international public collections including the Maine Maritime Museum, USA; Royal Collection, London; Shetland Arts, Shetland Isles; NorthLink Ferries, Scotland; Norwegian Meteorological Institute, Bergen, Norway; Dublin Office of Public Works; RWA Permanent Collection Tallboys Bequest Bristol; Victoria Art Gallery Print Collection, Bath; Grizedale Society, Cumbria and the Colle Verde Art Trust, Tuscany.
This exhibition at Slader's Yard in West Bay also features work by Dorset based Petter Southall who converted Slader's Yard. He maintains a permanent changing exhibition here of his furniture and large-scale pieces for the garden.
An exceptional designer craftsman, Petter's family come from the fjords around Bergen. His furniture designs are inspired by the traditional Oselvar Faerings, boats he made as a young boatbuilder in Norway to designs that reach back through the generations via the Vikings to the Bronze Age. Since 1991 he has been making his distinctive furniture at his studio outside Bridport.
The exhibition continues until 2 July and there is a talk by Janette Kerr on Friday 17 June at 6.30pm. Tickets: £10 or £25 with dinner to follow. For more information visit www.sladersyard.co.uk.