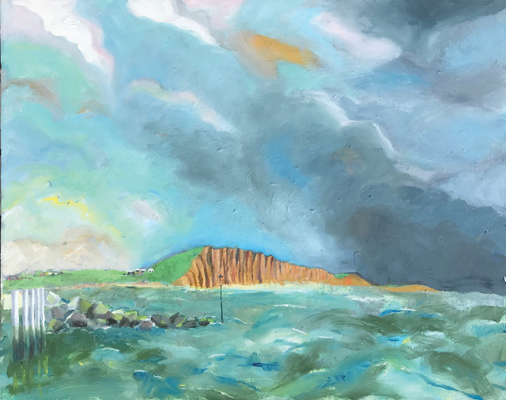 The paintings and textiles of Peter Coates by Margery Hookings
The vibrant, colourful paintings of Peter Coates stop you in your tracks. And his range of textiles and cushion covers are great fun – something we could all do with right now.
Now living in West Dorset, Peter studied for a degree in graphic design at Manchester Art College before working for two London advertising agencies and then running a very successful design agency. Since then, his career has taken unexpected twists and turns, including a stint as a successful hotelier in Cornwall and then a management consultant working all over the UK. It's only in the last 15 years that he's taken up painting.
He says: 'I started painting small landscapes inspired by the Mediterranean which I've always loved. I was in a framers having one of my first pictures framed when another customer came in and immediately bought the picture. It was this that encouraged me to continue painting full time.
'My wife and I have travelled extensively and I always keep a sketch book to hand. This is where much of my inspiration comes from.'
Peter paints mainly in oils but also acrylics and uses an iPad to paint and design. His subject matter is varied but centres around landscapes and seascapes, many of which are semi-abstract. His influences are his training in graphic design and his time living in Provence in southern France, with its naturally bold and bright colours.
He also produces designs for fabrics, which have been applied to a range of cushions as well as designs for wall coverings he calls 'Art Screens'.
He has sold his work across the UK to private buyers and exhibited in galleries from London to the Midlands and the south west. Originals, giclee prints and fabric are also available on his website.
Back in the early seventies, after a couple of years working for an advertising agency and realising it was not for him, he set up a design consultancy with a partner from the firm he had just left.
He says: 'We were lucky enough to build a substantial client list fairly quickly and were able to purchase the last remaining fruit and vegetable warehouse in the old Covent Garden market which we renovated.