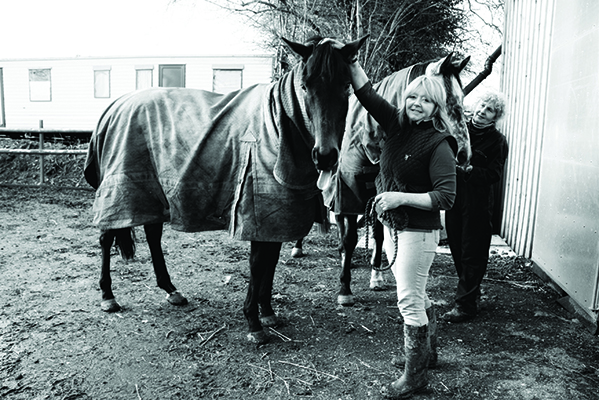 Charity comes in many different guises. Margery Hookings has been talking to an old friend who has dedicated her life to looking after and rehoming racehorses.
I still feel slightly guilty that when I was about ten years old and growing up on a farm, I had a pony and my horse-mad friend hadn't.
It wasn't fair, because she clearly loved horses more than I did. And she had far more patience than I did with Thaddeus, my 13.2hh strawberry roan who had a mind of his own.
I remember I trembled in fear every time I got on him, preparing myself for a bucking bronco session which involved Thaddeus bolting across my dad's field at top speed until we came to a skidding halt as I steered him into a hedge. But Tessa revelled in the experience. She had a knack, even then.         
To be honest, I think she preferred the pony to me.
So it didn't surprise me when I discovered she is now at the helm of a very successful charity which rehomes racehorses. Almost a one-woman band, Tessa Westlake is supported by her husband, Clive, and helped by a band of willing volunteers who all love horses as much as she does.
Tessa and I grew up together in Donyatt, near Ilminster. My parents had a county council smallholding and Tessa's granny ran the village shop. Her father was the local photographer. When I called in at the Racehorse Rehoming Centre at Combe St Nicholas, I hadn't seen her since the mid-1970s. But she hadn't changed a bit: still a determined ball of energy and crazy about horses.
In between mucking out and introducing a new horse to volunteer Lyn Day, who is also a trustee, she found time to tell me about her passion.
"I've been here 28 years," Tessa says. "We bought four acres and another four came up. And then another six came up and it grew from there."
The centre now has just over 16 acres of land on which its keeps up to 14 rescued racehorses which are rehabilitated and rehomed with the aim to giving them a worthwhile future.
According to the centre's website: "Not all Thoroughbreds born make it to stardom on the racetrack. Injury or just not capable of making the grade sees thousands of ex-racehorses leave the industry every year. A sad fact is that many are sent for slaughter without being given the chance of an alternative life.
"Contrary to popular belief, ex-racehorses are remarkable individuals, and if given time can adapt to a wide range of alternative careers from happy hackers to advanced eventers."
All horses signed over to the centre remain in the ownership of the charity for the rest of their lives and are available for permanent loan to enjoy their second phase of life.
The centre is totally self-funded, relying on donations from well-wishers and from small fund-raising events, and run by dedicated volunteers.
"I've always been crazy about horses and coming from a non-equine family that was tough," Tessa says. "I moved to Combe and I was riding other people's horses. I decided I want to get my own horse so I tried to find one. I couldn't afford it and then, all of a sudden, this trainer I knew said he had an ex-racehorse I could have free of charge and that's how it happened. That was twenty eight years ago."
Her first horse was Bell Hop, a hurdler with Gerald Ham of Highbridge. A tendon ended Bell Hop's racing career at the age of 11. Tessa recalls he was not an easy individual but enjoyed his life of hacking and pleasure rides until he died at 19. He is buried at the centre.
Horses then seemed to find their way into Tessa's hands and were subsequently re-homed on a loan basis.
An enquiry to take an ex-racer came from the well-known ex-jockey-turned- trainer Stan Mellor. Stan was the first ever jockey to reach 1,000 wins. Awafa was five years old and, again, a tendon halted his racing career, but through this horse came a subsequent nine horses over a period of years from his yard.
This association also resulted in an introduction to Jo Mercer, also a formidable jockey in his time and then racing manager to Gainsborough.
"There we were," Tessa recalls, "suddenly having very influential trainers and people in the racing industry asking if we could take their horses. It became word of mouth."
"We've been a charity for eleven years," Tessa says. "Before that, I was taking all these horses and basically giving them away. There was a point where I didn't have any money and had to beg, steal and borrow from all sorts of places to keep things going. At the time we became a charity, we were the fourth one dedicated to racehorses. It was the best move we've made."
Tessa and Clive own the yard and land and rent it to the charity for £1 per year. The daily care is carried out by Tessa and a bevy of volunteers who give their time and energy to help out. The charity survives solely from the generosity of members of the public and fund-raising activities organised by the team throughout the year.
When a horse is found an ideal home, a donation is requested and a monthly direct debit for the duration of the permanent loan. When the charity is asked to take in a horse, a donation is requested. Tessa says this helps with the financial crisis that is always prevalent with being self-funded. Each horse is individually evaluated by Tessa and the team. Ridden alone and in company, their perimeters are tested for virtually every eventually, in as many situations as may be encountered in their new home.
Says Tessa: "The first priority is for the horse to be suitable for pleasure hacking, anything after that is a bonus, we give them the idea and then it's up to the new loanee to take it further.
"It goes without saying that the horses that come into the charity come with some sort of problem. It may be physical or behavioural, so obvious limitations come with many of the horses within our care. This does not mean that they cannot be a part of some one's life and give them joy as well as having a happy future.
"To alter a phrase slightly from the film Sea Biscuit, we may be small but we be fierce.
"You always have bated breath when they go and in the first six months you do wonder how it's going to work out. It's quite hard finding the right person to take on one of our horses.
"There are people who can't afford a horse and have an ex-racehorse because it's cheap and then can't get on with it. You have to realise what these horses are used to and what they're capable of."
Racehorse Rehoming Centre, Classet House, Frog Lane, Combe St Nicholas, Chard, Somerset, TA20 3NX.
Telephone: 01460 67189 racehorserehoming.co.uk